Our kettlebell buying guide is intended to analyze the different types of kettlebells so that when the time comes to make a purchase, you will be well informed about which kettlebells best suit your budget and fitness goals. This time, the spotlight is on two candidates: Cast Iron and Cement-Filled.
Kettlebells are an incredibly flexible piece of equipment that can be used for a range of training purposes.
Although these tools are relatively inexpensive, compact, and seem innocent and simple, they offer a powerful way to exercise the entire body by engaging planes and muscles all over your body from the moment you pick them up until you set them down.
No wonder why people enjoy kettlebell workouts that much. So, if you're willing to take part in kettlebell training but haven't found a fit among countless models on the market, or if you're undecided between the two leading fighters, Cast Iron and Cement-Filled, you've come to the right place.
Cement-filled Vs Iron Single cast Kettlebells: How different they are?
"Choosing the right kettlebell can be a bit overwhelming. Just ten years ago there were very few companies that sold them. These days you can buy them at your local supermarket."

says British Kettlebell Sport champion 2014 – Jamie Lloyd
In the vast world of kettlebells, knowing the suitable style is equally important as getting the appropriate weight. This ensures that you can be either benefited or suffered from this fitness tool.
So, as a reminder, be very cautious in researching each design and carefully selecting the one that best suits you for long-term use and physical guarantee.
Identifying different types of kettlebells can be tricky for those who are new to this field, but don't worry, we got you!
1. Core Material Used
Though the process varies, the best overall kettlebells are often constructed from a single cast-iron mold. Read more: How are cast iron kettlebells made?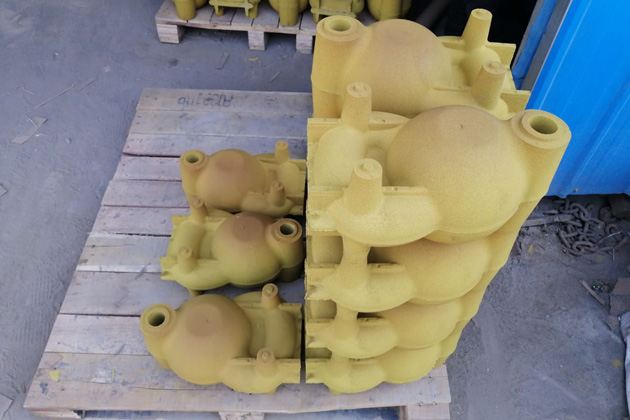 There are also cast iron kettlebells that are made by welding the body to the handle and are said to be more vulnerable than single cast iron molded ones.
Cement-filled kettlebells, on the other hand, are constructed with about 90% cement as the weight and the remaining 10% covering content, which is the first notable distinction between Cement and Cast Iron kettlebells.
2. Brand's product description
It may seem apparent, but fitness newbie may not be able to distinguish between one and the other with just a single glance. So it's best to check the detailed information.
With the current shopping trend, many people choose to buy sports equipment from e-commerce sites or directly on the manufacturer's website.
A complete list of currently available products will display on the screen of your mobile devices, along with specific information about each type under the product description or product information section.
Check how this website describe their kettlebell products
When it comes to kettlebells, the name of the material and the type of coating used are typically included in the product name, so pay attention to whether it is "Cast Iron" or "Cement."
Also, when shopping at sporting goods stores, read the product description tags carefully and, if necessary, ask the salesperson for an accurate summary.
This is how cement filled kettlebells are descripted.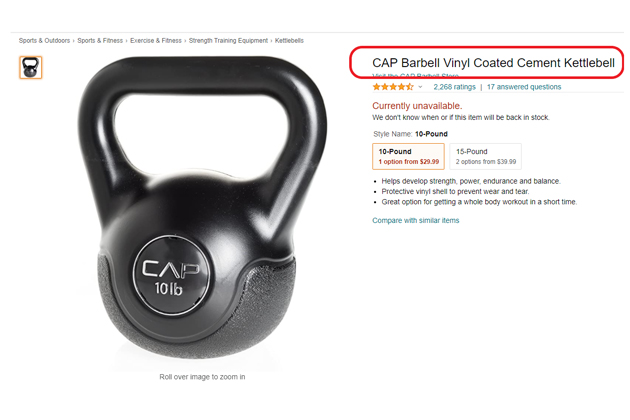 And this is how seller presents their cast iron kettlebells: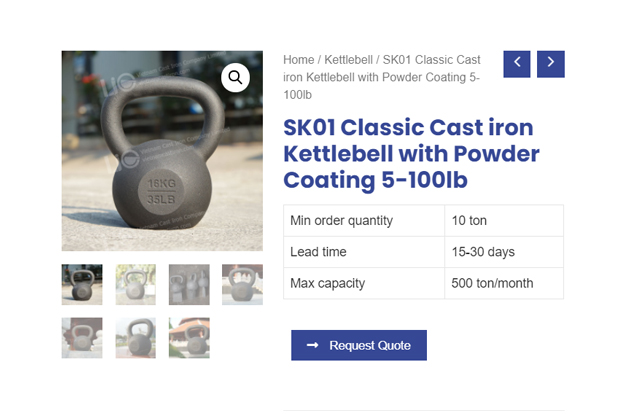 3. Appearance
If you've trained with kettlebells or even just touched them for once, you should be able to tell the difference between "Cast Iron" and "Cement" with this method.
Many people falsely believe the Cement Kettlebells will look exactly how cement looks, and they would be harsh to touch on; thus, distinguishing between the two would be "a piece of cake."
That, though, is absolutely inaccurate.
When you type in "Cement Kettlebell" on an online search engine like Google, the image returns will show mostly kettlebells covered with Vinyl, Neoprene, or plastics like PVC in a variety of colors and patterns.
And the kind of unadorned kettlebell you've pictured can completely be self-made. So when choosing from manufacturers, it would be very easy to distinguish which is the Cement and which is the Cast Iron one. However, there are exceptions, as certain brands market cast iron kettlebells encased in plastic, it is necessary to check both the appearance and the information provided.
5 Things you must consider when checking kettlebell quality
4. Size
By saying "size" we mean the density differential between Cast Iron and Concrete material, which results in different sizing regardless of weight.
Cast iron has a greater density than other materials, and cast metals have three times the density of pure concrete or cement.
This enables iron to reach the goal weight in less space and volume than cement, thus eliminating the need for additional material.
As a result, even if they weigh the same, Cast Iron kettlebell can appear more compact than the Cement counterpart. Not to mention that the additional coating of rubber or plastic on the outside would significantly increase the size and diameter of the cement one.
The feature of each type
Single Cast Iron Kettlebell
The cast-iron kettlebell is original in every sense of the word that everyone must have been familiar with.
Manufactured from a single piece of metal, cast iron kettlebells are commonly regarded as robust and user-friendly bells that offer the utmost strength and longevity. These bells come with everything you'd need in a kettlebell, and it's one of the fitness items that worth the greatest value for money.
Two types of cast iron kettlebells you should buy
Come with a standard finish of black color scheme and powder coating, cast iron kettlebells offer a touch of professionalism to your training space. And it's undoubtedly that having these in your home gym, nobody would be able to tell the difference between yours and any fitness center out there.
Perfectly made for both home gyms and professional usage with multiple sizes to choose from, if you want a fantastic bodybuilding and cardio workout combined into one without breaking the bank, you'd need to get your hands on these great value kettlebells now.
Why you should buy iron kettlebell for your home gym?
Besides, only seamless kettlebells constructed of solid metal can deliver the optimal performance on the execution of all kettlebell exercises, which is unquestionable.
They are sturdy, have such a strong grip with standard textured and proper width handles. In addition, since single cast kettlebells will be cast only once during the casting process, they'll be a bit more accurate in size and weight.
And most importantly, Cast iron kettlebells provide the perfect weight distribution, leading to appropriate balance within the bell, which helps in improving grips and workout comfort.
Cement-Filled Kettlebell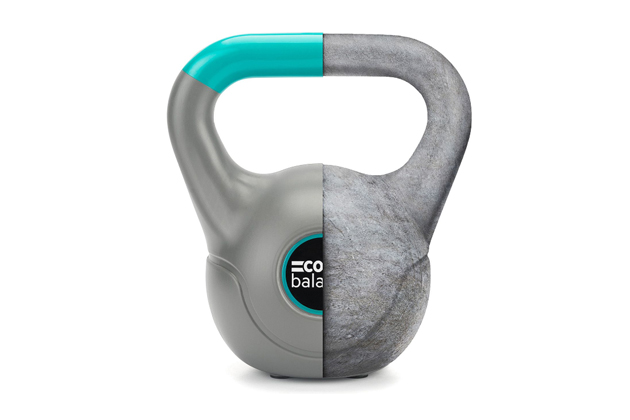 The cement-filled Kettlebell offers some advantages.
Athough the cast iron kettlebell was always considered a low-cost option, cement kettlebells are even cheaper because when compared to other weights, owing to the fact that they are made of cement rather than cast iron.
However, using cement kettlebells appear to be a controversial topic among fitness professionals and experts because they converge on all the characteristics of the Vinyl, which is not appreciated.
Many may not recommend anything other than iron cast kettlebells for the simple reason: none of the cement-filled, concrete-filled, vinyl coated, plastic coated alternatives, etc., are for serious kettlebell training, they're only suitable for a couple of workouts, and those are typically performed poorly due to the filling, grip, weight distribution, and so on.
Some even pointed out that these kettlebells had little or maybe no effect on your training efficiency and muscle development.
The explanation is also completely understandable; in addition to the poor-quality filling, with thick coating, the body and the handle of this kettlebell are much thicker than cast iron and competition kettlebells.
And because cast iron and competition are the two most common kettlebells with parameters and sizes considered standard, a considerable distortion of this scale would undoubtedly make the grip feel awkward, leading to serious injuries when the trainer is unable to wrap their hand around the handle fully.
Regardless of the material, kettlebell training can be a challenging but beneficial sport that requires coordination, technique, and awareness. So don't fall for non-slip cover advertisements because there have been situations where people find vinyl or plastic coated cement kettlebells to be inconvenient. They are slick and easily slip out of their hands, even though they have purchased the "non-slip" one.
Plus, since the weight bodies are made of cement, forceful drops can create fractures easily, and complaints about these kettlebells tend to chip, and they do not protect the floor from damage as purported are all over the fitness media.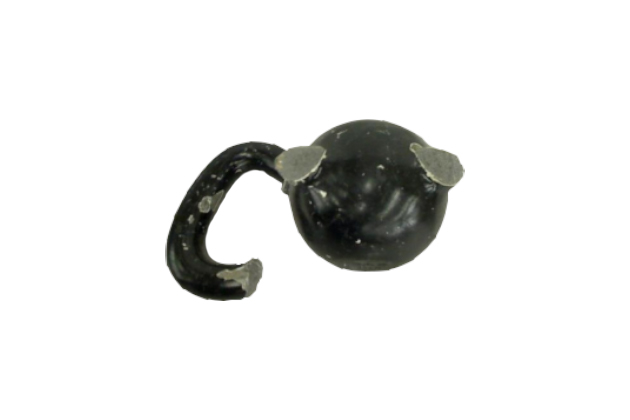 Not to mention that the size range of this kettlebell type is not as broad as that of cast iron. Varying from 2 to 10kg, these free-weights will be best used at home or by regular beginners.
Buying guide: Vinyl Coated Vs Powder Coated Kettlebell: Which one to buy?
Conclusion
Considering the above points, we can conclude that when choosing between cement-filled and cast iron kettlebells, opt for ones based on your prority over budget and fitness goal.
If you are much care about the price and want to save the budget, go for the cement filled one. But remember to keep their weakness in mind and exercise carefully.
And, if you prior the workout effectiveness and your safeness, don't hesitate to pick up single iron casted kettlebell sets for your gym. You will fall in love with these excellent pieces from the first sight. But remember to choose a reliable shop to buy since there are some cheap manufacturer provide low quality kettlebells.
READ MORE
Classic vs competition kettlebell: Which one suits your fitness goal?
Is it worth buying cheap kettlebell?
How we ensure to deliver the best kettlebells to our clients?