A well-chosen kettlebell is on top of the "most worth-buying fitness equipment" list due to its versatility, efficiency, and low-cost. But how to choose one? Here's how to tell what is a high-quality kettlebell and how to buy it.
The explosion of kettlebell training over the last 10 years has boosted its diversity tremendously. There are now many shapes and sizes available to purchase, which inadvertently caused many buyers to be confused and overwhelmed.
Apart from that, various factors should be considered to get a perfect well-produced kettlebell, even some that many people haven't thought of before.
So if you're looking for one and do not know where to start, keep scrolling! Here we will guide you on how to buy kettlebells of high quality.
Add a header to begin generating the table of contents
1. Surface finish
One of the fundamental aspects to look out for when choosing a trusted-quality kettlebell is the surface.
A lot of people are drawn to fancy and stylish kettlebells, but does it really matter? Or at least, is it as important as your everyday experience with the kettlebell itself? Or is it safe to use?
Irrespective of what sports equipment it is, the most essential thing that it supports you during your workout and helps protect you from unwanted injuries, not flashiness.
Kettlebell manufacturers are now coating their products in a number of ways and materials. Some bake paint on, others use a powder coating process, epoxy, vinyl, etc.
Despite the variety of surface finishes, go for the one that is durable, smooth, and matte.
While the paint finish can chip faster than other methods and can damage your hands. Epoxy and vinyl appear to be less durable and slippery when exposed to moisture or perspiration. In this case, the classic cast iron kettlebell with powder coating would make a great pick. Cast iron powder coated kettlebells are designed to last with high-rusting resistance and a very smooth sandpaper texture that gives excellent grip feelings for your palm.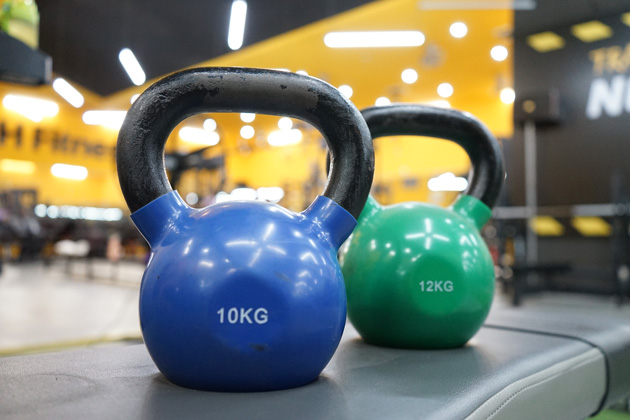 Check how high-quality powder coated kettlebell looks like here!
However, if you still prefer the natural smooth, bare-metal finish of a kettlebell but you also want less movement, fewer blisters on sweaty hands, you can always use a bit of chalk on the handle.
2. Handle
All kettlebell exercises from the Kettlebell swing, Kettlebell windmill to kettlebell clean and press, etc., are performed with the handle itself. Therefore, choosing kettlebells with sturdy and secure handles is definitely a crucial part that should not be forgotten.
To make it short, you will need a handle that isn't going to bloody up your hands and when you buy a kettlebell, remember to pay extra attention to the underside and search for even the smoothness of the handle.
A quality handle is an appropriate size and thickness that will give you a pleasant feel.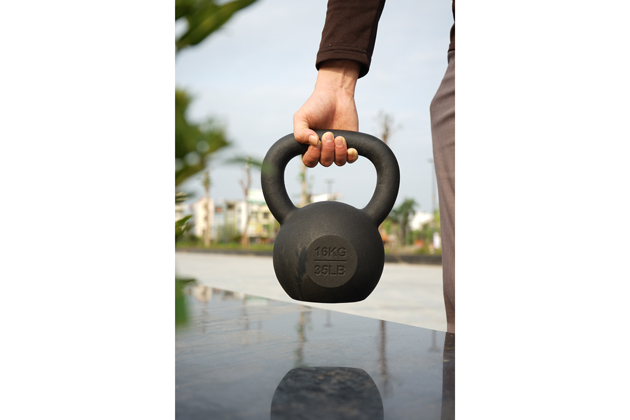 How to know whether it's too thick or not? We got you.
The standard thickness of the kettlebell handle is about 35 millimeters. If you can't wrap your fingers around the kettlebell handle, the handle is probably going to be a little too thick for you.  
And what will happen if you train with too thick handle kettlebell? Your forearms can easily get tired out, and finishing repetitions of an exercise can be more challenging than ever, even though it's just a light section.
If you can fit both hands through the kettlebell handle, this kettlebell is suitable for two hands-on kettlebell exercises. In addition, there must be enough space between the handle and the main bell, preferably about 55 millimeters. 
Another concern about the handle that you will need to make sure is that there are no sharp edges on the handle.
Small nicks can cut into your hands, and nobody wants that to happen during training.
Ideal Kettlebell Handle Smoothness
3. Weight distribution
The unique weight distribution of the kettlebell is one of the factors that enable the user to vary their workouts and to ensure muscle groups get the proper tension.
With a dumbbell, once your body adapts to a given load, your options for increasing difficulty could be restricted, all you can do is to perform more reps with the same load or get a heavier dumbbell. However, with one kettlebell, you can increase the complexity of the exercise yourself thanks to the appropriate weight distribution. To do that, simply adjust the way you hold it, instead of grabbing your hand into the handle, placing the side or the bottom of the kettlebell on your palm to make the movement even more challenging. Or you can push yourself even further by holding the kettlebell base up in the 'bottoms-up" position.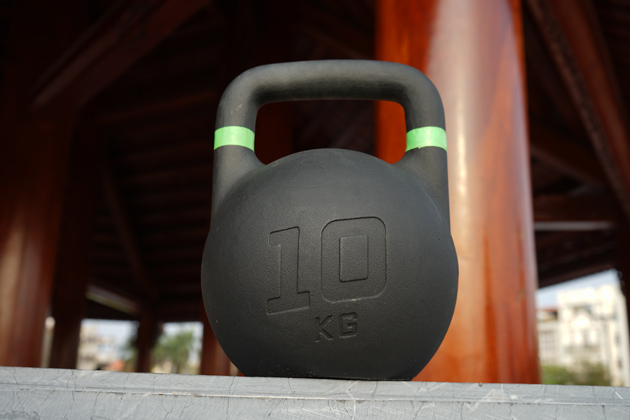 Cast iron kettlebell offers and exhibits all the qualities you would require for a productive workout routine.  Especially when it comes to durability, comfort, and weight distribution, on the execution of all exercises within the kettlebell category.
To withstand extreme impact, wear and tear, it is advisable to purchase a kettlebell manufactured from a Solid Single Cast (One Piece Mold), with no added component filling in it.
Only when the kettlebell is constructed entirely with purely cast iron or metal, will the grip experience be maximized due to its fixed weight distribution. As for products filled with sand or other cheap materials, not only are they not durable, but also their weight and their distribution as a whole are not guaranteed.
4. Flat base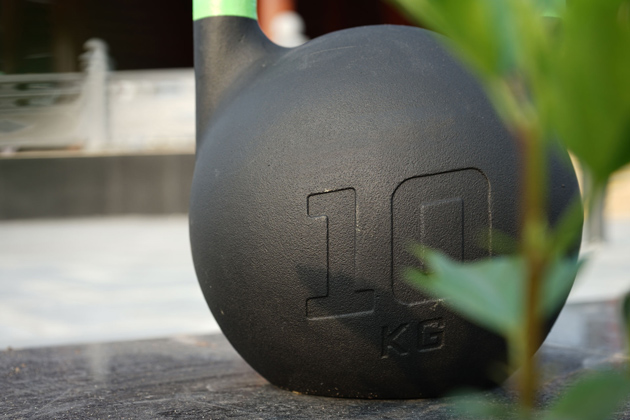 Many people opt for the kettlebell for its offset and unbalanced weight, which can not be found in other free-weight alternatives. Not only does it recall common, everyday tasks, but it also enables you to rest them on the back of your arm while holding the handle.
As a result, providing the opportunity to perform drills such as Turkish GetUp, Strict Press, Squat, or the unique Kettlebell Push-up workout.
So how can users able to maintain a balance with the kettlebell? This is when a flat base plays its role.
A flat base allows you to perform your exercises comfortably without worrying about the kettlebell rolling or slipping out of reach during the workout.
Besides, this feature helps with storing and preventing marks on your floor. But not any kettlebell with a flat base is optional; take note of whether it is naturally flat or has an attached rubber or plastic. The former one is a yes, and the latter one should be avoided.
5. Casting technique
A kettlebell is built for intense lifting, so it has to be durable. So what consider to be a durable kettlebell? It's the merit of a proficient casting technique.
Bear in mind that a top-quality kettlebell is cast from a single piece of metal, while others have handles that are welded to the body.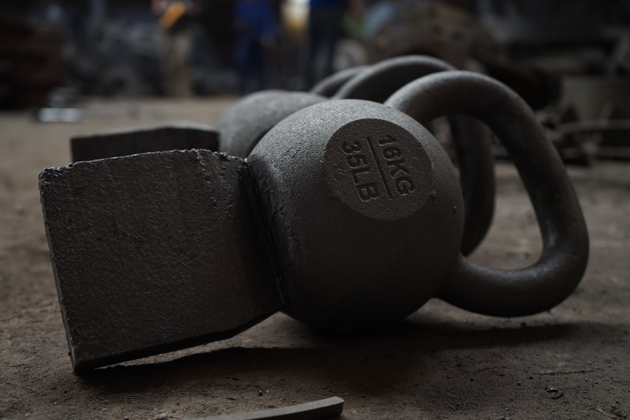 Hence, it's most desirable to look for a kettlebell constructed of solid cast iron with no welds, weak spots, or seams. If the handles are welded to the hunk, the kettlebell is more likely to break and out of function if you dropped it.
To some extent, shopping for kettlebell is an investment for yourself, so don't hesitate to hunt for reliable manufacturers.
Although the price might be a bit higher, you will get what you pay for.
Cheap kettlebells typically don't follow any standard shape, size, or casting technique. Even some manufacturers in China are adulterating kettlebells with thin cast iron surfaces and filling the inside with sand and cement to reduce production price. This, in turn, affects the mechanics of the kettlebell exercises due to the uneven distribution of gravity and eventually ruins the credibility of this glorified piece of equipment.
Read more how we make high quality kettlebells!
Conclusion
The kettlebell is one of the staple pieces of the fitness training industry.
They are versatile and excellent for any trainers, whether they are beginners, intermediate or advanced. Plus, kettlebells can be used to perform countless exercises yet still deliver impressive effectiveness.
However, in order to get the most out of the kettlebell training and complete your workout competently without any chance of injury or accident, you would need to invest in a guaranteed kettlebell. Make sure that its construction is premium, as well as your holding and lifting experience, is convenient.
Hope that you can find the right one for your needs and enjoy your kettlebell training!
Explore more article here:
Why you should buy kettlebell for your home gym?