Aluminum products
Vietnam Cast Iron manufactures aluminum casting for various applications. Our products are customized for different requirements. Browse the category and contact us to get more detailed information.
Aluminum products are very common in use. From aerospace, kitchen items to civil equipment, we all find casting aluminum parts.
Vietnam Cast Iron is the aluminum casting manufacturer. We are able to cast aluminum products according to customer's drawings and requirements (OEM).
At our foundry, we apply mainly sand mold methods to create aluminum products. This method is advantageous for its versatile and cost-effectiveness.
Being manufactured by experienced workers, and supervised by technical experts, all of our aluminum products are high strength, fine surface finish, high quality, and reasonable price.
Check out our category to see our casting ability. Contact us today to get a quote for your project. Also, send us your own drawing or requirement if there ar any.
List of our aluminum casting products:
Showing all 13 results
What is aluminum casting?
Aluminum Casting is a metalworking process, in which the metal liquids being pouring into the mold or form are aluminum or aluminum alloy.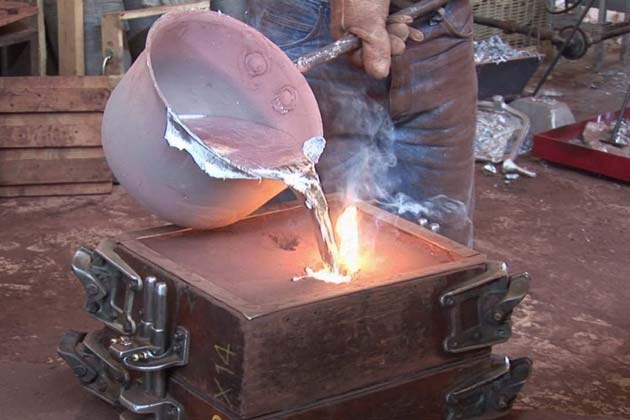 Through the casting process, aluminum and aluminum alloy are shaped and formed for different proposes.
This process is often used to cast complicated and detailed products very efficiently.
What are aluminum casting applications?
Aluminum and aluminum alloys are extremely abundant with the second-highest degree of common use among metals. Aluminum machining is very popular and widely applied in numerous industries.
Marine Industry: Aluminum has good anti-wear properties, so it is often used to cast components for the marine industry. Numerous aluminum products can be listed such as hydraulic hoses, the ship's underwater parts, etc.
Transportation Industry: Aluminum and aluminum alloy casting products are very often used to manufacture accessories for vehicles such as cars, motorbike, bike, train, etc.
Aerospace Industry: Due to their lightweight, durability, and aesthetics, aluminum is widely used in aircraft manufacturing (aircraft housings and some aircraft body parts), and also other equipment for the aerospace industry.
Mechanical Industry: It is very easy to find aluminum applications for machinery parts in the mechanical industry such as machine body and frame, cargo conveyor, etc.
Civil Industry: Aluminum and aluminum alloy castings are also popular in use such as doors, gates, stairs, seats, etc. Additionally, they are also used as the outer shell for electronic devices such as laptops, phones, watches, etc.
Kitchen Industry: Application in manufacturing kitchen equipment such as pots, pans, pan supports, etc. They not only bring nice visuals but also maintain reasonable prices.
At Vietnam Cast Iron, we manufacture aluminum products (OEM) for almost industries.
Why aluminum casting is popular?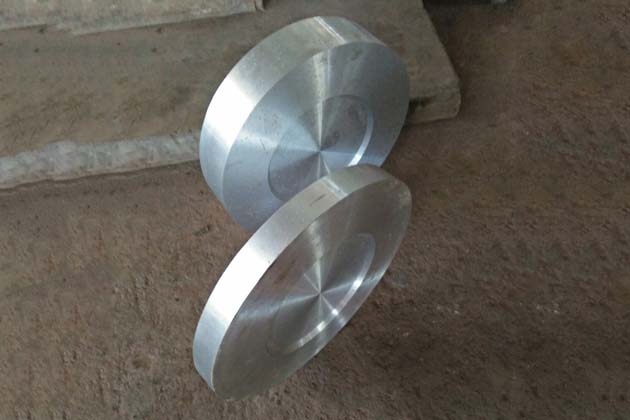 As we can see aluminum products are pretty much widely applications in both daily life and heavy industries.
The question is why it is so popular? Definitely there are excellent advantages that aluminum products expose resulting in its popularity.
Firstly, the aluminum product is strong and durable. Although they are not as strong as cast iron, aluminum strength is enough for typical applications.
Secondly, except for the above benefits, another reason why people like this material is its price. In comparison, aluminum casting is economic than other processes. Its price may cheaper a half than others.
How to process aluminum casting?
There are different methods to produce aluminum products. Each of them maintains advantages and limitations.
Vietnam Cast Iron introduces below three main processes commonly apply in aluminum and aluminum alloy processing in the metal foundries.
Die Casting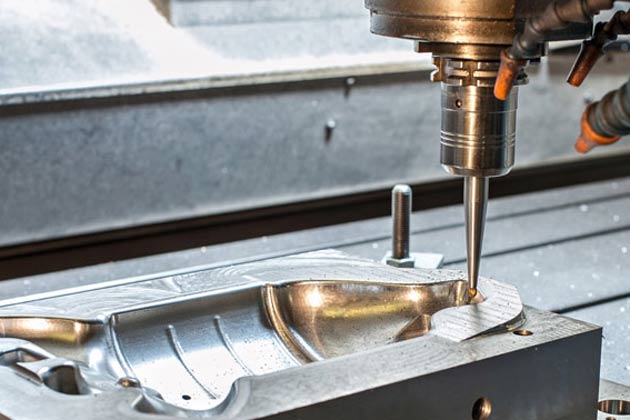 Through the die casting, the molten aluminum is forced into the steel die (mold) under pressure. This method is often applied when the production volume of aluminum casting is large.
Precisely formed aluminum parts requiring a minimum of machining and finishing can be produced through this casting method.
Permanent mold casting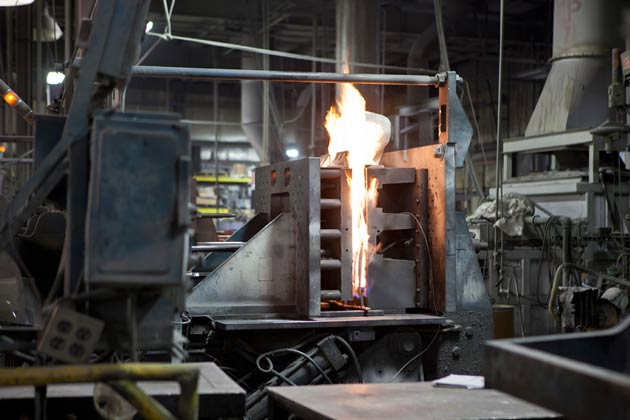 Molds for this method usually are made from steel or other metals. The molten aluminum is poured into the mold. In comparison with die casting, the permanent mold castings create the stronger aluminum castings.
The limitation of this process is that the final products are hard to remove from the permanent molds. Therefore the semi-permanent process often is replaced.
Sand mold casting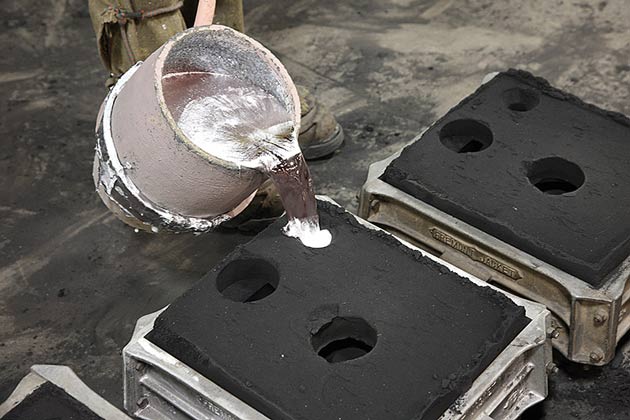 The most popular method using in aluminum processing is sand mold casting. A pattern is pressed into the flask which contains sand. After removal of the pattern, a mold cavity is created.
Simple pouring the molten aluminum into the cavity. Waiting for cooling down, then the casting is collected.
This method is versatile and economic. Sand mold casting allows for casting different complicated shapes. It is also a cost-effective manufacturing process, helping to reduce the product price.
The sand mold casting is preferable to cast-aluminum products with intricate shapes and large production volumes.
For all aluminum products, Vietnam Cast Iron considers the effectiveness and discusses with our partners to find the best process solutions so that bring the best benefits to our customers.
Why you should choose Vietnam Cast Iron's aluminum casting products?
Vietnam Cast Iron is the aluminum product manufacturer for customers across the world. Spending especially one facility for casting aluminum, we are able to produce OEM products for various applications.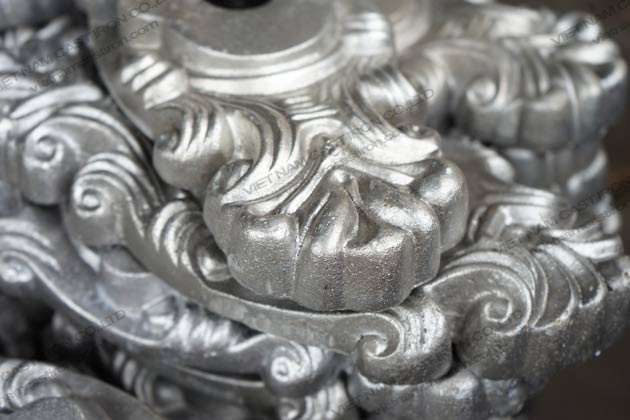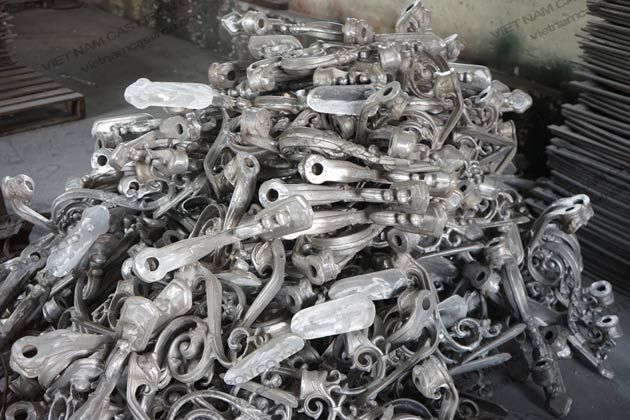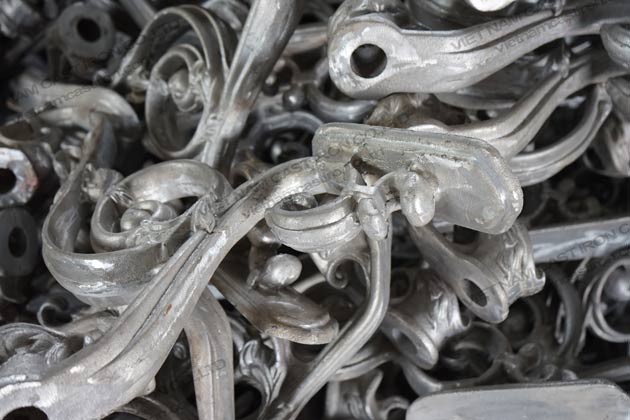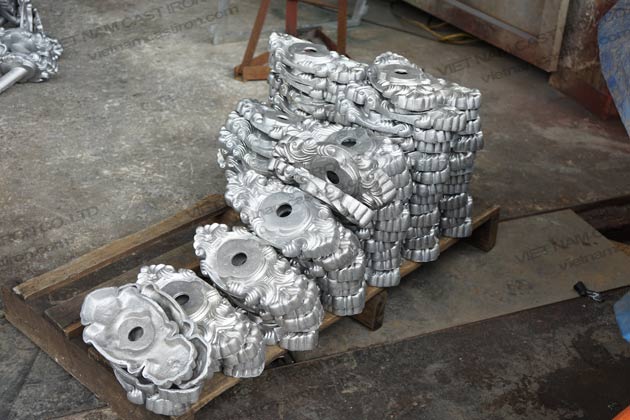 Our aluminum products are processed mainly by sand mold casting which enables us to cast different designs and save cost for the buyers.
At Vietnam Cast Iron, we work with our customers to find the best solutions for their requirements. We don't look at the short term benefits but long term partnerships with our customers. Therefore all of our products manufactured with the criteria is that quality is our priority.
For all of Vietnam Cast Iron aluminum products, we guarantee that all of them are featured by:
Good surface finish
High strength
High quality
Competitive price
An order with Vietnam Cast Iron will save you money upfront and long term. Call us today to find out how we can make your project exceptional.
Contact information:
Vietnam Cast Iron Co.Ltd
Lai Xuan, Thuy Nguyen District, Hai Phong city, Vietnam