Cast iron urn planter
Exceptional from pretty look and durability over time, cast iron urn planter is pretty much preferable and commonly used to decorate for both the private and public areas. We are the leading cast iron urns manufacturers for the world market. We offer a range of flower pots, are various in styles and designs, and suitable to place in any area.  Get more detailed information through check our product categories below.
Urn planter or flower pot is often seen as a decorative item either indoor or outdoor areas. Different from other materials such as terracotta, ceramic, concrete, cast iron urn planter maintains a pretty look and excellent durability.
VIC is the OEM cast iron urns manufacturers and wholesale for customers around the world. We are able to produce various styles and designs for cast iron plant pots and pedestals.
Our cast iron flower pot is not only available on stock but also customized according to every taste.
For all of our cast iron urn planters, they are guaranteed to have a good appearance, durability over time, and competitive price.
Below are some of our cast iron urn planter castings. Make your areas full of colors with flowers placed in our cast iron flower pots. Kindly check them to get more information about our products and manufacturing abilities. Contact us for your own drawing or special requirement.
List of our cast iron urn planter products:
Showing all 11 results
What is urn planter used for?
Urn planter (also known as flowerpot, plant pot, vase, or planter) is a container to cultivate or display flowers or other plants. It is a very common decorative item and used widely in every house and common space.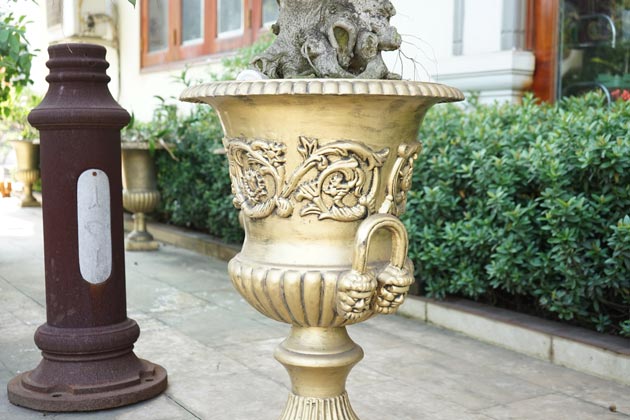 Flower pot can be made from many materials, most commonly in use are plastics, metal, stone, and wood. Depending on each application and purpose, the user will consider the suitable material for their planters.
Why Cast iron urn planter is good?
Among materials, cast iron urn planter is exceptional due to their durability and pretty good look.
Visual distinction
Diversify from designs and styles, cast iron urn planters bring a visual distinction for any places they are in. Many are drawn to the modern and contemporary look that cast iron planters offer.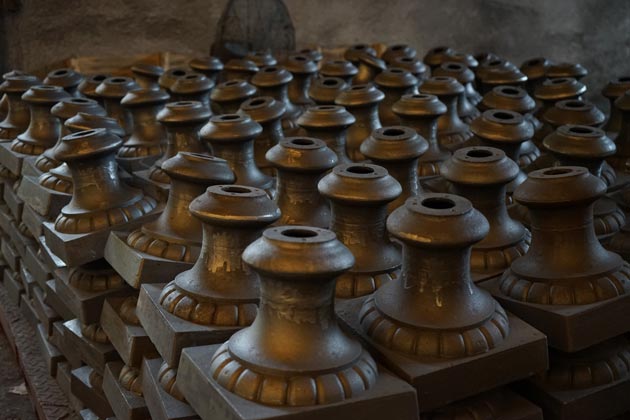 Therefore, the cast iron flower pot is often used to decorate the landscape and enhance aesthetics for both private and public areas such as gardens, parks or, historical places, restaurants, hotels, etc.
One of the attractive characteristics of cast iron urn planter is the ability to patina much faster than other materials such as bronze. Many customers and designers find this characteristic to be desirable while others may want to maintain a new look without rust layers.
This patina process is initiated once the iron is exposed to moisture and starts the oxidation (rusting) process.
All of our cast iron urn planters have a rust-inhibiting paint coat but are stored outdoors and may exhibit small areas of the patina process.
If you prefer to have a patina free product you can apply an additional protective coating to the product before placing outdoors again. Depending on the exposure to moisture you may need to come up with an annual maintenance plan.
Durability over time
Another advantage of cast iron urn planter is that it is durable over time. Cast iron material is outstanding by its weather and pressure resistance.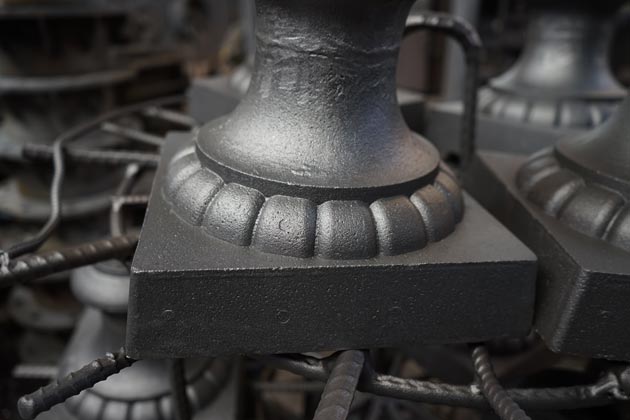 If the wood planter is quickly to be rotten and warped when placing outside, there is no matter with cast iron flower pot. Except for patina layers, cast iron product look will not change over time.
Even the rusting cover brings an antique and excellent appearance for the planter. If you don't like this rust look, simply apply painting coat, they will be pretty new after that.
Additionally, cast iron material is also a good pressure resistance. It is not easy to be broken as ceramic or plastic.
Why you should choose the VIC's cast iron urns manufacturers?
VIC is cast iron urns manufacturers for the world's need. We are able to produce a complete line of cast iron urn planters and cast aluminum urns.
We are able to manufacture metal flower pots for various applications either indoor or outdoor decorations. Our selection varies from antique styles to modern looks.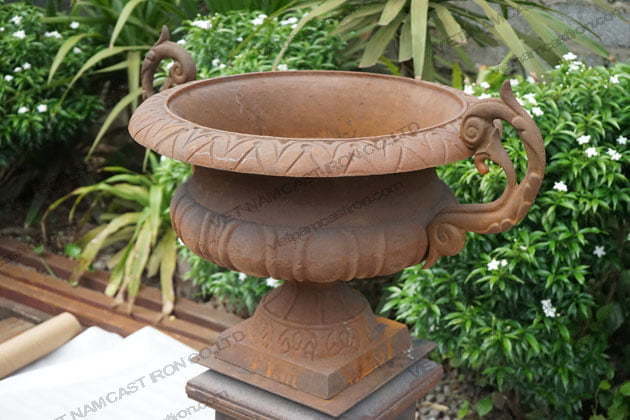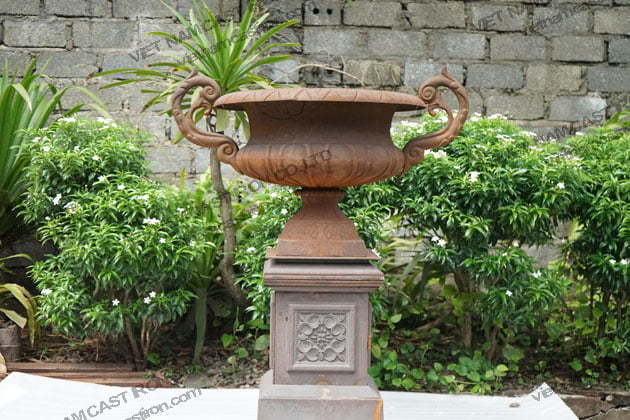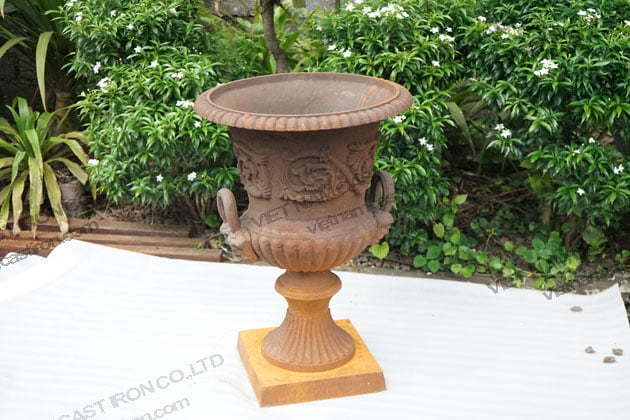 For our cast iron urn planter, it is either within or without anti-rust coating depending on the customer's requirements.
Besides available products in stock, we also manufacture customized urn planters. Simply send us your drawings or explain your requirements, we will do our best to make you're satisfied when working with us.
With respect to our cast iron urn planter, Vietnam Cast Iron guarantees that all of our products are:
Pretty look
Durability
Cheap price
Quality warranty
An order with VIC will save you money upfront and long term. Call us today to find out how we can make your project exceptional.
Contact information
Name: Vietnam Cast Iron Co.Ltd
Address: Lai Xuan, Thuy Nguyen District, Hai Phong city, Vietnam
Email: [email protected]