Manhole cover
Vietnam Cast Iron (VIC) is the leading manhole cover manufacturers and wholesale to the world need. Our sewer covers come various in styles and designs and available for any applications. Check our product categories to get more detailed information about our manhole cover products. 
Manhole cover can be found pretty much everywhere these days. If you happen to glance down as you're crossing the street in your neighborhood or town, it's likely you'll step across a sewer cover.
As one of the top manhole cover manufacturers, we can provide OEM manhole covers for all applications need. We manufacture ductile iron manhole covers in a variety of sizes, shapes, and designs.
Start your search of our complete line of ductile manhole frames and covers by selecting from the list below. Contact us for your own requirement and drawing.
List of our Ductile iron Manhole Cover Product:
Showing all 43 results
What is Manhole Cover?
Manhole cover (also well-known as drain cover, sewer cover, inspection chamber covers, maintenance hole cover, etc.) is a removable plate that forms the lid over the opening of a manhole. It is designed large enough so that a person can pass through the cover and used it to access underground vault or pipe.
Purposely, the manhole cover is to prevent anyone or anything from falling in and keep unexpected things out.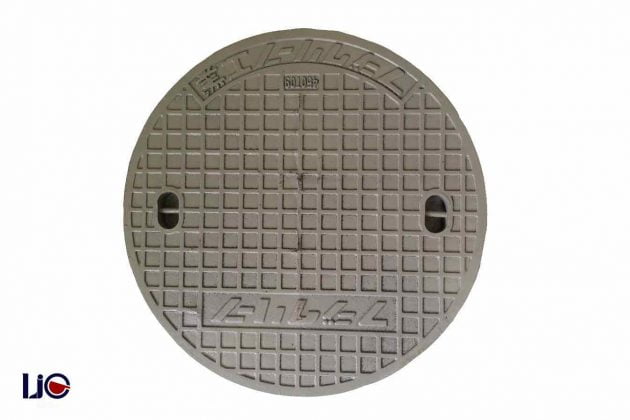 For example, without sewer cover, wastes or leaves can be rolled down the drain, leading to a clogged sewer system. Therefore, the drain cover is to limit these dirty things and keep the sever system work well.
Type of Manhole Cover
There are three main types of sewer cover according to BS EN 124: 2015 standard.
BS EN 124, known as Gully Tops and Manhole Tops for Vehicular and Pedestrian Areas. It is the British adoption of the European standard for covers and gratings that separates products into a number of classes based on a static load test, and also groups the locations where each class should be installed and the minimum class that should be used in each.
Solid top (flush) manhole cover: They are galvanized steel manholes covers, basically light in weight. The solid top is able to bear only a light load. These covers fit flush with the ground and the whole of the cover is visible.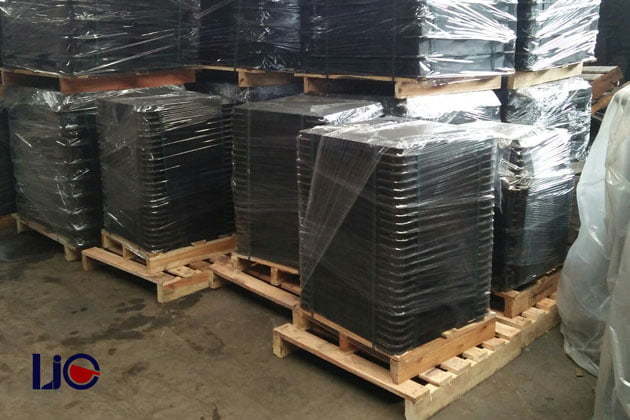 Recessed manhole cover: Recessed covers have an insert tray that is used where block paving, tiling, or any type of infill is required. This type is outstanding by its aesthetics and decorative finish.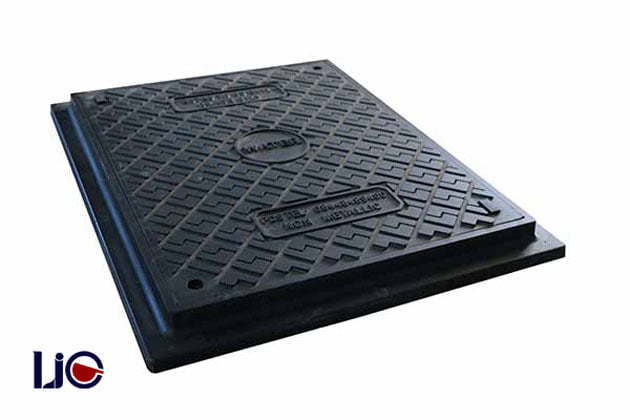 Ductile Iron manhole cover: similar to solid top flush fit covers, although there is a subcategory for gully gratings etc. This type of cover does not corrode easily and are highly brittle in nature. The Ductile iron cover is stronger compared to the cast iron material.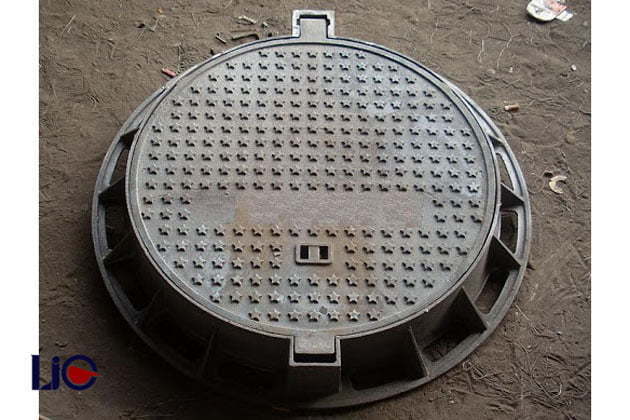 Weight Classes for Manhole Covers
BS EN 124: 2015 standard specializes weight classes for manhole covers, explained in detail by the below table.
| | | |
| --- | --- | --- |
| BS EN 124 Class | Installation Area | BS EN 124 Test Load |
| A15 | Areas where only pedestrians have access. | Covers capable of withstanding a 15kN test load (1.5 tonnes). |
| B125 | Car parks and pedestrian areas where only occasional vehicular access is likely (incl. driveways). | Covers capable of withstanding a 125kN test load (12.5 tonnes). |
| C250 | Car parks, forecourts, industrial sites, and areas with slow-moving traffic. Also in highway locations up to 500mm from the kerb and up to 200mm into the verge, excluding motorways. | Covers capable of withstanding a 250kN test load (25 tonnes). |
| D400 | Areas where cars and lorries have access, including carriageways, hard shoulders, and pedestrian areas. | Covers capable of withstanding a 400kN test load (40 tonnes). |
| E600 | Areas where high wheel loads are imposed, such as loading areas, docks, or aircraft pavements. | Covers capable of withstanding a 600kN test load (60 tonnes). |
| F900 | Areas where particularly high wheel loads are imposed such as aircraft pavements. | Covers capable of withstanding a 900kN test load (90 tonnes). |
Manhole cover shape
When classified by style, manhole covers have some typical designs such as round cover with a round lid and frame, square-shaped cover with square lid and frame, or rectangular-shaped cover.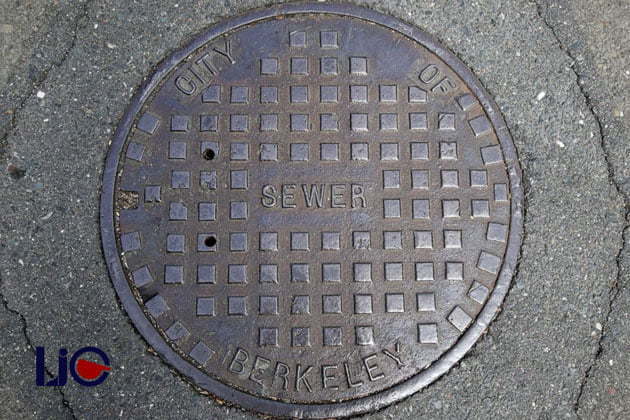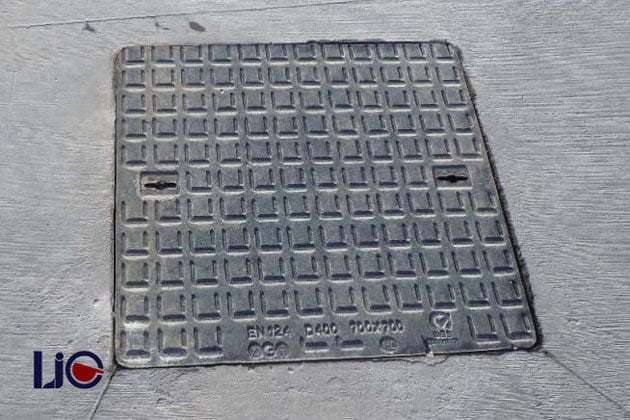 Depending on applications, the drain top cover shape will be customized to be suitable and convenient. At Vietnam Cast Iron, we are able to produce any type of manhole cover, either the round or square shape.
Why the round shape is most popular?
Have you ever wonder why a manhole cover is typical to round? It is not designed randomly but there are reasons behind its shape.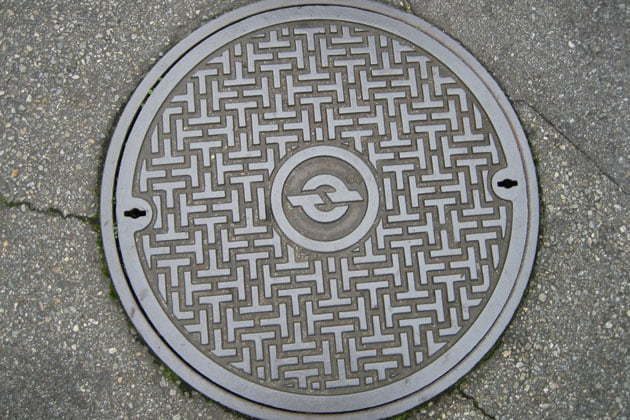 Firstly, the round shape of a drainage chamber cover is advantageous to move around during the setting and maintenance because it is easy to handle. Meanwhile square or rectangular shaped drain cover is difficult to do so.
Another is because the round-shaped manhole cover cannot fall through its circuit opening, whereas other shapes such as rectangular sewer covers could be fallen if it were inserted diagonally in the hole.
Especially, the manhole covers in round shape are strongest and better bear pressures on them.
Under pressure, the middle part of the square manhole cover becomes the weakest point because of the different distances from the center to sides.
On the contrary, the distance from center to sides of a round-shaped cover is the same, so the round cover maintenance strength in every part.
Furthermore, with respect to the same width, a round-shaped drain cover has a smaller surface area than a square-shaped one. The less surface area leads to reduce the production cost.
Manhole Cover Size
Sewer drain cover comes in different size depending on applications. Popularly, manhole cover size ranges from 300×300, 450x450mm, 600x600mm, to 1200×1200 in square; 450x600mm 650x500mm, 550x700mm, etc. in rectangular.
What is Manhole Cover made of?
Manhole cover dates back to the ancient Rome era. At this period, it was mainly made from stones.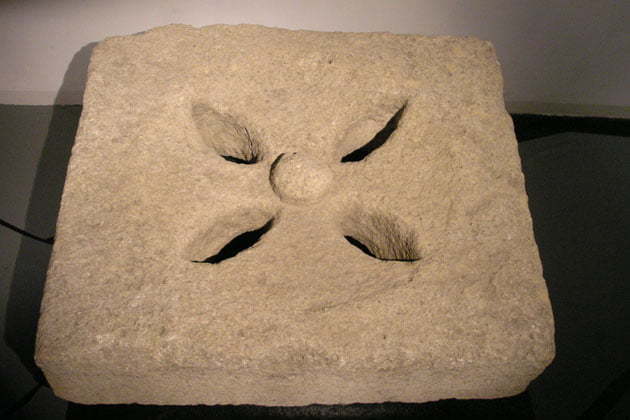 Nowadays, manhole cover materials vary from ductile iron, concrete, steel, glass-reinforced plastic, and composite.
Each of these materials differs in the quality of outcomes and is in use depending on application needs.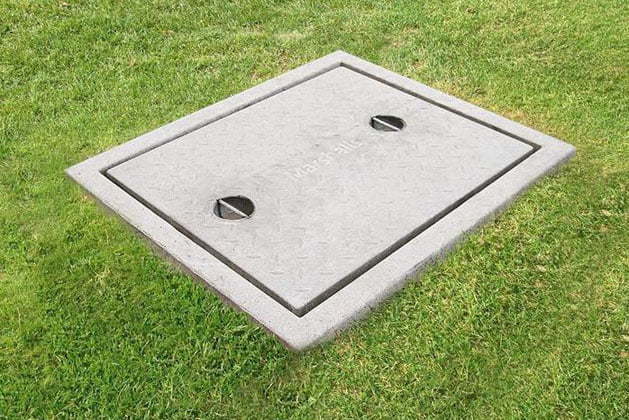 In detail, the materials include ductile iron, and concrete are commonly used. That is because manhole hole cover made from these materials are strong and heavy enough, so they can bear the external pressures from light to heavyweight vehicles on roads.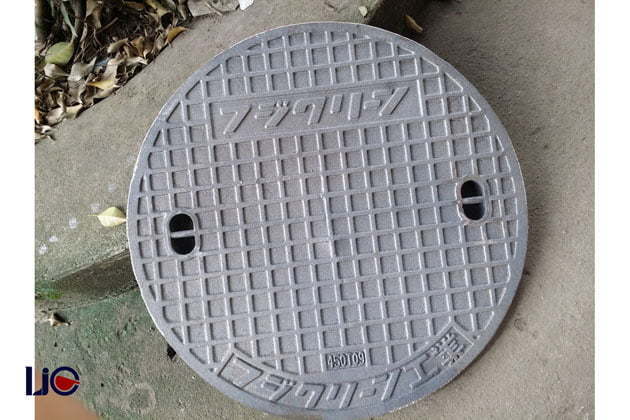 The heavyweight also keeps the inspection chamber covers difficult to be moved therefore help to prevent cover thefts.
Moreover, these materials are inexpensive, so the production cost is cheaper than the glass-plastics or composite.
Why Ductile Iron Manhole Cover is popular?
Nowadays, among various materials, the ductile iron manhole cover is commonly and widely used due to its unique strength, design, and cost-effectiveness.
Firstly, ductile iron castings have unique strength and more load-bearing capacity that is suitable for heavy traffic loading and at high speed.
Ductile manhole covers are able to withstand large impacts and not deformed when large loads of objects pass through. As a result, the drain cover durability is longer.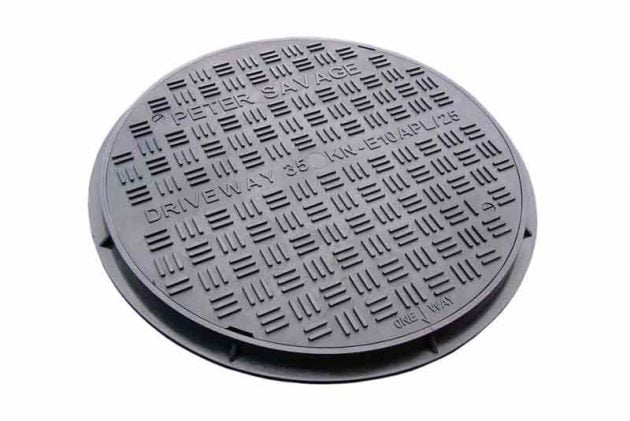 Secondly, ductile iron manhole cover weight is relatively lighter than grey iron products. Therefore, the production cost of ductile iron drain covers is cheaper than grey iron castings.
Eventually, ductile iron manhole cover turns out to be cost-effective too.
Furthermore, ductile iron drain covers also are easy to handle and do maintenance during service.
Thirdly, ductile iron sewer covers come with elegant checker design, offering good anti-skid grip and aesthetic looks.
Additionally, the manhole cover is often stolen by theft because of its material value. With the hinge type design, ductile iron maintenance cover also prevents the thief from being stolen from the cover.
Which technology used to manufacture ductile iron Manhole Cover?
Different from a composite manhole cover and steel manhole cover, the technology used to produce ductile iron sewer covers in most foundries is sand mold casting.
At Vietnam Cast Iron, we apply green sand casting technology to produce ductile iron drain cover.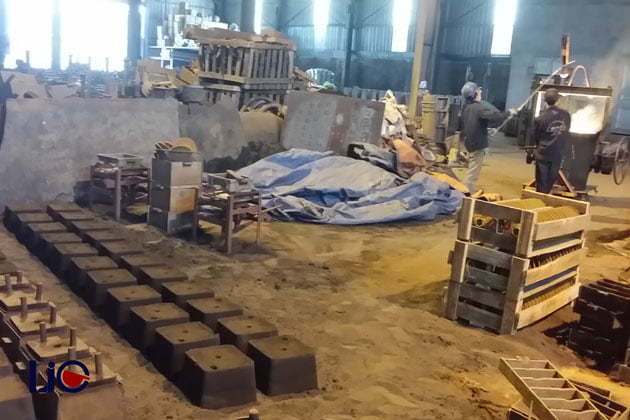 The green sand casting method is often used in metalworking foundries due to its outstanding advantages.
Firstly, the average cost to produce the casting by green sand casting method is affordable and reasonable because this mold casting method doesn't require complicated processes and high-tech machinery.
Another benefit of green sand technology is its versatility with production. Casting by green sand allows any alloys to be poured into and is flexible in the choice of molds and patterns.
Furthermore, the green sand casting is an environmentally friendly process where the mold aggregated can be treated and repeatedly used. The sand can be reused many times after adjusting the composition.
Why we are the best manhole cover manufacturers to the world's need?
VIC is one of the leading manhole cover manufacturers to the world market. We are able to produce any sewer covers come in various styles, designs, and applications.
For all of our ductile iron manhole cover products, we guarantee that VIC provides our customers with the best quality products for competitive prices.
We get full of confidence for our maintenance cover product because of these following reasons:
Firstly, VIC uses raw materials in production.
VIC always sets a high standard for input materials. All of our material suppliers are reputable and qualify. In addition, we often import the materials in large quantities, so the price is discounted as a preference.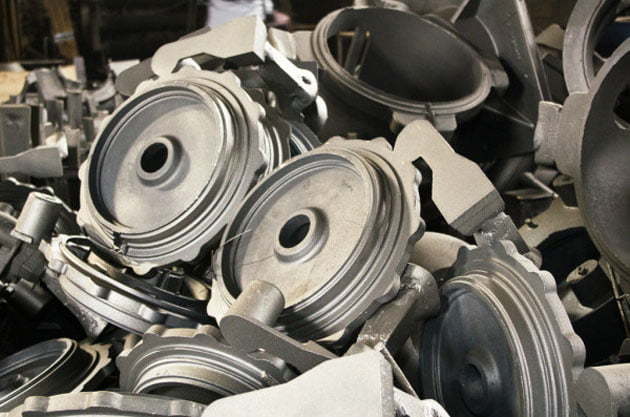 Secondly, VIC's staffs are highly qualified and experienced in the metal casting industry.
VIC has a team of excellent staff and professionals in the field of the metalworking industry. All of the production processes are supervised directly by experienced engineers so that minimize errors and costs incurred.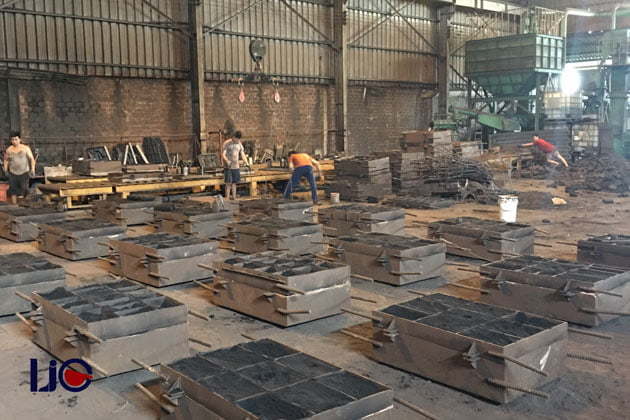 Thirdly, VIC is one of both the manhole cover manufacturers and suppliers.
Different from other manufacturers and business facilities, VIC's products reach our customers without any third party. This will cut down a third party expense, so the cost of the product will not be increased.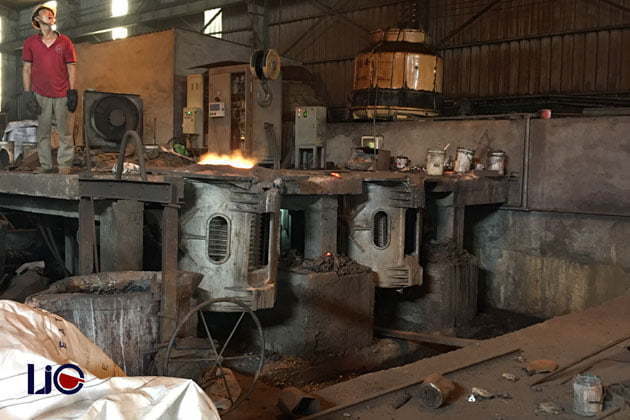 An order with VIC will save you money upfront and long term. Call us today to find out how we can make your project exceptional.
Contact information:
Company: Vietnam Cast Iron Co.Ltd
Address: Lai Xuan, Thuy Nguyen District, Hai Phong city, Vietnam
Email: [email protected]