Planting your own greens is rapidly becoming a new norm in this generation. Though it's a great time to refresh your garden with vibrant plants, have you got yourself a perfect pot or planter? Check out this article for the latest plant container inspiration to spruce up your home decor!
If you're fortunate enough to have a green thumb and your home and garden are surrounding by plants, don't you think you should make the most out of it with little investment?
To get a coherent show of your plants, you would need to concentrate on just a few things, one of which is the ideal planters.
Check out the list below to see the best flower pots available on the market in 2021. We bet that you'd be amazed by the range of products that can surely fulfill your needs, no matter what they are. 
But before getting into the main point, make sure you have in your mind the type of plant and "how many plants do you plan to cluster together?"
Why so?
You know which plant to grow in your planter, but the problem is if you have fifteen to twenty tiny plants or succulents grouped together, you may want to select pots that are slightly different, still each must stick to a similar color palette.
That's how we can make both the pot and the plant stand out while keeping them in tune.
Most importantly, however, is your decorating taste.
Though a modern planter might look really cool, will it match your super traditional decorating style? Or will it just stand there awkwardly?
So, whether you already have a concept in mind or you're on your journey finding one, let's get your inspiration going with the following up items.
Prepare yourself to not being too overwhelmed by the world of planters.
How to choose planter for your garder: Full Guide
Hanging Planters
To start off, we introduce to you the hanging planter – a decorative pot that can be suspended from your ceiling or wall as a unique way to elevate everything from herbs to small flowers, vegetables, and even fruit.
We must agree that a place that has hanging pots or other pots for gardening accommodates an exceptional charm.
It is one of the most innovative ways to decorate your home while taking up little space. Hence, if you're looking for a creative item to enhance your indoor or outdoor oasis, take a look at the extensive range of hanging planters.
These models are available in an array of options for multiple types of home aesthetics.
Among them includes minimalistic copper looks to complement more contemporary settings, bright glass-blown variations for a more experimental design, and a marbled concrete finish that provides earthy texture and smoky hues to your porch and patio.
You'll also be able to choose one that suits your needs easily because these planters can be made of a variety of materials such as rope, chains, macramé, plastic, concrete, and so on.
But what matters most is that you have the correct size "basket" for your plant.
A too-small basket would necessitate frequent watering and prune back of a plant that threatens to burst out of it. Larger baskets are more recommended because they carry more water and need less maintenance.
Railing planter box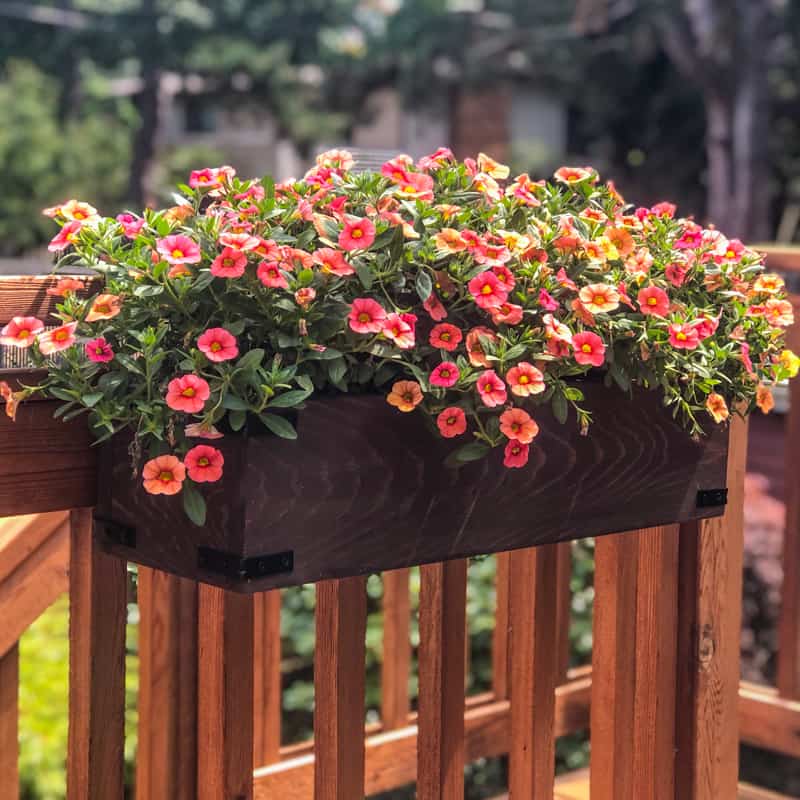 Another excellent way to reorganize and decorate your outdoor space is using railing planters.
It frees up space in your home and saves you from the burden of outdoor cultivation and the cluttering of bulky planter pots.
Railing planters are one-of-a-kind gardening tools that hang from the railing and allow you to plant as many plants as you want without taking up any space. And speaking of compactness, these planters especially come in handy if you live in an apartment and don't have enough space for gardening.
In some cases, when the apartment doesn't come with a proper balcony, that doesn't mean you can't garden. You can simply hang them from your windows. This way, you can still plant your favorite plant and bring some nature into your little room.
Railing planters don't take a lot of effort to maintain and save you from the hassle of a large garden. A large garden necessitates constant caring and nurturing. Railing planters, on the other hand, are lightweight and easy to carry.
This benefits both the gardener and the plant because it allows them to be conveniently placed in ideal light conditions as desired. You may also transform the look of your porch or balcony by simply repositioning it.
Plus, you don't have to stoop to water the plants as you would in a large yard. Watering and caring for plants is a breeze with a railing planter, which comes with a hole at the bottom to allow for proper aeration of the roots and avoid rotting.
Although the rectangular shape the most common, railing planters come in all sorts of materials and colors. They are also available in exotic shapes and sizes, makes them ideal for your artistic mind.
Greenhouse Terrarium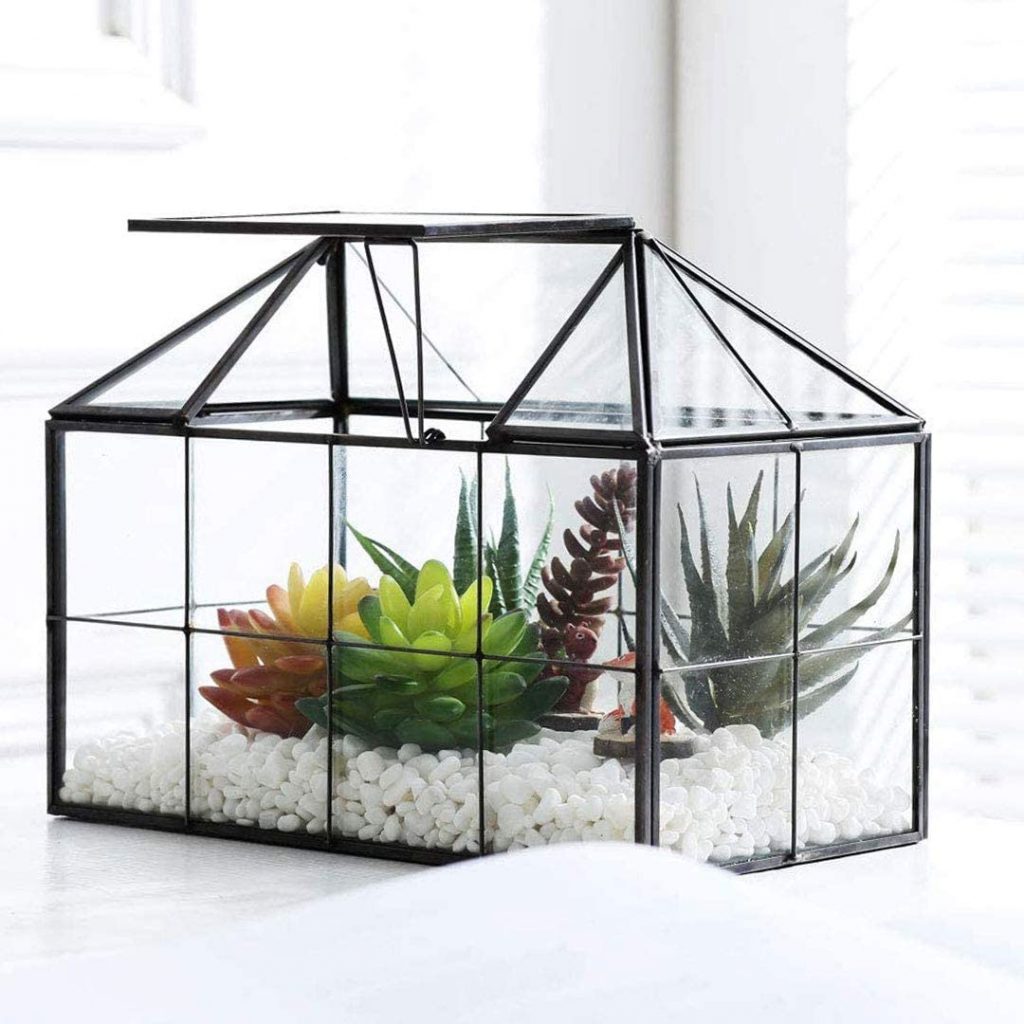 We're going to talk about something that looks exactly like a tiny greenhouse, which seems to be the most inventive decoration ever!
Mini-greenhouse terrariums are compact, enclosed environments for specific plants that are typically transparent due to the use of glass or plastic. Classified into two types: sealed and open, the lid of a sealed terrarium can be removed, while that of an open terrarium cannot.
How does the terrarium work?
They are indoor gardens in a closed container.
The plants and the soil in the terrarium emit water vapor, effectively recycling water. The vapor is then accumulated on the vessel's walls and trickles down to the soil. Terrariums are self-sufficient, which is why they need little maintenance if kept sealed.
This kind of "mini-garden" is absolutely invaluable. It promotes the growth of plants that would be difficult to develop in dry air, and it provides a confined space of "a greenhouse" for those who live in an apartment or do not have a decent planting area. Plus, a terrarium enables you to use artificial lighting, such as LED or fluorescent, very conveniently, and it does not require regular watering.
Do you know that you can make your own greenhouse terrarium instead of purchasing one from a store?
Here are what you'll need: a glass or plastic container, rocks (optional), moss (optional), soil (growing medium), plants that won't overgrow (generally miniature or dwarf plants), spoon for placing soil, long tweezers for putting materials into the vessel
And here is how you do it
First, get yourself a transparent container. You can buy a terrarium case to hold your garden or make one of your own out of a soda bottle, fish tank, fishbowl, or any clear vase. Then fill the bottom of the container with half the amount of soil you plan to use.
You can also lay rocks as your first layer in the terrarium; this is entirely up to you. After that, add large rocks or any pieces of driftwood that you would like to include in your tiny garden, and make sure to make a hole in the soil for the roots of the plants to rest.
That's done for the terrarium; now it's time to relocate your plant.
Of course you can get creative and mix up different species, colors, and sizes. But here is how you place them correctly in this unique container.
Carefully remove the plant from the container that comes with it, a tip that you may need to lightly massage the roots to loosen the roots from the soil.
Place the plants in the thin layer of soil and cover with the second layer. Press firmly and remember that the new soil level should be around the same level as the soil of the plant's original root ball.
And there you have it!
Minimalist Resin Planter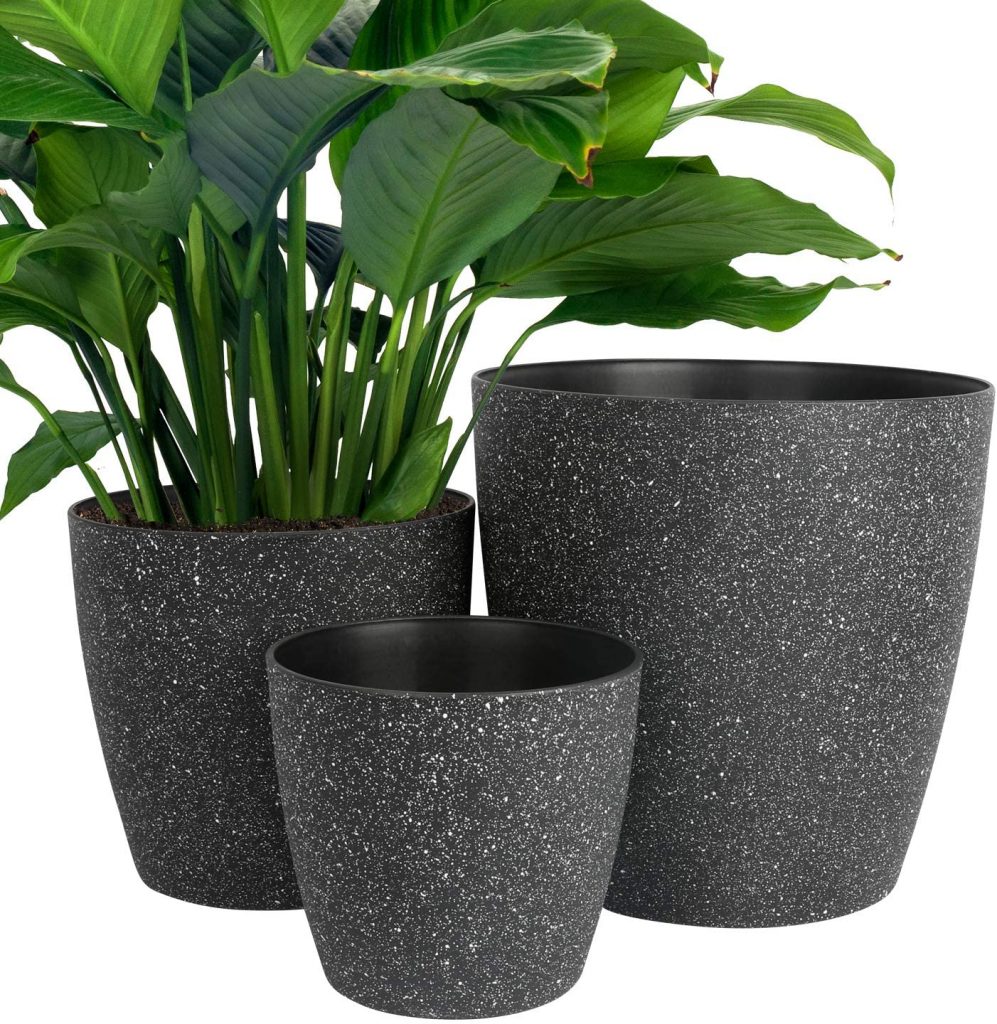 If you are new to self-planting and haven't figured out which planter would suit your style, choosing the resin one, and you won't regret it.
It isn't an affordable solution for a planter; resin containers, though, will undoubtedly meet your needs while providing several advantages over less expensive alternatives.
The tall, smoky-gray, or white designs are made of lightweight resin will look decent for years of use, making them all must-have pieces for anyone looking for a stylish spotlight on their front stoop or back porch.
Whatever you have in mind, resin planters won't let you down. They are totally flexible and can be customized to your particular case.
Another attractive feature of outdoor resin planters over other materials is their ability to withstand environmental elements while retaining their color and shape over time. Planters made of different materials often fail after a season or two heavy rainstorms punctuated by vivid, direct sunlight, but resin is willing to take the risk.
Therefore, instead of wasting your money replacing planters every season, opt for outdoor resin planters that are built to last for a longer period without the need for replacement or repair.
So what are you waiting for? Get a set of these right now to embrace your front door with lush greenery and fragrant blooms.
Metal Urn Planters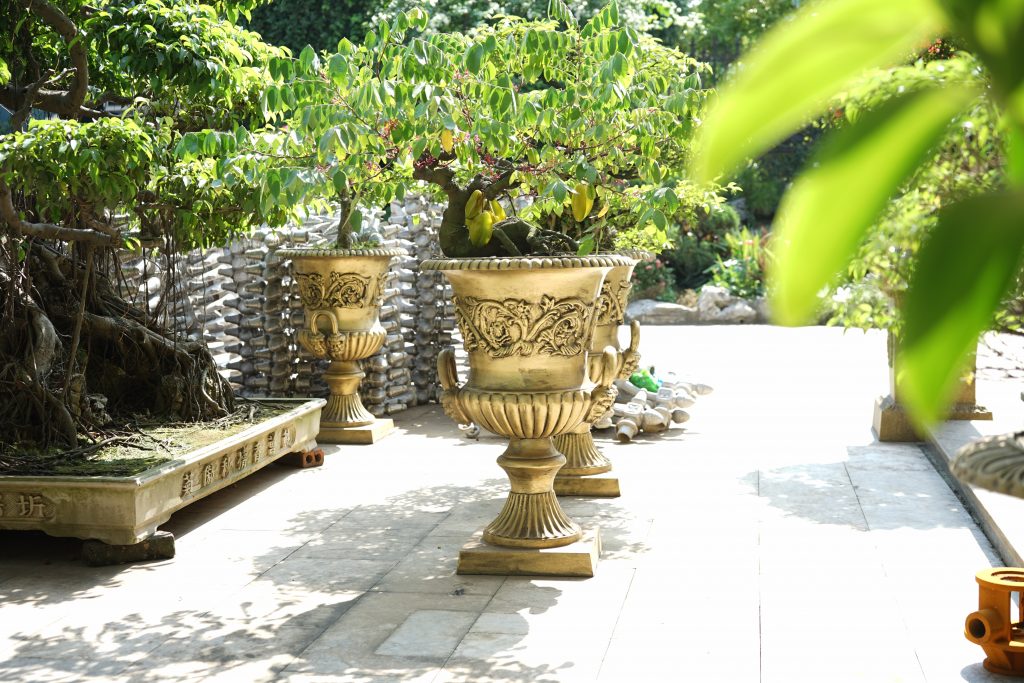 You want your garden to appear more personalized than mass-produced?
Inspired by the vibes in the 19th century, the vintage outdoor metal planters selection is the best decoration item ever.  
Check the latest flower planter selection here
Using historical items and antique elements in the garden alongside conventional construction has always had a special fascination.
A few carefully chosen, authentic vintage/antique items, especially the urn planters, certainly bring atmosphere, the patina of age, and a hint of the tales from previous eras to your adoring garden.
With such a rich history and gorgeous natural properties that are widely valued, every garden needs a space for a vintage urn planter made of cast iron.
These planters will instantly take your greenery to a new level.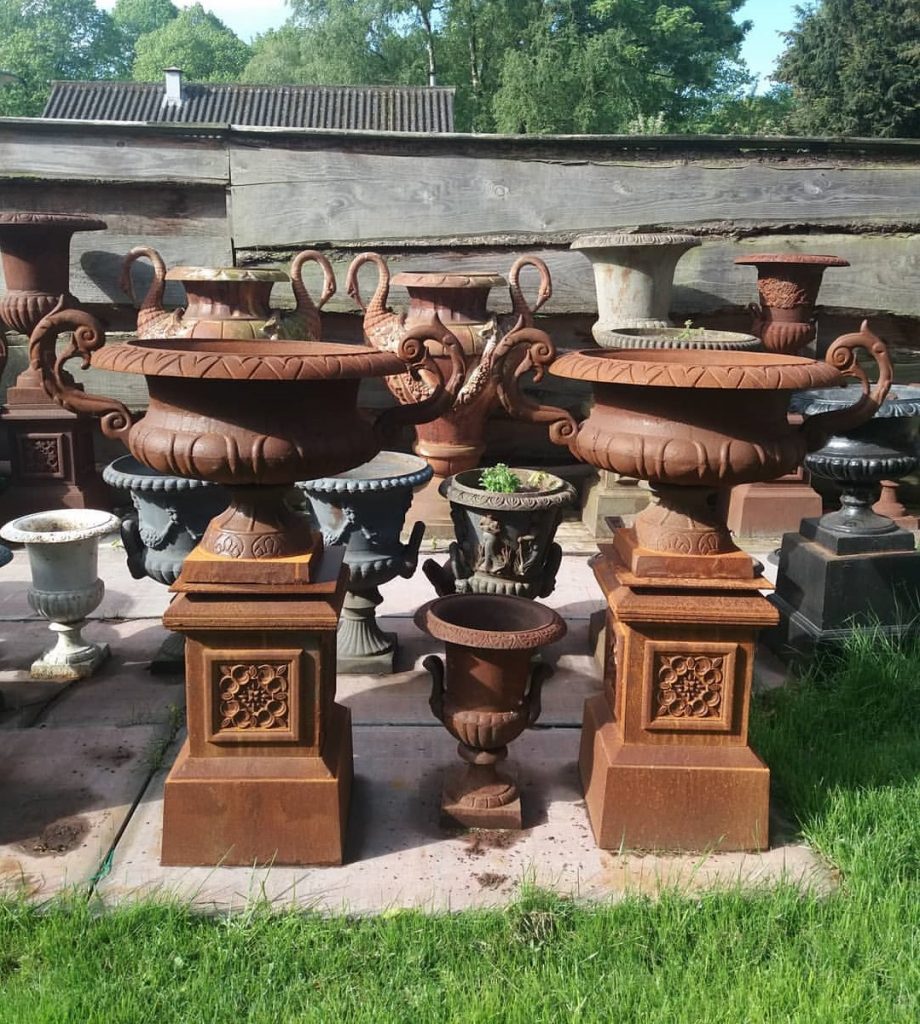 The textured pots, which elevate greenery as a landscaping option, are perfect for all kinds of flowers and promise to infuse the Old World charm into your garden patio.
Looking for those antique masterpieces, look no further than the suppliers on the internet. With just a single click, you will find multiple inspirations for beautiful garden vintage/classic urns, ranging from the highly fashionable Victorian to the Neoclassical Urns, which come in a variety of sizes and ornate designs.
Also, the cast iron urn planters can be customized as your wish, and they offer various aesthetics for any landscape. And what makes these special is the signature old crusty, rusty, well-worn patina. It contributes to an ageless, elegant appearance that can complement all plants and flowers, from historical and colonial to formal and contemporary layouts.
Struggling of what to buy, keep it classic!
A cast iron urn rounds up many advantages, from excellent longevity, superior resistance to environmental impacts, and breathtaking beauty.
Cast iron is also readily available and reasonably priced, making it a popular option among gardeners for both indoor and outdoor applications.
Containers made from this material are seemingly endless, making it incredibly flexible. And, since cast iron urns come in diverse sizes, details, and even shapes, feel free to dig into the cast iron urn planter category; you'll be doing your loving home a huge favor.
Conclusion
Characterized your living space by stylish planters will give the entire room a boost, just in time for summer. When it comes to choosing planters for your garden, patio, or commercial space – there is a multitude of options.
Regardless of what you'd prefer, from the sculptural urns and boxes to minimalist pots, these aesthetically pleasing vessels will refresh any space in no time though in distinct ways. But make sure you find out your style and plants that go with it before buying any pot, and wish you a happy planting.