Cast iron fence
Vietnam Cast Iron (VIC) OEM ornamental metal fence maintains elegant look, long-lasting, durability over time, and weather resistant. Our decorative iron and steel fence products are customized with different tastes, various styles, and designs. From antique or vintage appearances to Victorian features, we are able to produce all.
The type of fence you choose not only plays a significant role in beautifying your places but also providing security for the areas. Surpassed wooden or vinyl, cast iron fencing maintains excellent features highlighting the landscape.
From residential fencing to municipal, institutional, hospitality, and waterfront railings, cast iron is the preferred material choice for longevity and low cost of ownership.
VIC is one of the leading OEM cast iron fence manufacturers and wholesale suppliers in Vietnam. Our products are exported to the world markets such as America, Canada, Italy, Spain, France, Japan, etc., and gain high appreciation from our partners.
Our cast iron decorative fence is customized according to different tastes. From classic elegance styles to minimalist designs, we are able to produce all of them.
Check our category below to get detailed information about some of our cast iron fence components for sale. Also, contact us for your OEM fence casting.
List of our cast iron fence products:
Showing all 8 results
What is the fence?
A fence is a structure that surrounds areas for both security and decoration. A fence is different from the wall in which the fence is not a solid foundation along with its whole length.
What is a fence material?
The fence material is various ranging from cast iron, wooden, vinyl, bamboo, electric, aluminum, chain link, PVC, etc. Each of these materials provides different features suiting for typical applications and places.
By following, VIC introduces some characteristics of different fence materials in comparison with cast iron fences.
Wooden fences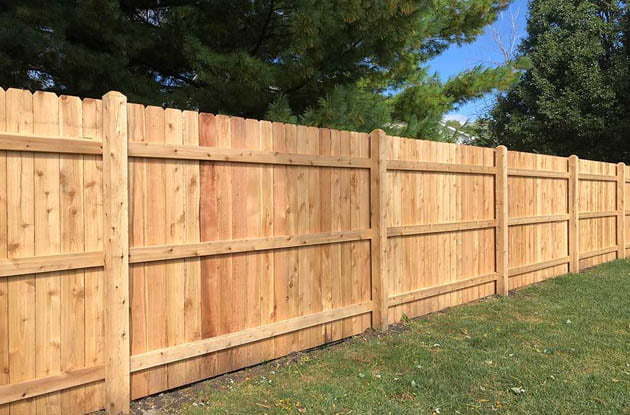 Wooden material is commonly used for garden decorative fences. This material provides good visual and highlights the home exterior design. Although they brighter the landscape, its durability is often a concern.
Wooden railing is not last a lifetime and needs to does maintenance very often to continue its appearance. A wooden fence is not weather-resistant and easy to get damaged by other factors.
Bamboo fences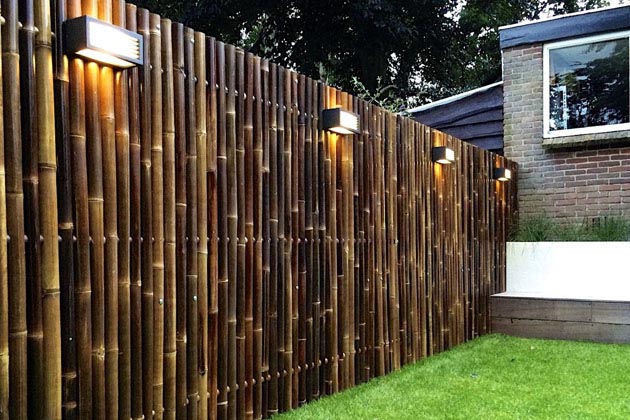 Likely wooden fences, the bamboo railing is impressive by its trendy and eco-friendly features. The bamboo fences are absolutely favorite for green environmental lovers. They are quite suitable to place in the rustic private gardens or conceptual restaurant.
However, similar to wooden material, bamboo is not durable over time.
Aluminum fences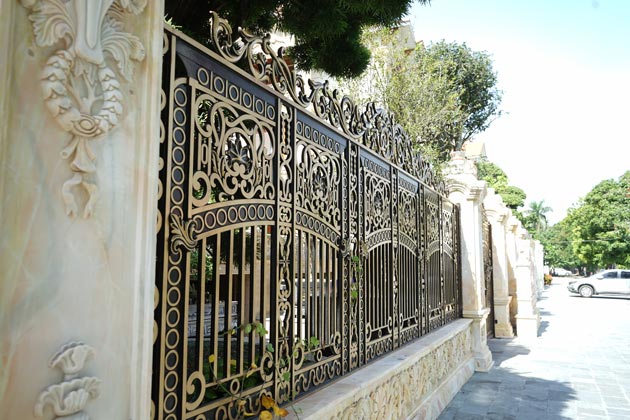 Another material commonly used for fencing is aluminum. This type of fence is applied in numerous applications from gardens, residential places, and institutions to parks.
Overcome shortcoming of wooden and bamboo railings, aluminum fences are durable over time. They are a low-maintenance option. However, along with the security issues, the aluminum fence is not as strong as you think.
Why cast iron fence is a good option?
Among materials, cast iron is considered as one of the most preferable options due to its outstanding benefits extend far beyond aesthetics. Discover why the cast iron fence is worth your investment.
Security: This is the most important function needed in a railing and iron cast fence is the perfect choice to protect your property. They are difficult to climb and nearly impossible to break. Having a sturdy cast iron surrounding your places acts as a deterrent to intruders.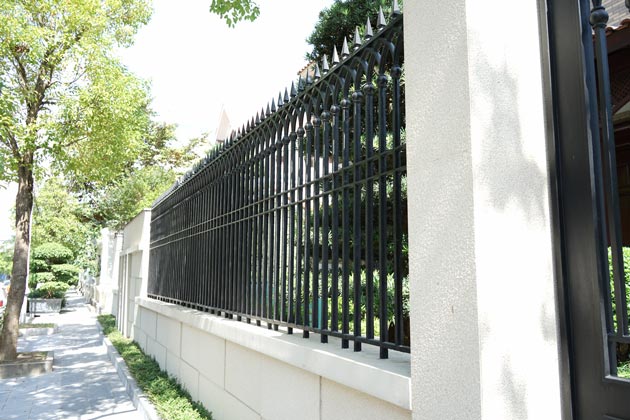 Low maintenance: Cast iron fences do not need to maintain often therefore they save cost for buyers. They are weather-resistant and only need to paint every few years. If any parts are damaged, it is very simple to replace this part by another section without affecting others.
Durability: Cast iron for railings and fences are more durable and long-lasting than other materials. They are very good at withstanding weather conditions either raining or hot weather. It is even able to bear unexpected damages such as vehicle hits.
Elegance look: Cast iron provides pretty excellent visual, hence add elegance and value for your areas. It can say that no materials can perform the same elegance as the cast iron fence does.
Where to place a cast iron fence?
Cast iron fence performs unique and excellent benefits, not only durable but also stylish, therefore, they are widely and preferably used for both security and decoration functions.
Cast iron fencing applications are various, ranging from indoor and outdoor installations.
With respect to indoor application, commonly there are cast iron stair railings, window railings, balcony railings, porch railing, etc.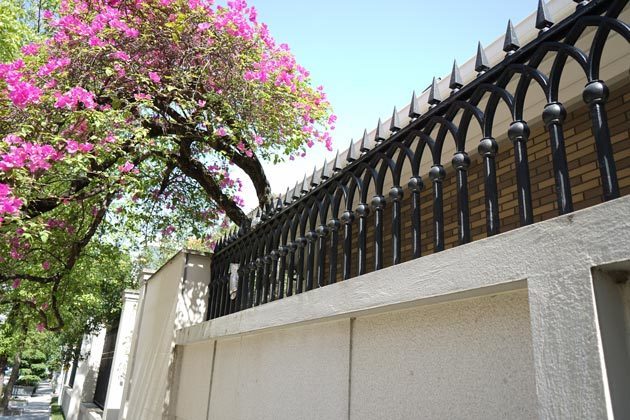 With respect to outdoor applications, there are quite various from the garden railing, residential railing, river railing to municipal, institutional, hospitality, and waterfront railings.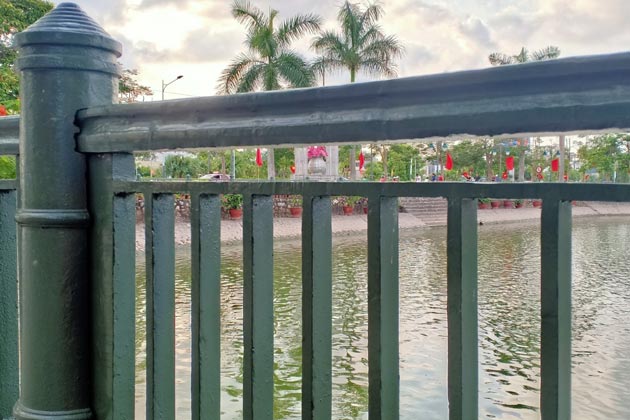 Cast iron fence design
Due to its casting and flexible ability, cast iron material allows casting different styles and designs of decorative fences with details and ornaments.
They are allowed to be shaped into beautiful scrolls, or curves, as well as straight and twisted spires, or posts
Vintage, antique and Victorian cast iron fences are often best seller items. They are the most popular and preferable designs in the market.
While often presented as black, cast iron can be painted, which actually adds to its rust resistance and highlights any of the decorative ornamentations that you may have opted for.
Where to buy cast iron fence?
There are numerous cast iron fence suppliers in the market, but it is very important to consider where you should put your trust in. Research carefully about the manufacturers you are going to work with to make sure your product maintains high quality and long-lasting.
VIC is one of the leading cast metal manufacturers in Vietnam. We work directly with our customers to cut down extra costs for third parties, then reduce the selling cost and maximize benefits to our buyers.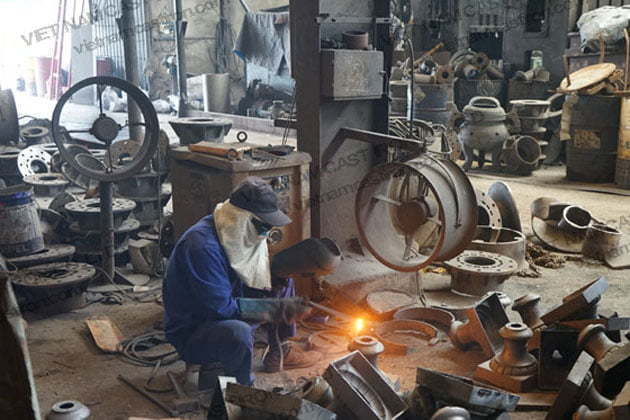 At VIC cast iron fence manufacturer and wholesale supplier, we are able to produce cast iron fences for various designs and applications. Our products are not only available in stock but also customized with different tastes. Most styles and ideas can be accommodated by us.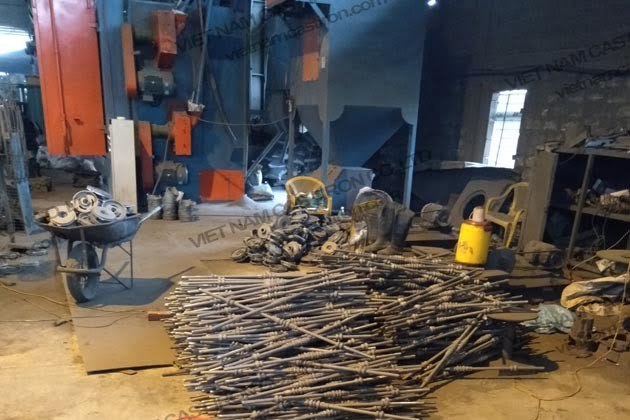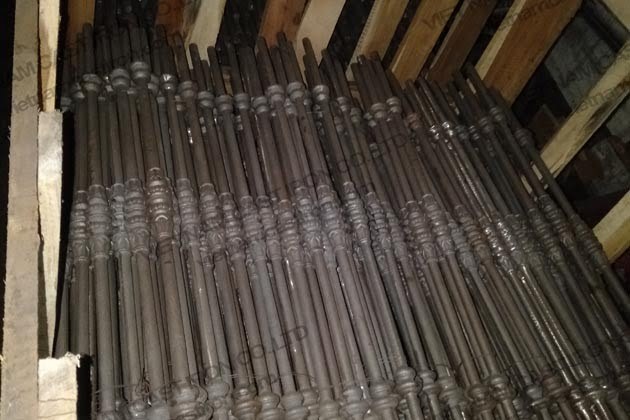 Our cast iron fence products are guaranteed:
Elegant design
Long-lasting
Durability
Weather-resistant
Low maintenance
Quality warranty
Competitive price
VIC cast metal fence strives for 100% customer satisfaction. We work closely with customers to assure them satisfied cooperation and build strategic partnerships in the future.
An order with VIC will save you money upfront and long term. Call us today to find out how we can make your project exceptional.
Contact information
Company: Vietnam Cast Iron Co.Ltd
Address: Lai Xuan, Thuy Nguyen District, Hai Phong city, Vietnam
Email: [email protected]