Dumbbell
Our casting ability allows manufacturing a range of cast iron dumbbells for weight training. Ensure smooth finish surface and long-lasting product, we are one of the top reliable casting dumbbells wholesale to the USA, UK, France, Italy, Spain, Sweden, Australia, etc. 
Dumbbell is a common item for daily exercise that can be used for both women and men.
Fix dumbbells come in a range of weight. The group of light-weight dumbbells consists of 5lb, 10lb, 15lb used for warm-up, some of the biceps, triceps exercise for man, and woman daily workout. The medium to heavy weight (from 25lb to 100lb) works on your chest, leg, and back muscles.
Among materials, cast iron dumbbells perform great supports to strength and muscle training but also a cheap price.
As the dumbbells wholesale and manufacturer to world need, here VIC introduces some of our custom fixed weight and adjustable cast iron dumbbells. Contact us for OEM casting dumbbells as well as adding your unique brand/logo to the weight. Plus scroll down to read more about our production and casting capacity.
List of Cast Iron dumbbells:
Showing all 3 results
What are dumbbells?
Dumbbell is the gym equipment commonly used for weight training. It is designed to allow the exerciser to workout with one hand featuring two weights balancing on each end and a single bar to hold in the middle. The dumbbell can be used either individually or in pairs, one in each hand, depending on the exercise you plan to do.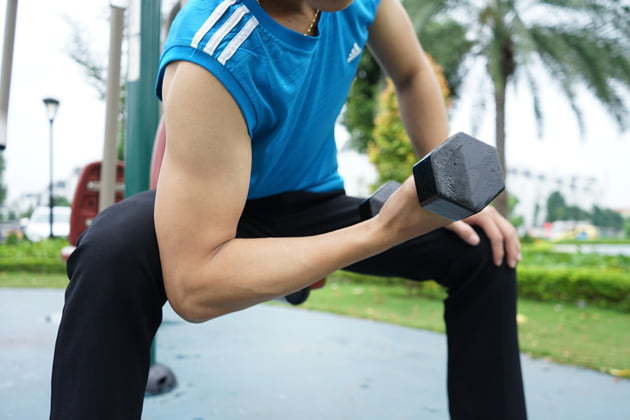 Back to the origin of the dumbbell, it dates since ancient Greece.
At that time, the "halteres" is used as the lifting weight and weight in the long jump sports field considered as the forerunner of the nowadays dumbbell. The halteres were held by the athlete's hand to create momentum for jumping further. It is mostly popular constructed of stone and metal, and weighted in a range of 4 to 20 lb (2 to 9 kg).
Another kind of dumbbell was also seen a millennium ago in the Indian community. It has a shape similar to the club so-called Indian-club and designed in different weights for weightlifting.
The Middle East dumbbell version at the same time was known as "Nal". It features longer than dumbbells but shorter than the barbell also used for building muscles and strength.
The name "dumbbell" or "dumb bell" rooted in England since the late Stuart Period that lasts from 1603 to 1714 under the Stuart House dynasty. At that time, the athlete did training by using the handheld bell with the clappers removed. The bell, without the clappers, turns to dumb so the term "dumbbell' was coined since that time.
The poet Joseph Addison also mentioned the term "dumb bell" in an article published in the Spectator Journal in 1711 while wrote about a workout exercise.
Later on, the "dumb" bell was replaced by metal weight specialized in muscle training and strength gaining.
How benefit by often dumbbell training?
The dumbbell is a piece of iconic gym equipment that has been used for a range of exercises to build strength for the last 2000 years till the present. From the gymnastic center, outdoor to home, the dumbbell becomes an indispensable item for workout activity.
Different free weight equipment works for different training purposes. While the barbell is suitable to develop the max strength, the dumbbells can use for full-body exercises such as warm-up, biceps curls, chest flyes, shoulder raises, or leg squats.
According to fitness coaches, exercises with dumbbell weights almost have effects on all muscle groups on the body such as arm muscles, chest muscles, shoulder muscles, or leg muscles. Apply the multi dumbbell exercise for full-body daily will help to increase muscle growth, lean muscle, strength outcome, and good body shape.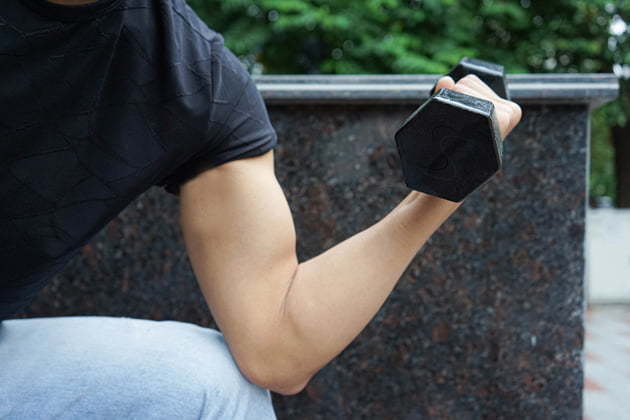 Furthermore, dumbbell training is one of the most effective calorie-burning exercises because lifting weights takes a lot of energy. Just a few repetitions can be as effective as running a dozen miles in an hour.
Weight training is also one of the ideal ways to improve your cardiovascular health. In a study by Appalachian University (USA), participants who have to exercise moderate weight for 45 minutes can reduce blood pressure by up to 20%. Many other studies have also shown that regular weight training with the ideal diet can improve heart health and blood fat effectively.
The dumbbell is attractive than other weight equipment due to its versatility and flexibility. This equipment is portable and doesn't need to set up as a weight machine hence it is easy to carry out and exercise anywhere either at the gym, at home or you go for traveling in other places.
Type of dumbbells
There are several versions of the dumbbell overtimes and different dumbbell manufacturers specialize in particular models. Generally, three main types of dumbbell can be listed including adjustable dumbbell, selectorized dumbbell, and fixed weight dumbbell.
Adjustable Dumbbells
Adjustable dumbbells are very common in both the gym center and at home that everyone would own one of them.
This type of dumbbell allows to manually add or remove weight plates for different exercises. Simply, you can slide the plates and tighten them with screws or ring clips. Some of the advance adjustable dumbbells feature a more convenient design with the lock technology for adjusting the weight quickly.
The adjustable dumbbell is mostly made of metal, particularly steel and cast iron. Some are coated with rubber or neoprene.
The adjustable dumbbell is widely used due to its versatility. Overall, it can be used for the workout of almost muscle groups by simply adding weight plates. You can do the warm-up with lightweight and level-up for difficult training. Plus, the weight adjustment is pretty easy, around a minute you will get one for exercise that doesn't cost your sweat and tear. There are a lot of adjustable dumbbells wholesale as well as manufacturers, hence it is very easy to buy a pair for your workout.
Selectorized dumbbells
This other type of dumbbell has similar features to the adjustment one that you can change its weight. However, if the adjustment dumbbell tends to manual adjust, the selectorized equipment applies more advanced technology.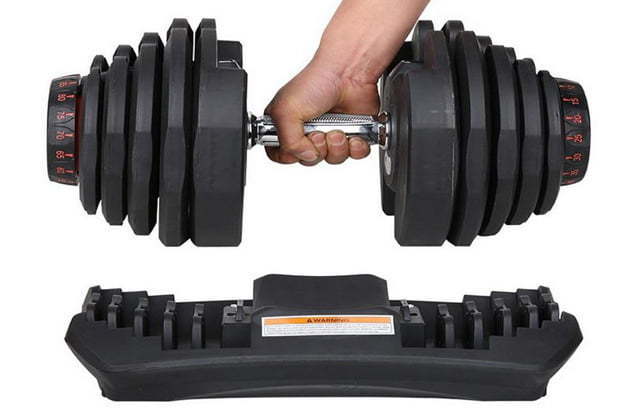 You can choose the number of plates by turning the selector dial and lift the handle. The selected weight will be attached automatically while the remaining plates will be kept in the stand.
As how high tech it is, this dumbbell is very expensive. It is also extremely heavy if you want to move around.
Functionally, this high adjustment dumbbell is suited for growing your muscle mass or bodybuilding professionally. Remember to ask for expert instruction before workout with the selectorized dumbbells. Also, make sure your exercise movements are correct because you are using a very heavy dumbbell and you may get hurt if do it wrong.
Fixed weight dumbbells
The adjustable and selectorized dumbbells are versatile, but if you would a convenient, quick, and disassemble denomination the fixed weight dumbbells are mostly matched.
Sound as its name, this dumbbell is un-adjustable but features fixed weight on each one. You may catch them very often in the gym because each dumbbell mass is specially designed for a specific exercise.
The fixed dumbbell is suitable for both women and men. It can not only work on muscle growth and strength increase but also weight loss and stay fit.
The fixed dumbbells come in a range of mass from 5lb to 100lb. The lighter weight group includes 5lb to 15 lb used for starting-up and core moves. Similarly, exercise such as tricep extension, shoulder press, and straight-arm pulses also require lighter weight. Oppositely, the heavy strength and muscle training recall the heavier weight dumbbells (40lb to 100lb).
Regarding its material, we see they are diversified. The cheapest one is made from a plastic shell then filling inside with concrete. Full of plastic, rubber, or iron dumbbell also can found as cheap versions. The regular material is cast iron which is pretty durable and of excellent quality. Sometimes it is coated with rubber or neoprene to avoid scratches, protect the floor, and increase comfort. These fixed-weight dumbbells are widely made in almost all dumbbells wholesale and manufacturers.
Cast iron dumbbells
Cast iron dumbbell is the dumbbell that cast from cast iron raw material.  The casting dumbbells process is well supervised to keep the best quality for the weight. They are commonly used for fixed and adjustment weight in pure form or coated with rubber for better comfort.
Among a range of dumbbell materials, cast iron dumbbells are outstanding for their fabulous advantages. It is considered the oldest and most traditional dumbbell material. Till now, they are still preferable over other materials such as rubber, steel, plastic due to its cost-effectiveness.
Versatile
Cast iron dumbbell comes in a range of selection from 1kg to 50kg. You can easily find almost all of the weight either light to heavy options for a lot of workout exercises. The casting dumbbells process also allows producing cast iron weight in different shapes such as round, hexagon, etc.
Small and sturdy
The cast iron property itself maintains density, hence using cast iron to manufacture dumbbells will save the space and volume for the dumbbell. Cast iron dumbbells are often smaller than other materials of the same weight but perform sturdy better than others.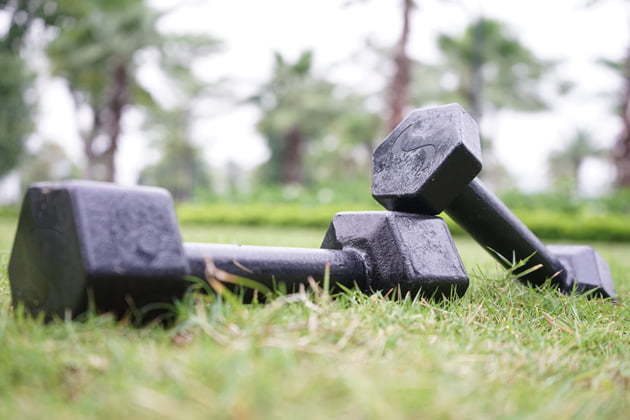 Most importantly, the casting dumbbells provide the proper weight hence it supports muscle growth and strength exercise effectively. However, it is better to wear gloves to protect the skin of your hands.
Good look
The surface finish of cast iron weight features a high-end outlook. A unique brand and logo also can be added if you make an order with OEM casting dumbbell manufacturers or dumbbells wholesale. The color painting also customs to your taste.
If you demand to keep your dumbbell avoid from being scratch or don't want to buy workout carpet, you can choose the cast iron dumbbell with rubber coating. It guarantees the proper weight but also comfort for the floor and exercise.
Long-lasting
There is no need to say that the casting dumbbells are pretty durable. If the iron weight gets rust and maintains an ugly look after time, the cast iron material is wear and tear resistant. Plus, they are not easy to be broke as iron and smell like a rubber one. The cast iron dumbbell even can last your lifetime. Simple apply painting after every 2-3 years of using, it turns to a fresh look as a new one.
Dumbbell shape
While the globe dumbbell is less preferred, the round and hex dumbbell is the fixed weight dumbbells commonly used in the gym and at home nowadays. These three types of training weights are popularly made out of solid cast iron by pouring the molten metal into the mold.
Depending on the need, it is sometimes coated with rubber or urethane layers. Globe, round, and hex dumbbells both provide a range of weight options.
Generally, a 15lb round dumbbell is similar to a 15lb hex dumbbell. It might likely to say that the shape doesn't make big difference much from dumbbell effectiveness. However, there are a few important un-similar features you should know over the shape before deciding to buy a dumbbell pair or set.
Globe dumbbells
Among three types of fixed weight dumbbells, the globe (or ball) dumbbells are less used because of safety and aesthetics matters. They are not popular and less made by dumbbell manufacturers and dumbbells wholesale.  It is likely to be found in the old fitness center for a warm-up and some light exercise.
Round dumbbells
The round dumbbell or also well-known as the pro-dumbbell is a common shape of fix weight cast iron dumbbell. It features a short handle and cylindrical, and circular end caps on both head sides.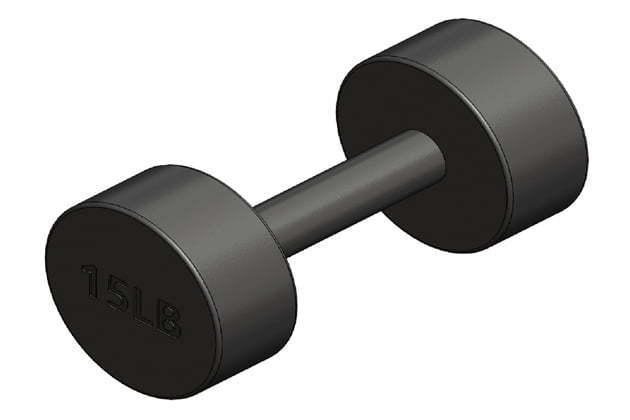 One of the cons leading the pro dumbbells less versatile is that they are easy to be rolled away if you place them on the uneven floor. This could hurt your feet or others in a few careless minutes. As the result, the round dumbbell is not suited to be used for push-up exercises. This round cast iron dumbbell is not popular and often made by dumbbell manufacturers.
It is better to equip your gym center or workout space with exercise carpet too if you are going to invest in the round dumbbells or consider coating a rubber finish layer to avoid the rolling out.
Hex dumbbells
The hex dumbbell has a very similar design to the round one except for the end caps on the two sides feature a hexagon shape.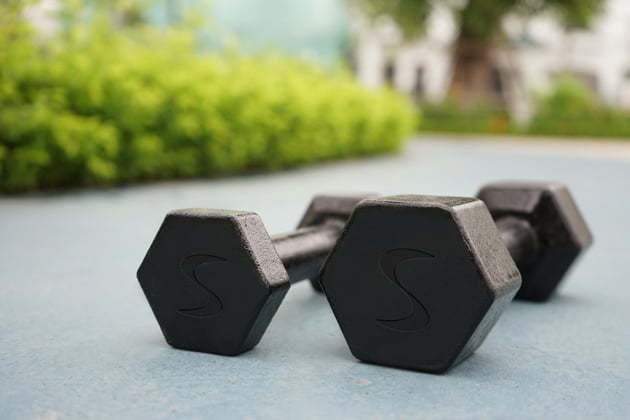 With a six-sided head, its biggest benefit is that it does not roll. If your floor is flat or even slightly uneven, problems could arise when your dumbbell is run away. It might be very dangerous in some cases. Hence, the hex dumbbells guarantee safety for the exerciser and surroundings when they are out of the rack.
Additionally, because the hex dumbbell does not roll so it can be used for floor exercises such as push-up workouts. In other words, the hex weight is more flexible and versatile than the rough dumbbells.
Overall, the hex dumbbells are more favorite and most used due to its pros. You can find hex dumbbells in most dumbbell manufacturers and dumbbells wholesale.
Custom dumbbells wholesale and manufacturer
VIC is the OEM foundry providing the casting products to mainly North America and Europe. Specifically, the cast iron dumbbells are one of our production strength.
As one of the dumbbells wholesale and free weight casting manufacturers for weight training, we specialize in providing casting dumbbells products including commercial fixed weight and adjustable cast iron dumbbells for sale. Our product is cast monolithically, by pouring the molten cast iron into the mold and collect the whole dumbbell and weight plates.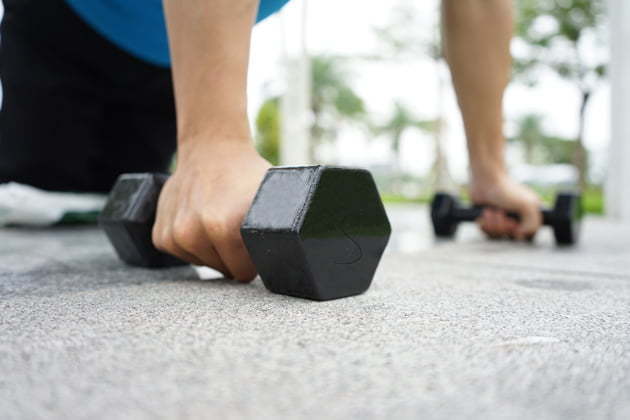 Offer the OEM and ODM service, we are allowed to casting weights according to the customer's design and request. You can feel free to add your own logo or brand to the cast iron dumbbells that would definitely excellent strategy for your brand building.
Since establishment, we have worked on tremendous weight projects and deliver our casting dumbbells product across American to the European continent. If you come to some fitness equipment shops, you may happen to see some of our dumbbell casting products being customized for our contractors and vendors.
Our casting ability allows manufacturing custom dumbbells in different designs either round or hex shape. For the cast iron dumbbell made by us, they consist of:
Available in a full range of weight selection
Excellent surface finish (No dumbbell casting defect such as pinhole, crack, poor painting, etc.)
Durability
Customized logo and OEM design
Competitive price
Quality warranty
We guarantee to deliver the best quality to every casting dumbbell set. An order with VIC will surely worth your investment. Contact us today if you are looking for reliable dumbbell manufacturers and dumbbells wholesale and casting weight exporter to your place. We surely will not disappoint you by any means.