Pan support
We are the world-class OEM manufacturer and supplier for gas stove pan supports. The products made by Vietnam Cast Iron (VIC) are exceptional from high quality, durability, corrosion resistance to competitive prices. Get more updates about our cast iron pan support below.
At VIC, we are able to produce OEM gas stove pan supports for various styles and designs. Our customized products are mainly made from cast iron material.
VIC's gas stove pan supports are distinguished for their specific features like excellent finish, high fuel efficiency, easy to operate, and durable over time.
Our every product is manufactured under the supervision of experienced personnel and applied to high technology. For all of our cast iron pan support products, we guarantee to offer the best quality and competitive price for our partners.
Check our categories below to get detailed information about our gas stove accessory products. Send us your own drawing or requirement if there are any.
List of our cast iron gas stove pan support products: 
Showing all 8 results
What is pan support in gas stove?
Unlike electric stove, pan support is one of the indispensable accessories in the gas stove. It is placed on top of the gas hob and works to hold the cookware over the flames.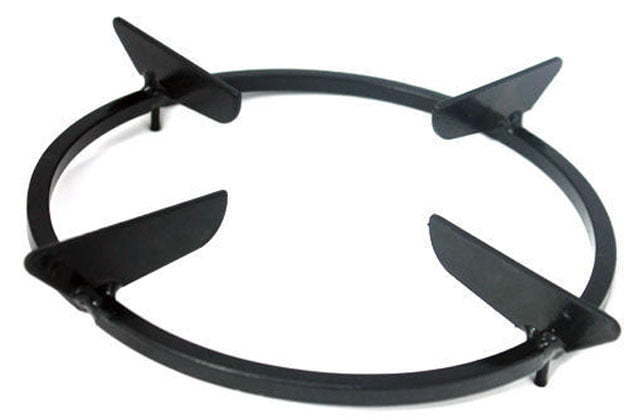 All of the gas stoves have this part. It tends to be moveable to clean easily.
What are pan supports made of?
Commonly, pan support for gas hob is made from cast iron, stainless steel, and enamel materials.
Stainless steel pan supports are often used in gas hobs which featured by stainless steel surfaces. However, they are less common because their properties are easy to tarnishing from the heat.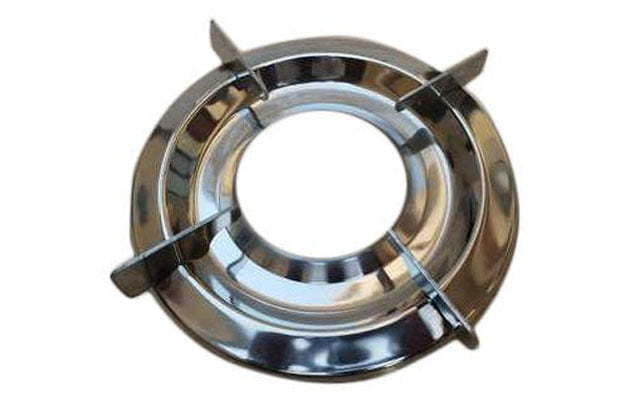 With respect to enameled pan supports, they can be cleaned in the dishwasher. However, the enamel material can chip and become brittle over time, as the enamel coating is exposed to so much heat during cooking.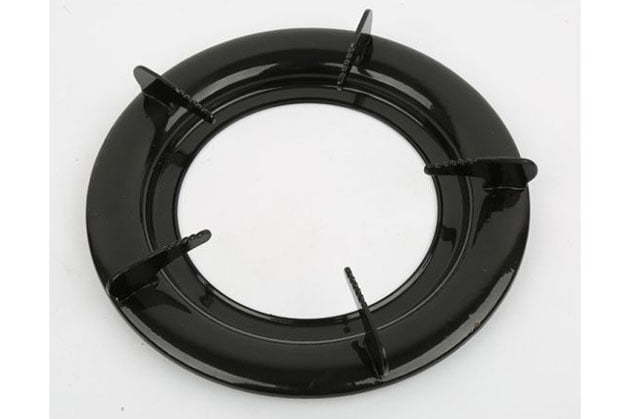 Why cast iron pan support is the right choice?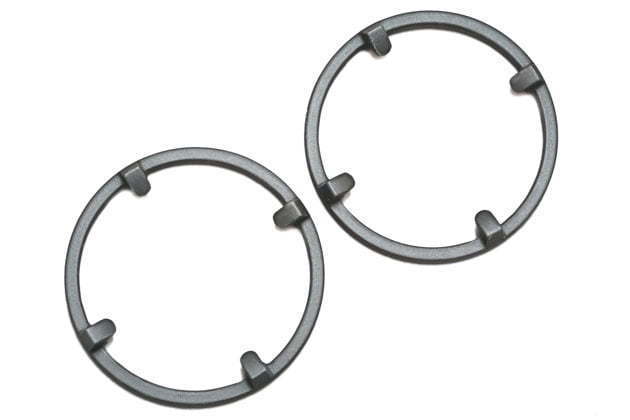 Among materials, cast iron pan supports are exceptional due to its unique features. They're heavy-duty and resilient to wear and tear. The cast iron material is a little wider than the hardened enamel pan support, therefore, they hold cookware more stable while cooking.
In addition, the benefit of cast iron pan support is that it is durable. Hence it is able to use year after years, which seems very cost-effective. Furthermore, cast iron products are economical fuel consumption, then save money for the users.
Pan support size and design
The kitchen gas hob pan supports style and design are diversified. Common shapes are round, square, and rectangular.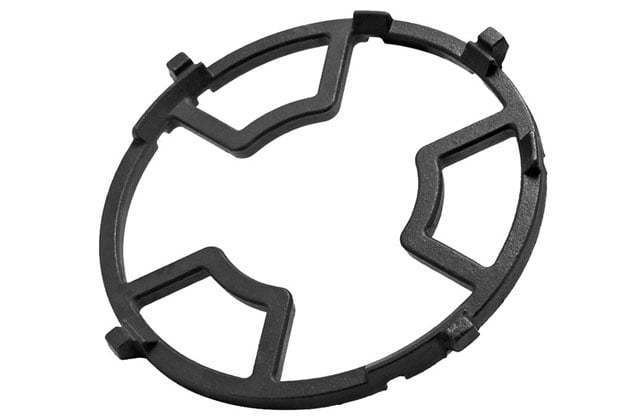 At Vietnam Cast Iron we are able to manufacture customized cast iron pan support in various styles and designs, meeting every customer's needs.
How to clean cast iron pan support?
Burners, pan supports, caps, and gas rings should be periodically cleaned to keep not only hygiene but also aesthetic for your kitchen.
Especially, hob pan supports are one of the parts directly in contact with the cookware when we cook. Many people have a habit of cleaning the gas hob just wipe on the surface of the kitchen but forget the pan support  – the part that often stores dirty during cooking.
Because of this habit, most gas stoves pan supports are rusted, dirty, and moreover, it becomes a container of bacteria.
It is highly recommended to often clean the pan supports with warm soapy water, then rinsed and carefully dried.
For stubborn stains, you can use baking soda or specific degreasers. Due to the presence of salt in the wash solution used, remember do not wash them in the dishwasher.
Vietnam Cast Iron pan support
We are a cast iron pan support manufacturer for customers across the world.  At VIC, we can produce and supply a wide range of customized cast iron gas stove accessories.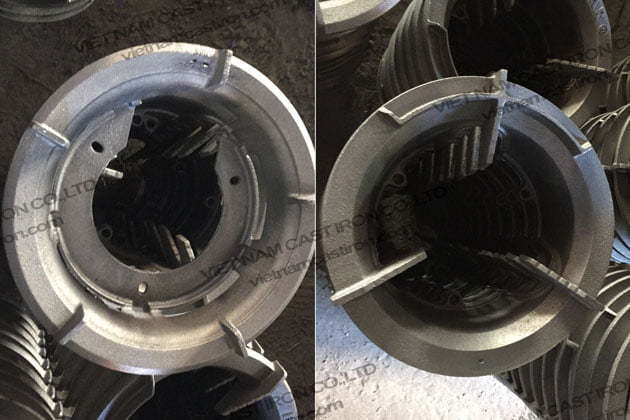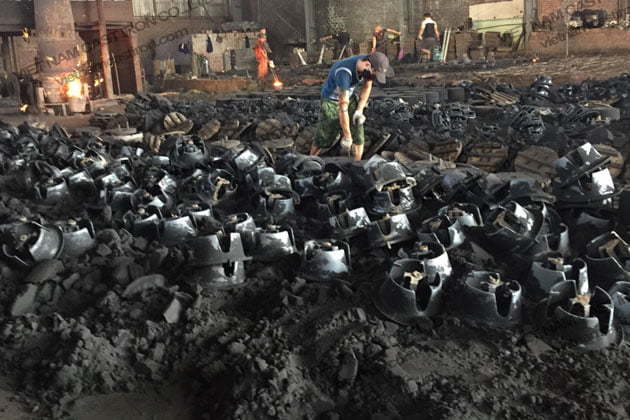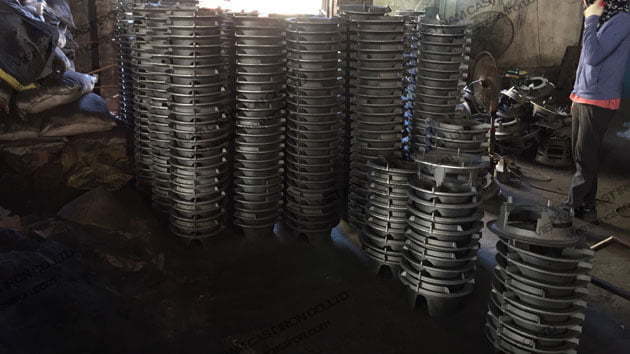 Owing to the latest manufacturing technologies with advanced equipment, our products are highly appreciated for excellent outcomes.
Our cast iron pan supports are featured by:
Perfect design
Corrosion resistance
Smooth finish
Easy installation
Competitive price
An order with VIC will save you money upfront and long term. Call us today to find out how we can make your project exceptional.
Contact information:
Company: Vietnam Cast Iron Co.Ltd
Address: DT352, Thuy Nguyen District, Hai Phong city, 183440, Vietnam
Email: [email protected]