Gas burner
We are the OEM Cast iron Gas burner manufacturers for customers around the world. For all of Vietnam Cast Iron gas burners in the stove, we commit the quality for our products. Let take a look at the categories to get more information about our burner products.  
The gas burner is a very necessary gas stove accessory. Its materials as well as designs affect pretty much on how gas hob works.
VIC is one of the leading OEM Cast iron Gas burner manufacturers. We are both manufacture and wholesale of cast iron gas stove accessories for the world market.
Our product range varies from different types of cast iron burners. Excellent in smooth surface, durability, corrosion resistance, and high thermal conductivity, we guarantee our products to maintain not only high quality but also competitive prices.
Below are some of our casting products. Kindly check them to get more information about our casting capacity. Send us your own drawing and requirement if there are any.
List of our casting gas burner products:
Showing all 3 results
What is a gas burner used for?
With respect to the gas burner, it is a gas stove core item determining the durability and quality of the gas hob. It is also known as the fuel division part in which gas is released to heat the cookware.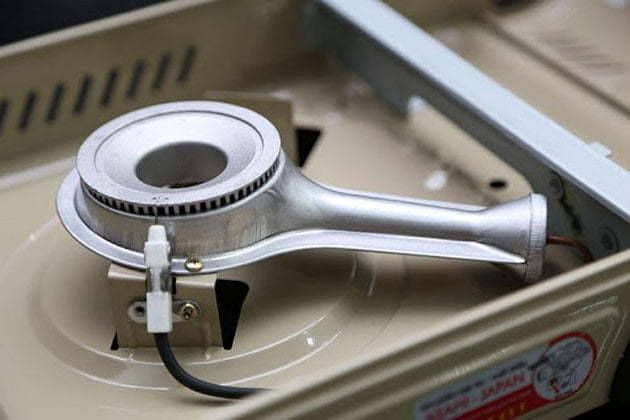 The gas burner helps to split the heat evenly from the bottom of the cookware, allowing for faster cooking of the dishes.
Additionally, burner designs also affect flame's shape which serves cooking better and saves gas consumption.
This part is directly affected by the high temperature of the flame, so if we want to evaluate whether the gas stove is of good quality or not, we need to pay attention to the durability and design of the burner.
Gas burner design
The design effects much on the efficiency of the burners. Commonly, a gas burner comes with a single ring of apertures. Some gas stove has double or triple ring burners.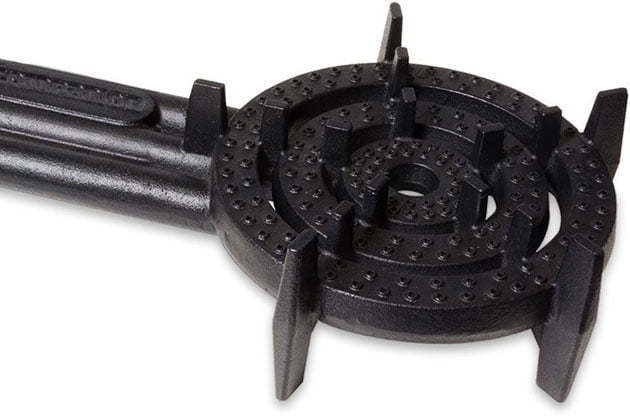 The ring burner plays the role of evenly fire division helping to cook dishes quickly. The more ring burners are the better the heat distributions.
The double and triple ring burners also save gas consumption better. However, these multi-ring burners are high detailed leads to higher production costs as a result.
What is gas burner material?
As mentioned above that gas burner effects on gas hobs quality, therefore considering the materials for gas burners are pretty important. What is it made of is one of the factors that determine the price of the gas stove?
The thicker and more durable the metal gas burners are, the more expensive it will cost because of their long durability and high quality.
Commonly, there are four main materials used popularly in gas burners that are cast iron, aluminum, brass, and enamel steel.
Aluminum burner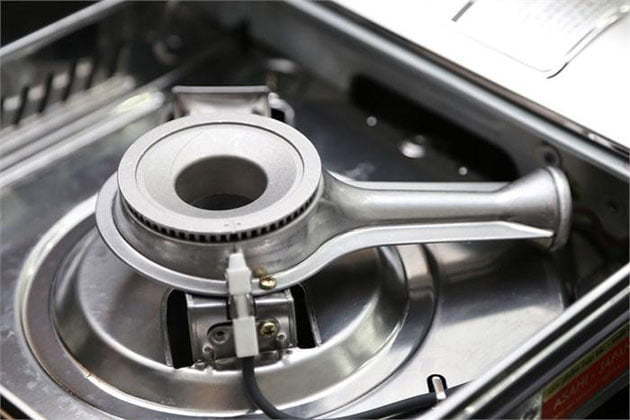 Aluminum's property is high thermal conductivity, hence, help to heat up and cook dishes quickly. However, because of its light and thin features, the aluminum gas burners are easy to be corrosive and not durable over time.
Therefore, aluminum material is not often preferable in use, mainly in cheap and mini gas stoves.
Enamel on Steel burner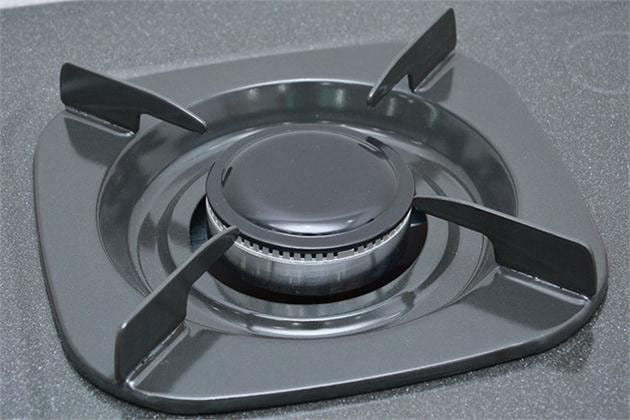 Enameled steel is one of the cheap gas burner materials. They are also good thermal material and able to heat up quickly.
However, the enamel on steel gas burners maintains numerous weaknesses such as easy to blacken the bottom of the cookware because of its yellow flame creation; low durability; gas waste; unpopularity that leads to the difficulty to be repaired, etc.
For all of these disadvantages, enamel on steel gas burners is not popular, mainly used in cheap gas stoves.
Brass burner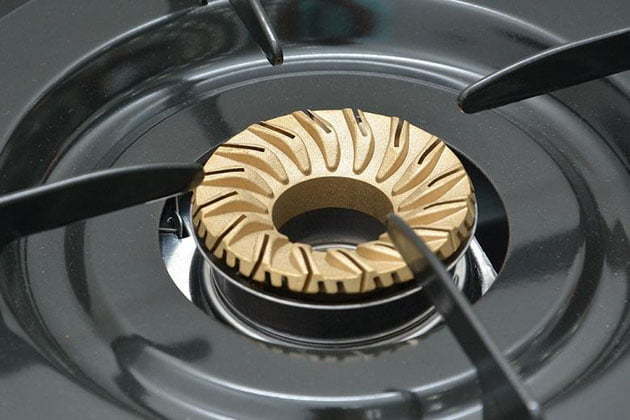 This material is good thermal conductivity, durability, and less corrosion. Generally, brass products maintain good quality, evenly blue flame creation, and gas consumption save.
Worth with its quality, brass burners are significantly more expensive than other materials. Therefore, it is often used in high-end gas stoves.
Why Cast Iron gas burner is a good choice?
The cast iron gas burner is very popular in gas hobs because of its excellent advantages in comparison with other materials.
Firstly, cast iron material has good thermal conductivity, then it helps cook dishes faster.
Secondly, its property is high density, so cast iron gas burners create excellent heat retention for stable heat radiation.
Thirdly, cast iron gas burners are corrosive resistance. It is durable over time so, using this burner type will save money for maintenance.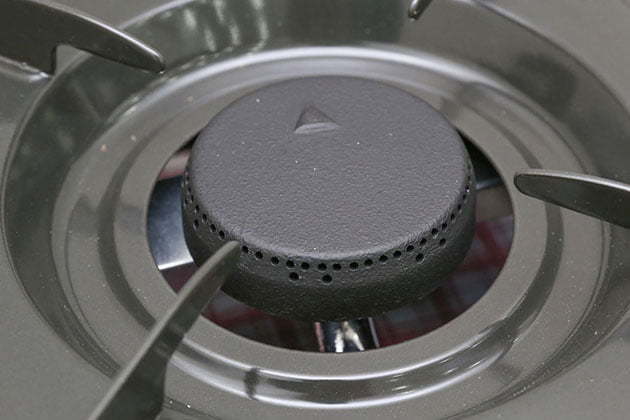 Moreover, the production cost of cast iron gas burner is quite reasonable, cheaper than brass and enameled steel. Therefore, choosing cast iron material for gas burners help to reduce the overall cost per product.
Summarily, cast iron seems a smart and economic choice. It provides not only good quality needed in a gas burner but also a double cheaper price than other types.
Why you should entrust VIC Cast Iron gas burner manufacturers 
VIC is the leading manufacturer of cast metal products. We are able to cast various customized design products for different applications and industries.
For gas stove accessories, the cast iron gas burner is our core product. We are able to manufacture almost all types of cast iron burners for gas hobs.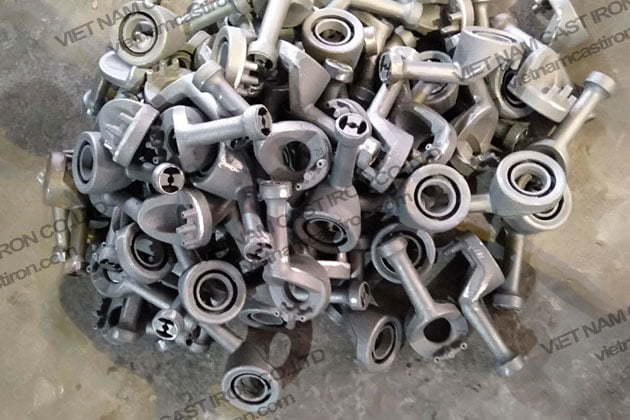 For all of our cast iron gas burner, VIC commits to providing products which are:
Good Thermal Conductivity
Corrosion Resistance
Smooth Surface
Durability
Competitive price
Quality Warranty
An order with VIC will save you money upfront and long term. Call us today to find out how we can make your project exceptional.
Contact information
Vietnam Cast Iron Co.Ltd
DT352, Thuy Nguyen District, Hai Phong city, 183440, Vietnam