When the vivid green leaf begins to appear, cherry blossom emerges, and an orchestra of birds heralding the new day, it's time to flex your thumb and built something magnificently. Here are a few items that can make your exterior more inviting for the spring season!
Spring is celebrated all over the world not only because it's the time of rebirth, renewal, or awakening, but it's also the fairest season for redecorating your garden energetically and splendidly. For that purpose, we're glad to show you some of the inspiration that would go great outdoors.
1. Add Decorative Metal Urn Planters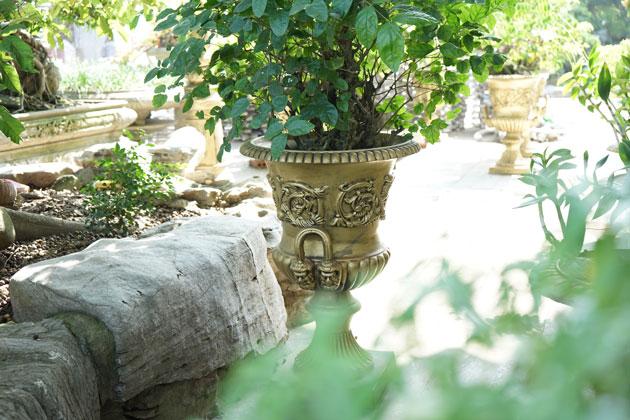 When everything comes back to life after a long winter, snow melts, trees get leaves, flowers are in bloom, and cozy spring sunshine comes, spring is in the air. So naturally, what could be a better color to symbolize spring than the color: GREEN.
Frankly speaking, green must be the color of spring because green pops up everywhere even your garden, during this vernal season. Though all kinds of plants, from apple trees to blades of grass in the garden will be cover with a fresh and new green shade when spring comes, don't even think about settling. Instead, try to elevate it to a whole different level by using decorative and ornate cast iron urn planters.
These planters would be the warm welcome to spring and can be located virtually anywhere in the landscape: on a balcony, on the front porch, or a patio, etc. Not only that, grand and adorning urn planters are the perfect centerpiece of your outdoor design, by enhancing immense appeal to your place and leaving a lasting impression on whoever walks by.
However, be cautious about what type of tree can be grown in these stylish containers. There are many options but the ideal is the slow-growing, dwarf varieties, or multi-stemmed ones.
Below are some recommended plants:
Apple (Malus Domestica): beautiful pink blossom in spring, followed by fruit in fall.
Dogwood (Cornus florida f. Rubra): adding architectural interest to your garden with pink bracts in spring and purple autumn leaves.
Italian cypress (Cupressus sempervirens): a formal option if placed as a matching pair.
Japanese maple (Acer palmatum): slow-growing and comes in a variety of colors.
Starry magnolia (Magnolia stellata): compact, multi-stemmed, and star-like flowers.
2. Install Lighting Posts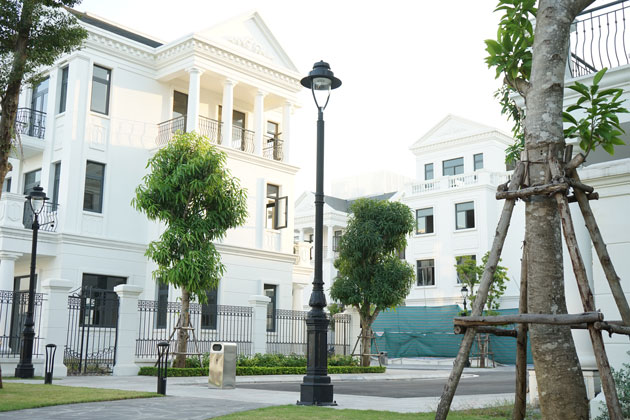 The installation of proper lighting is an integral part of creating enchanting and safe outdoor space.
For many homeowners, one of the best aspects of their landscape design is their exterior lights and garden lamp posts in particular. Whether you own a single-family home, townhouse, or condominium, installing lamp posts offers tons of benefits.
First, lamp posts light up your living space: Your outdoor space is meant for gathering moments and entertainment. By including outdoor lights, your experience would be optimized. Lamp posts spread light as a warm welcome when family and guests come to visit, making it easy to find a way out and other outdoor activities such as grilling or partying, etc.
Second, it's the safety option: Not only being a staple aesthetic part of garden design, lamp posts are much more of a safety assurance after dark It would be easier to maneuver around or navigate outdoors with a lot of lights, and it would also help to thwart intruders, thieves, or prowlers.
Last but not least, lamp posts accentuate the landscape design and make it more valuable: these lightings will radiate artistic and appealing light to the ornament and help draw visitors' attention to particular highlights, whether it's the pool, your exquisite flower display, or an ornamental statue. Especially in spring, when people tend to stay outside longer to enjoy the natural beauty and the fresh breeze, you would want to locate one or several lamp posts to make the place bright and more illuminated. In addition, the placement of technological additions such as lamp posts in the area appears to be a considerable upgrade, which eventually increases the value of your property.
Exterior lighting is as important as interior lighting so remember to keep it properly and functional. Plus, spending time figuring out what kind of lighting would be suitable for your yard is a "should" to ensure aesthetic satisfaction.
3. Place Garden Benches
Seating is an essential element of a well-designed space. Although we would have been acquainted with the iconic benches, which are commonly found in parks and public areas. Do you know that this item can fit wonderfully in a home setting?
A bench is a welcome feature in a garden that is more than just furniture. Incorporating a bench in the garden invites you or your guest to relax and take some time to enjoy the fruits of your labor.
For the most part, in spring – the most beautiful season of all, when plants and creatures develop and expose the most vibrant vitality, you may have thought at least once about taking a sit to linger and enjoy the beauty of nature in your own living space.
So why don't you consider an upgrade of benches for your garden or patio?
Among multiple outdoor seating options, high-quality benches are the most comfortable platform that is perfect for any family garden.
And more importantly, they are durable, yet available in a range of designs, from the standard shape to high-backed benches with ornate detailing. That means whether you prefer the traditional wooden or modern style, rest assured knowing that benches can pull everything together and look fantastic no matter what.
In particular, they can be used as another focal point in the garden since the ageless beauty of hardwood material is undeniable.
4. Build Garden Fences
With warmer temperatures and more time spent outdoors, it is the perfect season to dress up your yard with beautiful and practical decoration. One of which is an annual fence spruce-up.
Not only fences are a great barrier to protect your cultivated garden and your house from wildlife or stray animals, but it also gives shelter or litter extra protection for particular areas, keeping your those spots away from the natural elements like gusts of wind, heavy rain, or scorching rays of the sun, etc.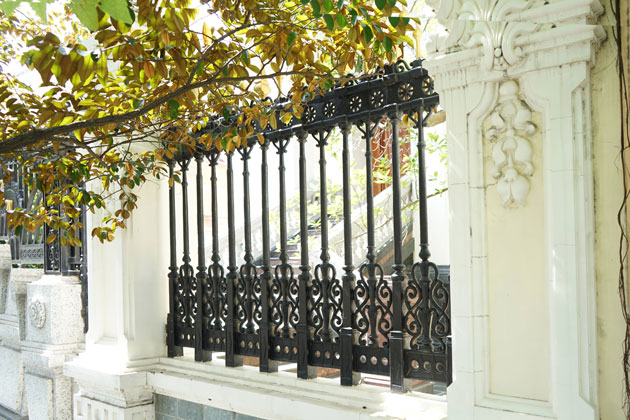 Apart from that, garden fences would do a great help in demarcating your property from others. Not redundant as it sounds, these railings are actually very useful, especially when between you and a neighbor arise boundary dispute.
Despite functional benefits, superior-quality fences offer amazing comeliness that undoubtedly enhances your garden's surroundings. There are various selections of fencing panels in different styles, materials, paints, and coatings so you can freely choose what fits your needs.
However, bear in mind that fences can only pull out stunning results if it matches the entire décor concept and is made of suitable material.
Some popular designs of garden fence to consider:
Classic Charmer: the traditional wooden fence that adds a beautiful accent to any home, perfect for the spring look.
The Splits: the classic split-rail fence in rustic styles that are made of chestnut trees and black locust wood.
Attractive Aluminum: the ornamental metal fence feature an open design with widely spaced pickets, the best bet for elegant decoration.
Post-Modern: a modern version of the classic split-rail fence, using a three-rail design, with three square horizontal rails connected to solid, heavy-duty square posts.
5. Set Garden Water Butt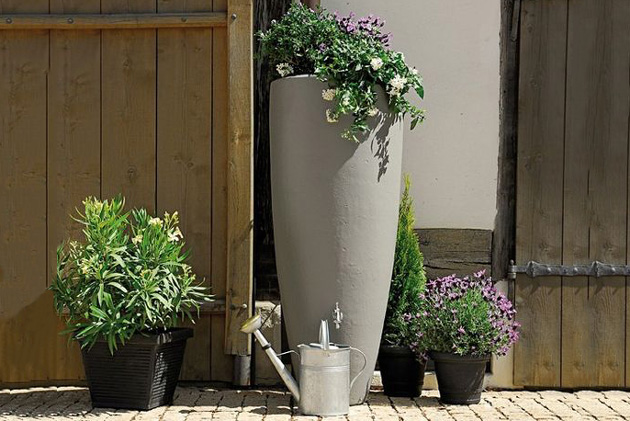 Adding a sprinkle of water can make your garden as lively as ever.
If you are obsessed with the seasonal rainfall that happens in every early spring and you believe it's a central element of your garden. Then the idea of installing a water butt in your outside space would be the right decision.
The most noticeable benefit from a water butt is that it can provide fresh water for your plants while reducing possible savings on water bills due to the plenty of rainwater stocked up; hence, benefiting the environment.
Plus, water butt delivers aesthetically pleasing that blends well in with your beautiful garden. This system comes in a wide range of types to choose from, from the popular Wood Effect one that resembles a wood effect, to the handy Portable Water Butt that can carry an average of 280 liters of water, and those that look like an old fashioned barrel, etc. Particularly, you can modify your water butt a pump inside to water the garden more quickly or with a sturdy stand as a matching dual.