The need for buying kettlebells has contributed to a diversity of kettlebell manufacturers and suppliers. If you are still wondering who makes the best kettlebells, here you are, at VIC – one of the best casting home gym manufacturers and kettlebell wholesale suppliers worldwide.
All these years, sporting equipment has evolved significantly, and the appearance of kettlebells indeed creates a new workout trend on fitness media.
We are all acquainted with lots of benefits obtained from performing kettlebell workouts. Immensely, it helps to target the multi-joint muscle group, which is beneficial for building muscle, improve overall physical fitness levels and power endurance. Hence, the purchasing demand for kettlebells is higher than ever, and it keeps rising over time.
If you are considering about best kettlebell to build your home gym set or you are looking for a supplier for your sport training chains, you might be wondering that "Who makes the best kettlebells?" "Where is the best place to buy kettlebells?" or "Where to get custom kettlebells made?"
While it is easy to locate countless wholesale and home gym suppliers of kettlebells through e-commerce sites or shopping malls, due to the range of styles, colors, fabrics, and costs, selecting appropriate products and reliable suppliers is not a simple task.
Therefore, VIC – known as one of the best-qualified kettlebell manufacturers and wholesale suppliers, proud to introduce our top-pick product – kettlebell set, along with a massive range of options, affordable price, and high quality that allow a good grip.
Also, VIC kettlebells obtain a smooth surface finish, tight tolerance: +/-100 gram, and are built to last a lifetime.
Scroll down to get a clear vision of our core product and decide which suits your need.
Types of kettlebells 
A kettlebell looks like a cannonball with a top handle, it comes in many shapes and sizes, but they are mostly known for the standard cast iron kettlebell and the competition kettlebell.
Comparison between Cast iron kettlebell and Competition kettlebell
Cast iron kettlebell set
Competition kettlebell set
Popular
Less popular
The handle is more comprehensive than its bell.
The handle is smaller and squarer in design
Suitable for beginners who start working out, and people do two hands required workouts.
Suitable for professional users only.
At VIC, we offfer both cast iron kettlebell and competition kettlebell.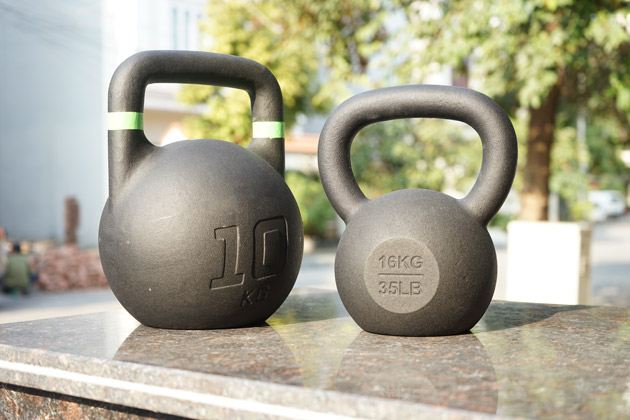 Kettlebells material
Kettlebells are sports equipment and built for long-term usage regardless of whether they are part of the professional or home gym set; accordingly, it is crucial to ensure the casting material's stiffness and durability.
As a result, the two ideal metals that can perform excellently are cast iron and steel. Known as a company specializing in metal casting for many years and the manufacturer of thousands of kettlebells serving the world's needs, we have a firm belief in offering the best service to consumers with cast iron and steel casting products.
Kettlebell design
VIC offers customers a wide range of available design selection. We realize the need for branding has dramatically stimulated the demand for custom-made design kettlebells; thus, our OEM/ODM foundry are delighted to inform you that we are one of the brands that produce custom made kettlebells.
The procedure uses cutting-edge technology to manufacture unique cast iron kettlebell sets according to customers' requirements.
Our kettlebell casting methods
At our foundry, we make sure that our technique allows complex casting details on the kettlebell surface precisely, and we two technologies that we are using mainly are Lost foam casting and Green sand casting.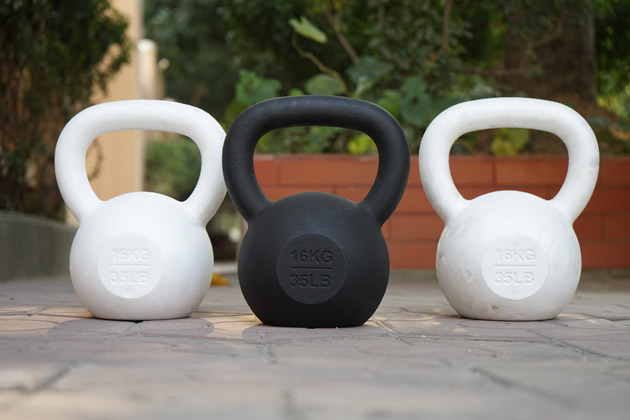 The lost foam casting process
The lost foam method differs from most types of casting. Most traditional casting types remain some limitations because they require reusable patterns that must be withdrawn from the mold before casting.
On the other hand, with the lost foam method technique, the foam patterns remain entirely in the mold during the casting process, and it is only evaporated when the molten metal is poured into the casting flask.
This improves kettlebells' perfection, reduces surface defects remarkably, and secures the final products that maintain high precision, good surface texture, and exceptionally comfortable use.
The green sand casting process
Green sand casting is one of the traditional casting types and the most popular technology in the casting industry.
This technology uses green sand as the primary material to create the sand mold for the casting. Compared to Lost foam casting, it manufactures slightly rougher surface products but saves pattern making cost since one specific pattern can be used for mass production.
Read more about the kettlebell manufacturing process at our foundry here.
Surface treatment
No matter which method is used for making kettlebells, the roughcast product kettlebells still contain a certain amount of defects that affect smoothness and gripping feelings. Good material is not enough; our kettlebell's surface must be perfect to benefit users' fitness experience.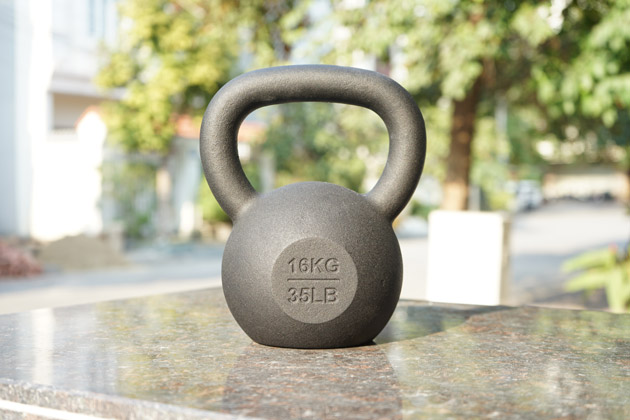 VIC possesses an excellent engineering team with experience that takes care of surface treatment steps.
In order to launch the finest kettlebell set to the market, each product has to go through the process of removing rough spots, excess edges and quality checks.
In short, the kettlebell is put into the grinding and machining process, where excessive metals are removed by the tension of the grinding machine or hammer to eliminate rough spots and uneven edges for a smooth surface.
Besides, our painting procedure is also worthy of mention. At the casting foundry, we implement:
Regular color painting (conventional liquid paint): various color choices
Powder coating (advanced technique): a free-flowing, dry powder that creates a hard finish more rigid than traditional paint, much thicker coatings than conventional liquid coatings without running or sagging that help conceals the protrusions.
Kettlebell sizes
The appropriate size or weight of fitness training bells contributes enormously to the growing muscle process, enhancing strength performance and preventing injury.
We manufacture a diversity of kettlebell sizes according to different needs and fitness levels, standard weights ranging from 5 to 100 lbs or 8 to 48kg.
Recommended kettlebell weight
| | | | | |
| --- | --- | --- | --- | --- |
| | Beginner (arm exercise) | Beginner (leg exercise) | Experienced (arm exercise) | Experienced (leg exercise) |
| Female | ~8kg | ~12kg | ~10kg | ~16kg |
| Male | 10 – 12kg | ~16kg | ~16kg | ~20kg |
Also, kettlebell size is another factor that customers can make the entire decision when placing an order at VIC.
Logo
VIC custom logos service is available on every kettlebell product.
Design logo plays a crucial role in getting impressions, setting foundation of brand identity, and increasing brand recognition.
Therefore, VIC custom-made kettlebells with the logo casting have impressed the majority of customers worldwide. We have also received extremely positive kettlebell feedback and kettlebell reviews on every logo detail's accuracy meticulousness.
Other products
As a reputable weight supplier, we understand clients' intentions and always attempt to supply various products to meet all sports practice needs.
Apart from the core product – kettlebell set, our foundry offers an extensive selection of training weights, such as barbells, weight plates for adjustable dumbells or kettlebells, and other gym fitness accessories are made of cast iron and steel.