What is an outdoor lamp post do? Read this post, you will find 7 lamp post functions and utility that some of them you even never image it could possible.
Outdoor lamp post nowadays has become a trend in the market because of its tremendous utility. You may only know the lamppost does illuminating function but it is just the tip of the iceberg.
Beyond a luminary, outdoor lighting post but also distributes an array of applications. Have you imagined that your lamp post can serve advertising, environmental protection, or traffic jam reduction?
Let's with us explore the endless outdoor lamp post function that some of them you even never heard through.
Top 7 functions of Lamppost
1. To provide the lighting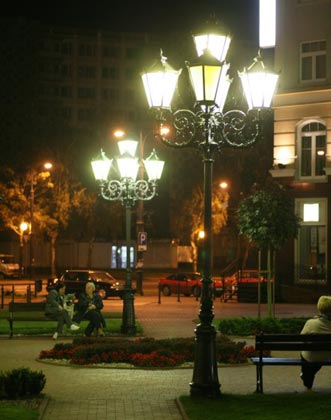 Obviously, it comes to your mind at first while thinking about the outdoor lamp post function. The core role of the lighting fixture is to provide illumination for the application area either street, garden, or river and bridge.
Installing outdoor lamp post enlightens the landscape and allows drivers, cyclists, pedestrians finding the way in the darkness.
Have you think about once day the street is without lighting or your front yard falls in the darkness. Imagine that you would get lost after the sunset, enroll in a few crashes on the road, or suddenly you heard your son's sound just have hit the big tree in your garden. Gosh! Stop thinking over these scenes. That is why we need the outdoor lamp post.
The lighting need, however, is not as same as in the different lamppost applications. To be clearly explained, the garden lighting post doesn't require much illumination distribution as the street lamp post does.
Oppositely, street lamppost is required to provide enough and consistent lighting. With the pathway or highway routes, they often install tall post light fixtures with high lighting capacity to keep safe for the drivers.
For the pedestrian, the lighting does mainly illuminating the sidewalk. The extra dark spot along walking areas is usually created from many factors such as shrubberies, trees, buildings, etc. Therefore, construction engineers often install lower height lighting for the pedestrian-oriented roads.
2. To increase security and protect your property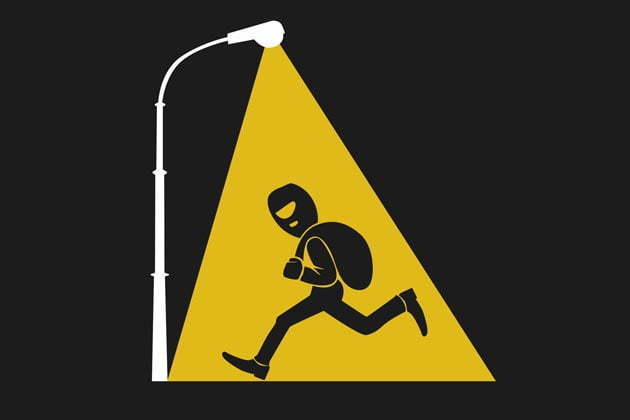 What comes to your mind when staying in the dark? A little sad, lonely, empty but overall we feel scaring. Your mood will weaken up when the lighting turns on.
By setting the lamppost along roads, not eliminate but help to prevent the crime from having a chance to do bad schemes. And you will feel more secure to walk home. It is not just exaggerative, statistically, it is shown that lighting post installation reduces the crime in the town.
Additionally, lamp post also helps to protect your property. Any theft will hesitate to break into your house while there are lamp post stands as a guard in your front yard.
3. To reduce traffic accident
No doubt you have driven through some roads without any lighting. Even though your car's headlights are activated, your foresight will be limited. It is hard to see the obstacles frontward and could lead to unexpected crashes.
You have heard often in the news about tragic accidents every day. The lighting post, by the illuminating and spreading capacity, helps to reduce traffic accidents.
Thank consistent lighting, the driver's sight is broadened and further; the crashes at the blind spot are limited; and we also feel more peace in mind when in traffic.
4. To beautify the landscape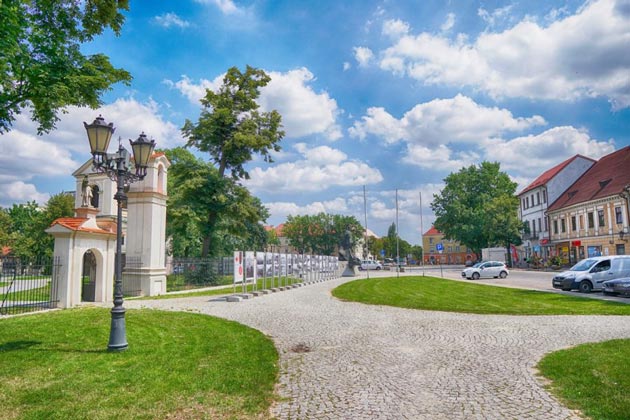 No doubt that installing lamp post will add decoration to your curb appeal; create mood and pleasant the environment. Some people do not care much about how lighting distribution the lamp post is but take account of how it can brighten the landscape architecture.
Aesthetic lamp post is often chosen to place in business district, residential area, front yard, or touristic city, etc.
How to choose the lighting post fit in your property is such hard math. There is a variety of lighting selection and you have to consider which design is suitable for both your taste and budget.
Exterior lighting post comes in many styles which could listed as Victorian, royal, queen, gothic, modern, future, etc.
Select the lighting post design depends much on your architecture. Popularly, the Victorian lamppost style is much favored because of its elegant outlook and high application; whereas the royal and queen design is much preferred to install in the palace, mansion, villa construction. With commercial areas, the modern lamp post features minimize element and style is most welcome.
5. To attach items
Besides the main lamp post function as listed above, we see that the street light is often used to attach items such as hanging baskets, festive lighting, event singing, traffic light, signboard, clock, etc.
Using the lamppost to integrate other items to limit the extra post installation when putting these items up.
However, attaching items to street light must ensure that they do not pose any risk to public safety and traffic. Also, the lighting post must check to strong enough to bear the weight of the additional attachments.
Legally, if you want to attach any items to the exterior post light, you must ask for an attachment license from the local authority. Without it, you may get punishment and your attachments also tend to be removed immediately.
6. To advertise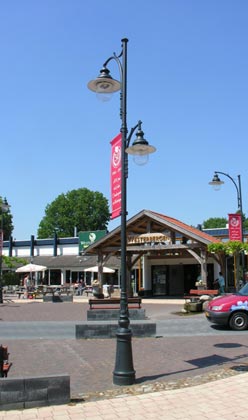 Have you heard the term "lamp post advertising"? Yes, you do not get it wrong. Lamppost advertising is an advertising method often considered by the marketing strategist.
Lamppost advertising, easily explaining, is the way they take advantage of street lighting post to hang banners for promotion.
There is a reason why they choose lamp post to attach advertising banners. As you know that lamp post varies in the height, particularly the street lamppost is often taller than other. They are usually placed in the middle or alongside the streets so that the banner can catch the driver's eyes easily. In other words, they offer visibility to the banner. In sum, the lamp post is cost-effective and offers great influence to the target audience.
The promoting banner can be hanged either the vertical or the horizontal direct depending on the design, information density, and install place.
Being counted as an attachment item, if you are going to announce a lamp post advertising campaign, remember to register for a license from the authority. It will help you avoid unexpected troubles that may happen.
7. To integrate smart features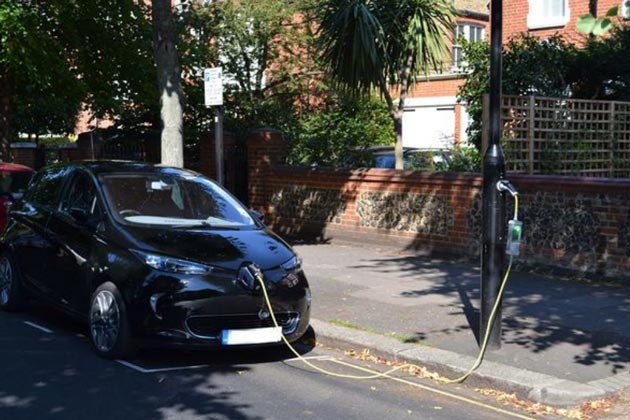 Our world is changing day by day. Instead of satisfying with an ordinary living space, we are looking toward getting smart in everything. We have a smartphone, smart TV, smart house, and yes, another trend is smart street devices which take the intelligent lamp post as an example.
Many cities in the world have deployed successfully smart lamp post projects such as Munich, HongKong, Beijing, Barcelona, Copenhagen, London, Chicago, and so on.
The smart post lighting is so-called the brain of a smart city. They are not merely an illumination but far beyond that. A smart lighting post is the future of street furniture. It is integrated multi-functions such as CCTV, electric vehicle charging station, environmental monitoring sensors, wifi station, and even more than what we could imagine.
Conclusion
We just listed down the 7 main functions of the exterior lamp post. Obviously, the benefits of lamp posts outweigh its cost. Hope you will find the answer to the question of what lamp post used for? after reading this post.
If you have any other ideal of how benefits by installing lamppost, don't hesitate to share your thought by leaving a comment. We welcome all discussions and suggestions.
Also, our company manufactures and supply an array of lamp post choice. If you are in need, contact us by email [email protected] to get advice. Don't forget to browse our website to get to know more about us.