VIC is the lamp post component manufacturer and wholesale to the world market mainly the USA, Europe. Our capacity can supply up to 2000 tons per month for cast iron and aluminum lighting post pole, base, lighting arm, ornamental accessories, etc.
Since establishment, Vietnam Cast Iron (VIC) has been striving and maintaining as one of the leading casting foundries not only well-known in Vietnam but also international map.
Having gone through up and down periods as well as difficulties which any start-up may face up with, VIC is so proud of taking responsibility for a variety of big projects and being one of the trusted partners of numerous big corporations across the globe.
Notably, among wide industries we serve, casting lamp post components and lamp post accessories is one of the strengths of VIC. We are both post lighting component manufacturer and wholesaler to the world market.
Lamp Post Production Capacity of Vietnam Cast Iron
VIC specializes in manufacturing lamp post parts for outdoor applications in a diverse range of use. We provide lamp post part casting service for both OEM and ODM upon the customer's request.
For OEM lighting post order, we work according to the customer's drawing and requirement. In a turn of ODM lighting post, we discuss with the customers and listen to their request, then our design department is taking in charge of drawing processing.
Our casting ability allows to cast different lighting post parts for street illumination, garden decoration, riverside outlook, costal lighting, etc.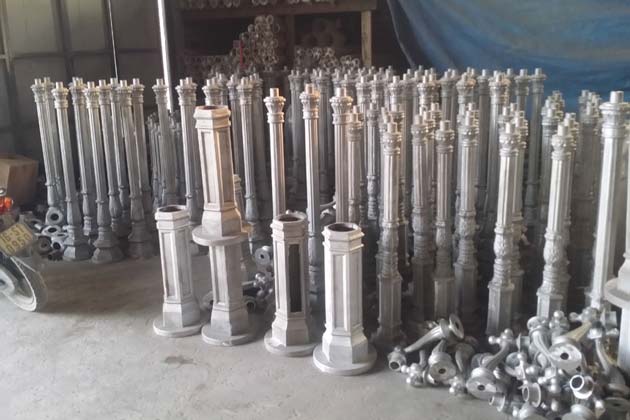 We are able to manufacture any post light components or accessories such as lamp post base, lighting pole, lighting arm, or ornamental elements. At VIC, our outdoor casting lamppost is mainly constructed from high quality cast iron and aluminum material.
Technique speaking, we invest in the three production lines for lamp post component mold making including green sand casting, lost foam, and furan resin sand casting. Respectively, the total capacity in the green sand casting is 1000 ton/month, in the furan resin casting is 500 ton/month and in lost foam casting is 800 ton/month.
Additionally, we equip CNC machines for sample molding, sandblasting line to remaining sand processing, and other professional machines for machining steps.
Quality Control for Lamppost Component Casting
Put the quality at the priority, we control the lamp post component manufacturing process by the tightly inspection.
Initially, all of the raw material to cast outdoor post light parts has to go through the SpectroMaXx Spectrum metal analyzer machine to test the input material. Cast iron and aluminum material for casting are both high-quality assurance.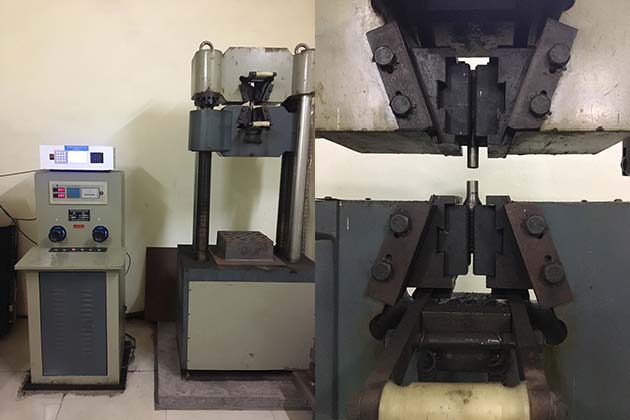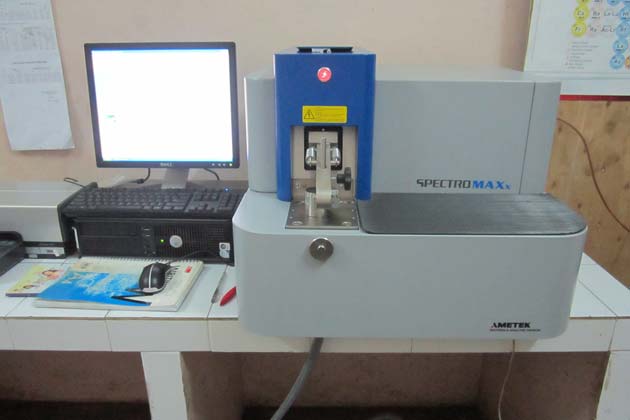 During the operation, we appoint technical supervisors at every facility to monitoring and guarantee working effectiveness. After the roughcasting collected, we measure the quality and put it into the surface treatment if needed.
Later on, the final lamp post product has to go to the professional tests such as drop testing, hard testing, loading capacity testing, etc. before being packed for the delivery process.
From the input to output procedure, we always care for every single of casting to make sure bring satisfy to our partner.
After manufacturing Lamp post parts, we will proceed to paint them. The painting color depends on customer's requirement. We also advise for them which paint should be used for the best result.
Our main market for lamp post component casting
Vietnam Cast Iron is 95% upon international export. Our traditional market for cast iron and aluminum lamp post component casting including North American and European countries. Especially, the USA, Italy, Belgium, Spain, Canada, Netherland, and Germany now are our strategic partners.
Besides, recently we also have opened some new partnerships with companies in the Middle East and Central and South America for the lamppost project.
Our advantage in manufacturing lamp post component
Lamp post component casting by VIC maintains many advantages in comparison with other manufacturers.
Firstly, unlike other outsourcing agencies, Vietnam Cast Iron is proactive in all the manufacturing processes. From the sample pattern making, roughcasting to the machining step, we have enough resources to take in charge of all. Hence that we can control the quality of every single product we supply as well as minimize the product cost.
Secondly, Vietnam Cast Iron is both an outdoor lamp post component manufacturer and supplier. We work directly with our partner so that we can cut down the cost for the third parties and lower the cost for our customers as much as we can.
Most importantly, lamppost manufacturing in Vietnam benefits the customer a lot because of the low tax policy. You surely have heard about the trade war between the USA and China. While importing China lamppost casting will be taxed pretty high, choose the Vietnamese post lighting wholesale is such a better choice.
Take a calculation, at the present, the American market employs aluminum products importing from China about 374% tariff. At the same time, aluminum product originating from Vietnam has applied a very lower tariff, only 15% due to bilateral free trade agreement. Similarly to the European market, Vietnam enjoys a lower tariff comparing with the China product.
Counted all the above reasons, transparently buying lamppost from Vietnam Cast Iron will benefit a lot to either you are concerned about the manufacturing quality or look at the price at first.
An order with Vietnam Cast Iron will surely cost-effective. Our working slogan is "Your satisfaction is our development" so that we always develop ourselves day by day to serve the better.
At Vietnam Cast Iron, we don't look at the short benefits but focus on the core value which is building the long term partnership with our customer. This explain why whatever we say it is our commitment, and whatever we offer it is of high quality.
If you are looking for a lamp post component manufacturer, feel free to contact us and send your requirement, we guarantee to be faithful in every deal.
Contact information