The cast aluminum lamppost is not only stylish but also long-lasting. It is such a best option for outdoor illumination and decoration. Read this post to get to know how aluminum lighting post is processed and its benefits over other counterparts.
Aluminum lamppost nowadays has become a trend in the illuminating market. Although we can list a few lighting post material commonly in use cast aluminum post light outweighs others by its exceptional features.
Aluminum lighting post not only complements any architecture it placed in, whether for residential setting or commercial installation but also outstands by its high aesthetics. It is both functional and decorative plus rust-free material.
The aluminum casting is very highly applicable. They can use to manufacture different lamppost components, from lamp post base, pole to lighting arm, or any decorative elements.
If you are still wondering about how the benefit of cast aluminum lamp post as well as wish to know more about the manufacturing process, let's learn through this article with VIC. You will find very interesting facts that only aluminum lighting post casting can provide.
The manufacturing process of cast aluminum lamppost
Step 1: Raw material
The raw material for casting lighting post is significantly and decides the quality of the casting. The input aluminum is checked and analyzed metal ingredient by SpectroMaXx before putting in the furnace.
There are two types of aluminum log: the primary and secondary. The primary includes pure aluminum; and the secondary consists primer and scarp.
The primer includes 99.9% pure aluminum. It comes in three forms which are T-bars, tub sows, and pigs; while the scarp is collected from different sources.
Step 2: Pattern Making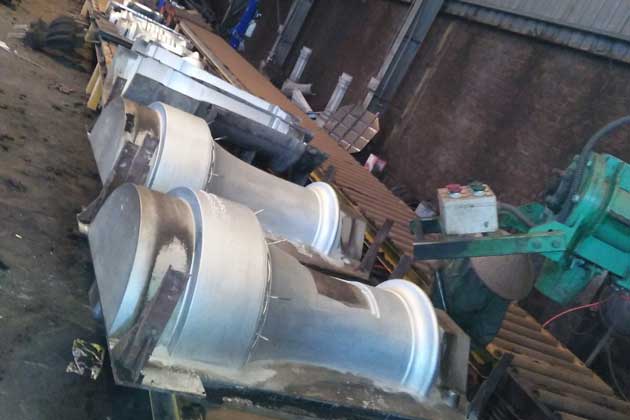 The pattern for cast aluminum lighting post is made of either aluminum or wooden. This tooling step is processed by a CNC machine to create a pattern that is almost as same as the final lamppost components design.
Step 3: Sand mold making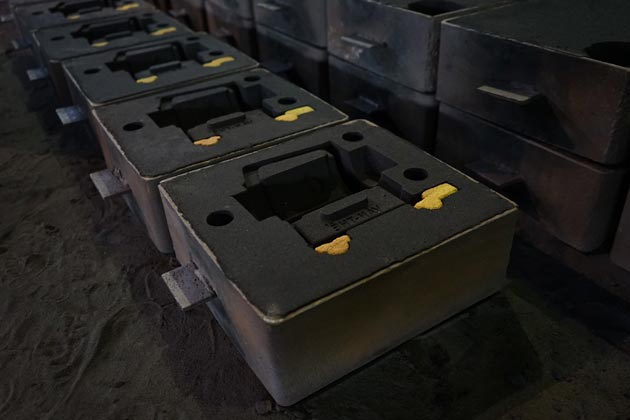 Once the pattern is ready, the worker uses this tooling to create the sand cavity by pressing it to the sand flask.
The sand mold is calculated exactly about the aluminum pouring position, aluminum outlet, air outlet, etc. to ensure that the metal flow is consistent and fills into all of the empty cavities.
This casting process requires very careful and precise so that the lamppost component roughcasting ensure without defects.
Step 4: Aluminum Melting and Pouring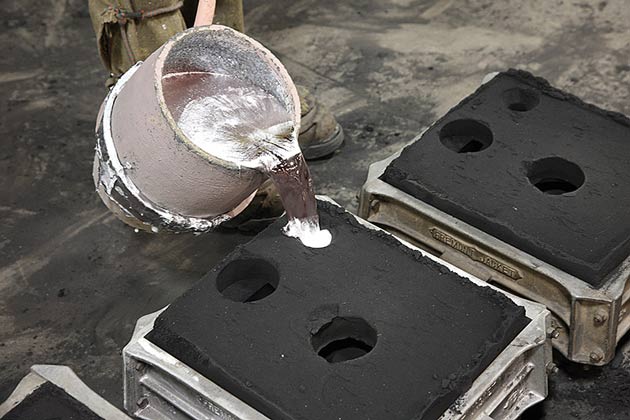 Put the raw material into the furnace. The aluminum melts at 660°C. After that, pour the molten aluminum into the mold cavity.
Step 5: Casting Collecting and Machining
Waiting for 2 hours. Once the casting is at 40°C, collect the lamp post component casting through shaking process.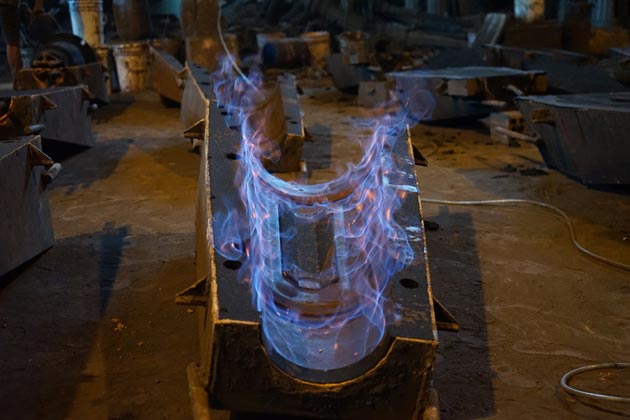 The aluminum lamppost roughcasting after that is passed to the machining department for surface treatment.
Step 6: Coating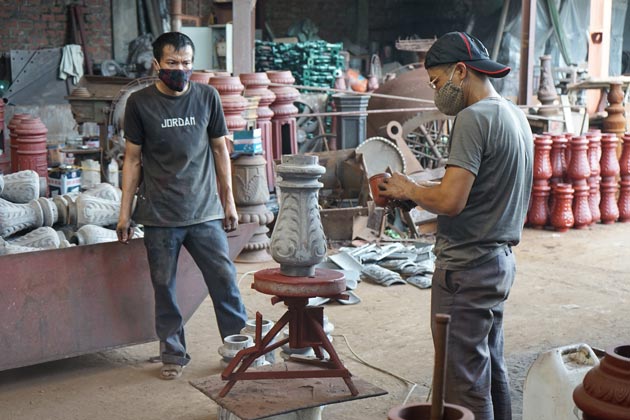 After the machining process, the lamppost component is applied coating upon the customer's request to add attractively as well as protect the outdoor lighting fixture expose to external factors. There are different lamppost paints available including prime, epoxy, powder paint. Black, grey, bronze, green is a popular paint color used for exterior lighting posts.
Advantage of the cast aluminum lamppost
Cast aluminum has become a popular material in exterior decoration, particularly in outdoor post lighting manufacture. The question is what makes aluminum special to be widely used like that?
Aluminum performs as a metal with many outstanding properties so that they are favorite in outdoor lamppost casting.
Light Weight
Firstly, aluminum weight is very light (about 2.7g/cm3), only 1/3 of that of steel and copper. This light mass is very suitable to manufacture a tall lighting pole and lighting arm parts.
The light weight property also helps to remove or install lamp post easier in comparing with heavy copper or steel illuminating fixture.
Corrosion Resistance
Secondly, aluminum has corrosion-resistant naturally thanks to the membrane oxide (Al2O3) firmly attached to the surface. The aluminum lighting pole can last for at least 50 years with very low maintenance. This feature allows aluminum casting lamppost to install outdoor without much consideration about damage.
To improve this property and protect lamp post from corrosion, different surface treatments such as anodizing, painting, lacquering is considered.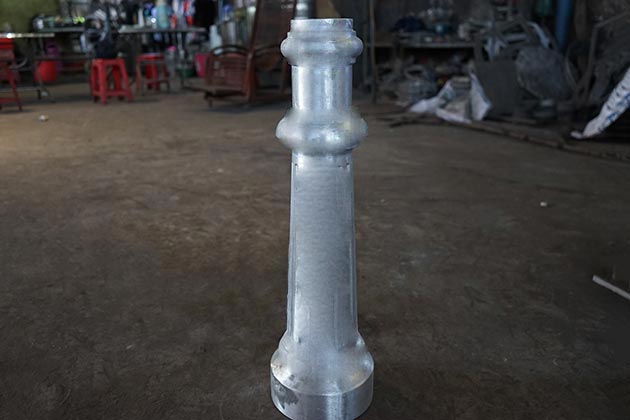 Stylish
The third reason is yes, cast aluminum lamppost is stylish. The design flexibility is one of the advantages of aluminum luminaire. Aluminum has ductile properties. It can be processed through different methods in a molten condition. Its ductility allows forming aluminum casting in almost design and shape.
Therefore aluminum lamp post comes in an array of selection. From Victorian lighting design, Rome style, antique look to modern appearance, we all can construct by aluminum casting.
Additionally, the aluminum casting finish maintains very good look with polished, smooth and bright surface quality.
Affordable
Although longevity and attractiveness are important, so do the cost. Aluminum lighting post, in comparison to other materials such as steel or cast iron, is much competitive.
It is affordable to your budget and perform well at the same time. Such a fantastic choice ever.
Lamp posts made in VIC you will love: https://vietnamcastiron.com/product-category/lamp-post/
Cast aluminum lamppost manufacturer and supplier to the US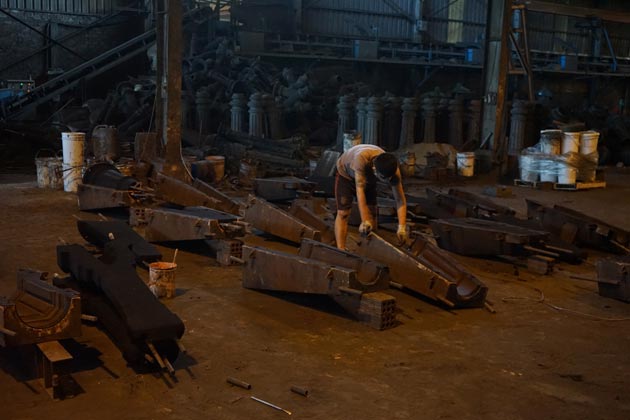 No doubt that cast aluminum lamppost exposes wonderful benefits that outweigh other its counterparts. It is cost-effective and worth your investment.
To the USA market, VIC is one of the trustful and reliable exporters since our establishment. We specialize in manufacturing aluminum lamppost casting parts for the American partners. We work with developers, contractors, projectors to provide high-quality aluminum lighting pole casting for a competitive price.
Being benefit from the trade war between the USA and China, our aluminum casting gains preferential export tax. While China aluminum export to America is imposed 375%, our aluminum lighting post only has to pay a 15% export tax. Let's do a calculation.
The manufacturing process of cast aluminum outdoor lighting pole at VIC is strictly controlled by tight inspection procedures from the raw material input to a single processing step. All of our facility managers are good expertise and have worked in this field for at least 10 years.
We offer both OEM and ODM casting services for aluminum casting products. If you are in need, don't hesitate to send a request to our email address [email protected]. Our technical expert will work on your requirement and give you the best support.
At our company, we are always looking forward to building long-term relationships with our partner so that whatever we manufacture it is of high quality. Your money will be worth investing in us.