What are dumbbells made of? A range of dumbbell materials may confuse you. Here VIC brings the 3 most popular dumbbell materials to the table including plastic dumbbell, cast iron dumbbell, and rubber dumbbell. Let's together with us analyze the pros and cons of these types and make wise decisions.
Dumbbell exercise is a sport that many people choose to grow muscle, build body, and train strength. On the market today there are many types of dumbbells with a range of sizes, materials, and weights. Many people will choose dumbbell based on aesthetics or price but it would be wise to make a decision based on considering what is best for your exercises. Some of the most popular dumbbell materials today are plastic, cast iron, and rubber/neoprene.
In this article, we will explore different dumbbell materials and the benefits and disadvantages of each, so that you have a clearer view of choosing the right dumbbell for your exercises.
Come on, let's explore the question What are dumbbells made of with VIC.
Plastic dumbbell
What is plastic dumbbell?
The plastic material is only commonly seen in fixed weight dumbbell. Like other types of weights, fix plastic dumbbell design also consists of two main parts, the weights on the two sides and a handlebar in the middle.
The difference is that the plastic dumbbells feature a rigid plastic shell filled with concrete (mostly) or sand inside. The hard plastic shell is often made of durable vinyl.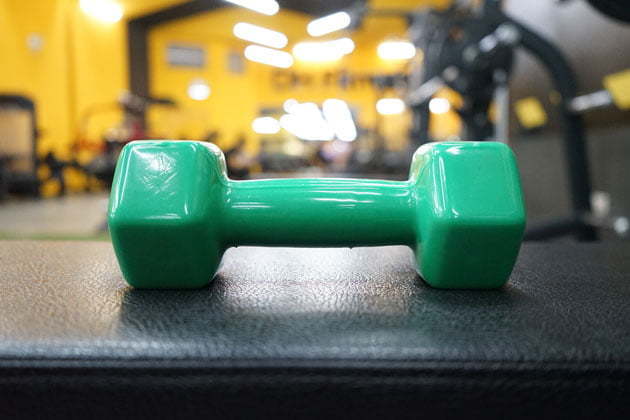 Pros
The plastic dumbbell price is cheaper to buy than other dumbbell materials.
The vinyl coating offers a smooth, colorful, and elegant look to the dumbbell.
Don't get rust when being exposed to moisture.
Comfortable gripping while doing exercise.
Cons
Not durable. You may have to buy several times after a time of use.
Limited in the weight option. Usually available in weight up to 10lb.
Don't give a feeling of weight.
Able to be damage by heat and sun
Which exercise the plastic dumbbell suits for?
Well, it can say that plastic dumbbells are perfect for beginners to learn the proper exercise or usually women. They are good for starting to avoid being get hurt by weight. Plastic dumbbell is quite cheap so you can buy a set for warm-up and bicep workout.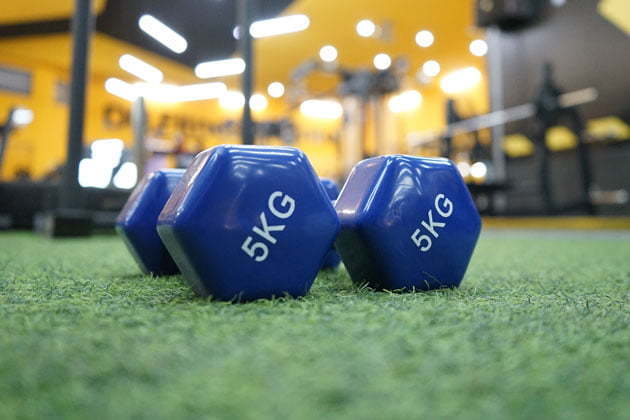 Guide on choosing the plastic dumbbell
To buy the qualified enough plastic dumbbells for your exercise, you need to well-note the following points:
Choose thick and firmly touched plastic dumbbell. Avoid thin and brittle plastic that will easily break and puncture after a short period of use.
Prefer the inside material of cement instead of sand to avoid the situation that the broken plastic causes the sand to fall out after a time of use, resulting the center of the dumbbell can be skewed.
Choose the weight that is suitable for your exercise, health, and ability. Beginners should choose lightweight. Once you get used to it, gradually increase the weight.
Choose a handle that is designed to fit and comfort. Not too big that makes it difficult to hold, but not too small that creates a feeling of uncertainty and slippery easily. Besides, choose dumbbell with handles that feature high friction and good anti-slip to ensure safety during exercise.
Choose the reputable and reliable plastic dumbbell supplier.
Cast Iron dumbbell
What is cast iron dumbbell?
Cast iron is considered as the oldest and most traditional dumbbell material, and also mostly wide used today both at the gym and home.
Cast iron material is popularly used to make one-piece (fixed weight) dumbbell and weight plates of the adjustable dumbbell. It is considered the oldest and most traditional dumbbell material.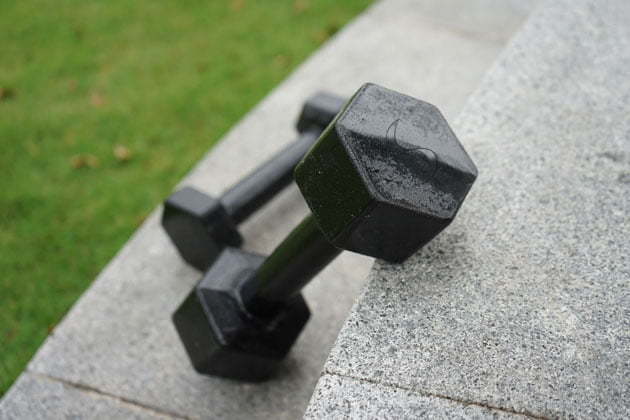 The cast iron fixed weight dumbbell features a short handlebar and two weights in the end caps that shape in round or hexagon, while the adjustable dumbbell consists of different cast iron weight plates that mounted on the handle by the screws.
The fixed weight cast iron dumbbell comes in a solid type that each dumbbell offers a weight option, whereas the adjustable dumbbell allows adding or removing the cast iron plate to adjust the weight.
These cast iron dumbbells are both manufactured by the casting process. The raw cast iron material is melted and poured into the mold cavity, and then the solid castings are created.
How to make cast iron dumbbells: https://vietnamcastiron.com/make-cast-iron-dumbbells/
Pros
Comes in a range of types, design, and weight that meets all your need.
Be versatile. You can use cast iron dumbbells for almost all exercises.
Provide the proper weight and give a feeling of weight.
Pretty durable. They can last a lifetime.
High-end outlook and smooth surface.
Reasonable price to buy.
Cons
Bare cast iron dumbbell may upset the floor and facilities.
Sometimes it can hurt yourself or others if you are careless.
Which exercise should use cast iron dumbbell?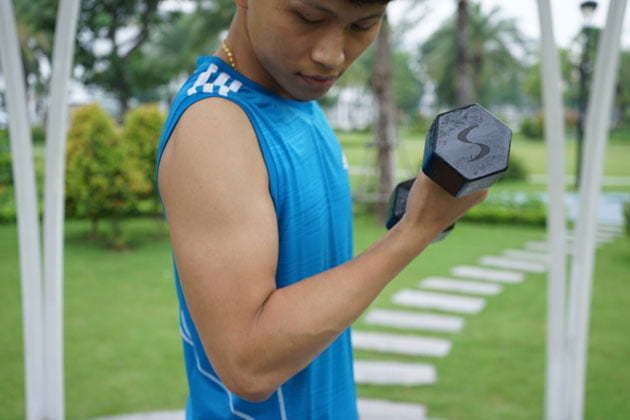 The cast iron dumbbells can use for almost muscle groups and exercises whatever chest, leg, back, bicep, shoulder, etc. They provide the proper weight plus you will feel clearly the weight in your hands so that they provide great assistance to your workout. That is the reason the fitness experts do recommend cast iron dumbbell for professional exercise.
You can easily pick up cast iron dumbbell sets that suits your exercise goal because there is a range of section for you. For the beginner, you should start with the lightweight from 5lb to 15lb to let your body adapts. Then, you can level up the weight gradually to heavyweight to gain more effectiveness.
Note:
Remember to make sure you will not enthusiastically take the heavy cast iron dumbbells for the first time because they can hurt your muscle and body.
Prepare the workout carpet to prevent destroying your floor.
Wear gloves to protect your hand skin from being injured.
Tips to choose cast iron dumbbell for your exercise
As mentioned above, there is a range of the cast iron dumbbells option and they may confuse you. Here are some tips to help you better choose the right cast iron dumbbell for your workout routine and fitness center.
Fixed cast iron dumbbell Vs. Adjustable cast iron dumbbell
Surely, many people concerned about this matter before deciding to buy the dumbbell for strength and muscle training. So which dumbbell you should buy? Fixed weight or the adjustable one?
Generally, the adjustable dumbbell is more economical than the fixed weight because you will not need to spend money to buy a lot of weight options. With the adjustable dumbbell, you are able to adjust the weight so that suits exercise.
Oppositely, you will have to pay a lot to buy a full set of fixed weight dumbbells if you target a full-body workout. However, you will feel more comfortable while doing exercise with a fixed dumbbell.
So, let make a calculation on your budget to make the decision. If you are affordable to buy the full set of a fixed weight, go for it. If you are going to save your money, the adjustable dumbbell is a smart choice.
Round cast iron dumbbell Vs. Hex cast iron dumbbell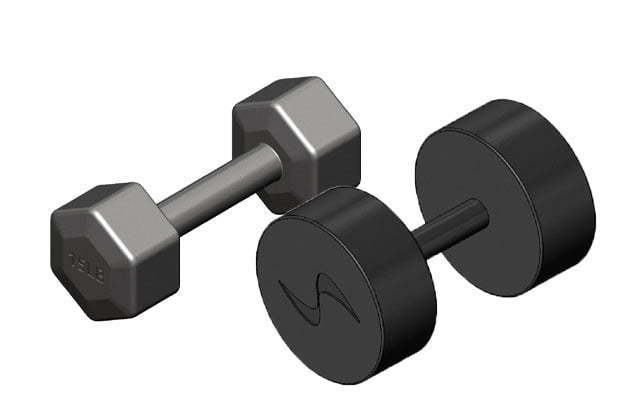 Again, they will make you confused between the round and the hex dumbbell. Overall, the hex cast iron dumbbell is versatile than the round one.
The round weights can roll over your feet and do hurt you and others in a few seconds of careless. Oppositely, the hex weights are stable while being placed on the floor hence you can use them for floor exercise such as dumbbell push-up.
Polished grip Vs. Knurling grip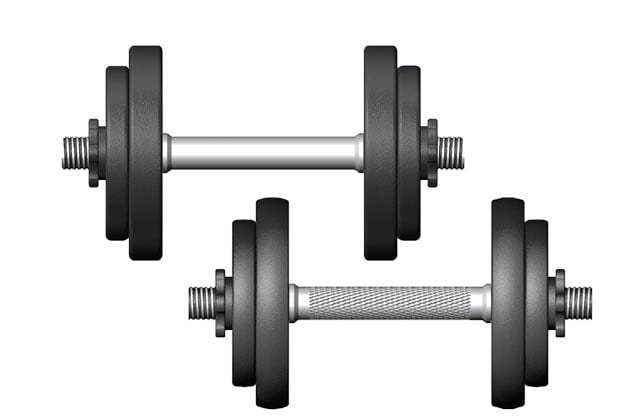 Highly recommended you should choose the dumbbells with the knurling grip to prevent them being slip out of your hands while doing exercise.
For women, you should buy a slightly thinner grips so you can hold comfortably.
Where to buy cast iron dumbbell?
As indispensable training equipment, it is easy to find cast iron dumbbells commercially. You can order the cast iron weight sets or racks in online malls such as Amazon, Walmart, eBay, etc. There is a lot of option to consider.
Or you are looking for an OEM manufacturer
If you are the wholesaler or the fitness owner who looking for the OEM dumbbell manufacturer, we confidently to introduce ourselves as one of the reliable and reputable manufacturer and supplier of cast iron dumbbell to North American and Europe.
VIC's production capacity allow us meeting different requirements and needs. We specialize in manufacturing cast iron fixed weight dumbbells (in any shapes and sizes) and cast iron weight plates for adjustable dumbbells. The logo and brand can be add optionally.
Looking toward building a partnership with every customer, we always work with the motto "Your satisfaction is our development". Hence, whatever we produce, it is of high quality; whatever we say, it is our commitment.
Rubber dumbbell/Neoprene dumbbell
What is the rubber/ neoprene dumbbell?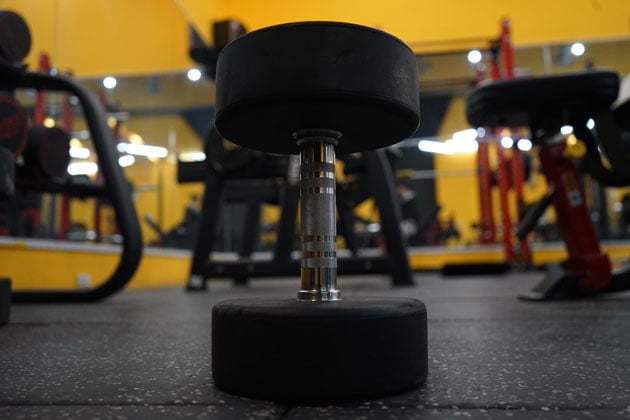 If you ask What are dumbbells made of? The answer is that it is widely favorite to rubber coat dumbbells than others. The rubber and neoprene dumbbells are the metal dumbbells coated with the rubber or neoprene (a synthetic rubber). The metal is often cast iron and steel. These dumbbells now are popularly used in the gym.
Pros
High-end look
Protect the floor and your hand while doing exercise
Keep safety
Water-proof
Prevent making noise thanks to the rubber layer.
Cons
Expensive price
Sometime you can hear the rubber smell
Where to buy rubber/neoprene dumbbell?
The rubber dumbbell and neoprene dumbbell are very easy to search on online malls such as Amazon, eBay, Walmart, etc. You also can go for fitness shop, super marker, etc. there are a lot of options.
There are also the dumbbell wholesalers and manufacturers for the large quantity. Here VIC does casting the cast iron core for the rubber/neoprene dumbbell. Contact us by email [email protected] for cast iron dumbbell products.
Hope the above article of VIC has helped you better understand the difference between dumbbell materials. Hopefully, through our content, you can easily find the right product for your needs and make your workout more effective. Thank you for your interest in following our post, and see you on the next VIC topic!