Kettlebell – one of the fitness staples and a popular free-weight among training enthusiasts that benefits workout and gradually gains people's interest by unique designs. In fact, the "cool kettlebells" are considered a work of art, and who doesn't want to own a piece of fitness equipment that can be both functional and looking impressive, right?
Check out this article to take a look at multiple kettlebell designs, which come with unusual shapes and intricate patterns. Maybe you will feel fascinated with these and find yourself a satisfied model.
The history of kettlebells
The person who invented kettlebells is still a mystery that no one has solved. However, the very first definition of this gym equipment was mentioned in a Russian dictionary in 1704 as "Girya", which roughly means "kettlebell" in English.
Furthermore, in the late 1800s, kettlebells were officially implemented in lifting exercises and promoted globally as the core of a comprehensive fitness routine by the father of Olympic weight training – Vladislav Kraevsky.
Today's conventional kettlebell shape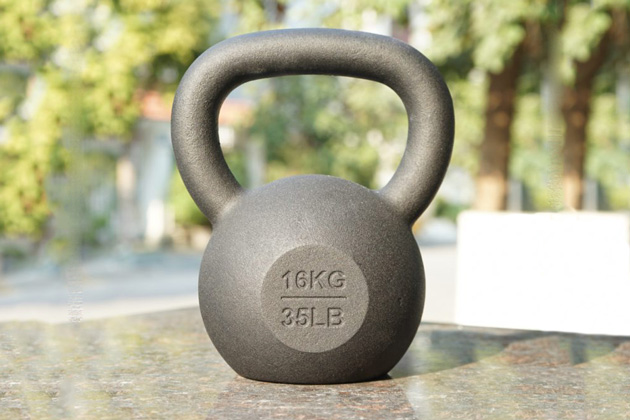 Nowadays, kettlebells are identified as plain cast iron or cast steel cannonball-shaped hunk with a handle attached to the top, looking like kettle teapots. By the odd-looking construction, these free-weights are surprisingly versatile and can be used for cardiovascular, strength, and even flexibility training.
8 cool kettlebell designs
Let move one to the part you're looking for, introducing the most unique and distinctive kettlebells ever made.
1. Skull Kettlebells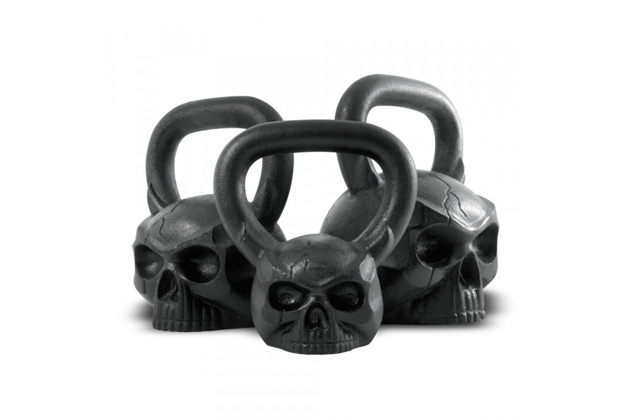 Available from 8kg to 24kg, this is the awesome skull-inspired design – the "Kettlebone Kettlebells", manufactured exclusively to the U.K. by fitness giants BodyMax.
Skull pattern is prevalent in fashion, and they are deemed to be lucky charms in several cultures. People believe that skulls have the power to ward off illnesses while protecting people against evil spirits.
Being modeled after an actual human skull that offers fashionable vibes, combines with an ergonomically handle that provides safe and comfortable gripping feelings. This kettlebell can surely optimize your training experience to the fullest.
2. Primal Kettlebells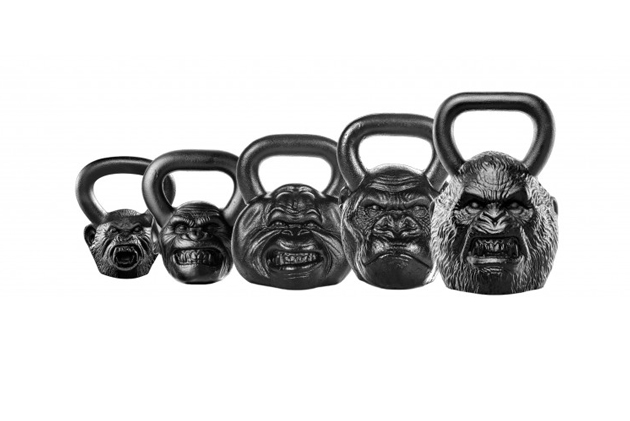 Introducing the mythical Savage Sasquatch strength inspiration!
Similar to the concept of the skull one, this primal kettlebell collection by Onnit features distinct primal faces on their kettlebell products for size division. These kettlebells have been 3D scanned and resculpted multiple times to deliver the most intricate and realistic design possible.
The cool line-up of variously sized kettlebells available:
HOWLER (18 lbs / .5 pood)
CHIMP (36 lbs / 1 pood)
ORANGUTAN (54 lbs / 1.5 poods)
GORILLA (72 lbs / 2 poods)
BIGFOOT (90 lbs / 2.5 poods)
Note: "pood" is an old Russian unit of weight equal to about 36.11 pounds (16.38 kilograms).
3. Zombie Kettlebells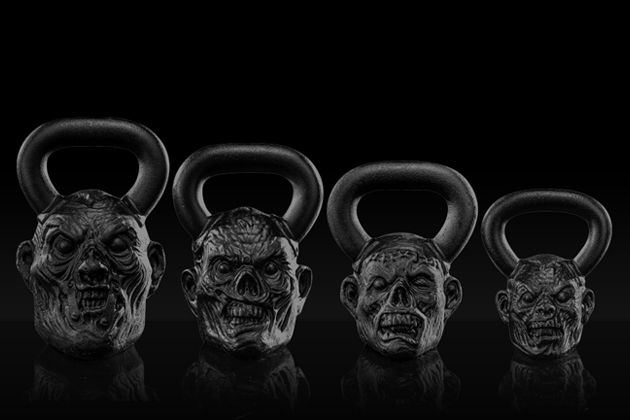 Apart from the Primal Bells, another novelty product-line of kettlebell by Onnit is the limited Zombie Kettlebells, specially made for the Halloween season. This selection is made with the same 3D technique as the Primal ones to achieve the highest quality and appearance. Available in several sizes, the brand attempts to make it easy for the individual to pick out the proper workout gear that meets their training goals and fitness condition.
Zombie kettlebells sizes:
Brain Goblin Zombie Bell (18 lbs / .5 pood)
Staple Head Zombie Bell (36 lbs / 1 pood)
Ghostface Thrilla Zombie Bell (54 lbs / 1-1.5 poods)
Mega Dead Zombie Bell (72 lbs / 2 poods)
If you want to get one of these kettlebell designs, be quick because these cool kettlebells are made in super limited quantities. Once sold out, the purchase would be impossible since they will not be back in stock.
4. Iron Man Kettlebells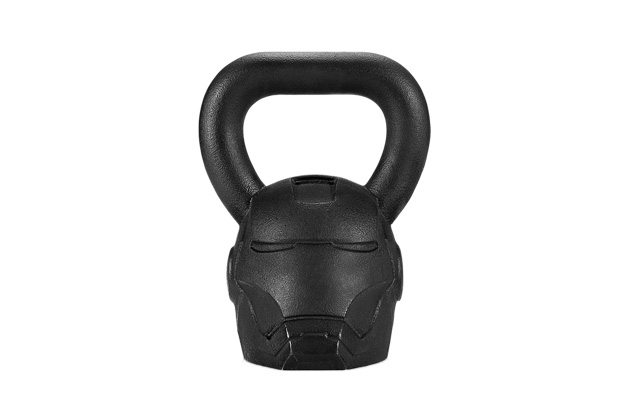 It is indisputable that the superheroes in Marvel movies are ideal body goals. With incredible power and a solid body, they will surely be a great motivation for your training journey. That is the intention of Onnit when coming up with the fantastic, one-size "40Lbs Marvel Hero Elite Iron Man Kettlebell".
If you are a fan of Marvel superheroes, especially Iron Man, this kettlebell is made for you. Sculpting exactly after Mr.Stark's iconic helmet, this fully functional kettlebell is designed to meet the need of everyone who fancies this character. And even nonfans find this piece of free-weights attractive.
Furthermore, not only looks fabulous, this kettlebell is built to last with high-quality material and chip-resistant coating.
5. Grenade Kettlebells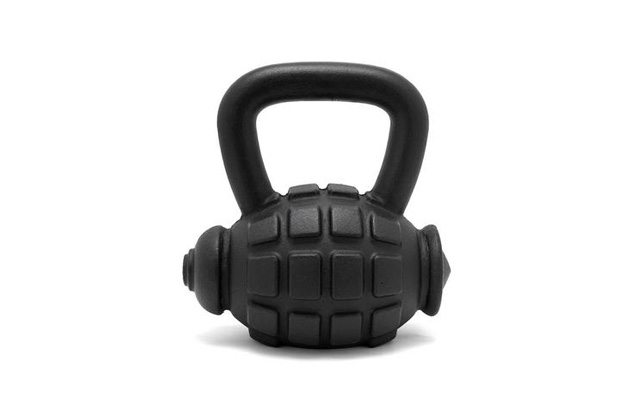 The cool "Premium Grenade Kettlebell" from Fringe Sport would be the perfect gift for your military friend or partner!
Fringe Sport provides a massive range of fitness essentials, from weightlifting accessories to fitness apparel. They offer free shipping to all of the 48 United States, and an exceptional return policy allows you to return the product for any reason to get a full refund within 30 days or 365 days if unopened.
Despite the one-of-a-kind design that definitely stand-out, this kettlebell obtains premium quality.
We should notice that constructed from single cast iron, this kettlebell is made to be a durable piece of equipment. Moreover, achieving excellent handle thickness and flat bottom, there is no need to worry about it rolling away or hurting your hands while training.
Unfortunately, the only limitation is that it comes with one size only (28 kilograms / ~ 62 pounds).
6. Animal Kettlebells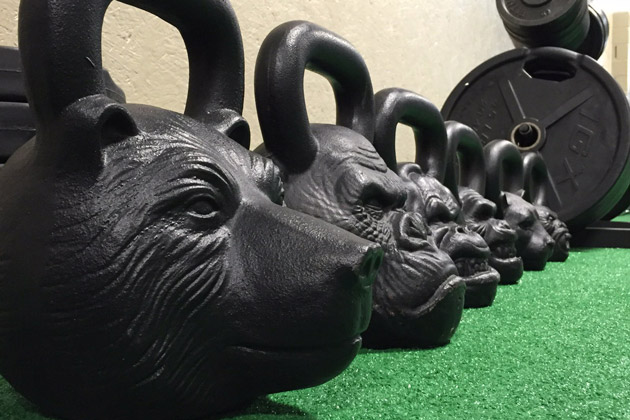 Welcome to the jungle!
Zoobells is the brand that carries various cool product lines made in the U.S.A. with perfect balance and beautiful detail. Resembling different animal heads on the kettlebell, which represents distinct sizes, this would be the most desirable choice for animal lovers or those who want to add some wild spice to their weight rack.
The full set available:
Zoala – Koala kettlebell (18lbs / 0.5 pood)
Zanther – Panther kettlebell (26lbs / .75 pood)
Zodolf – Wolf kettlebell (35lbs / 1 pood)
Zimba – Lion kettlebell (54 lbs / 1.5 poods)
Bear – Bear kettlebell (75lbs / 2 poods)
Note: "pood" is an old Russian unit of weight equal to about 36.11 pounds (16.38 kilograms).
7. Demon Kettlebells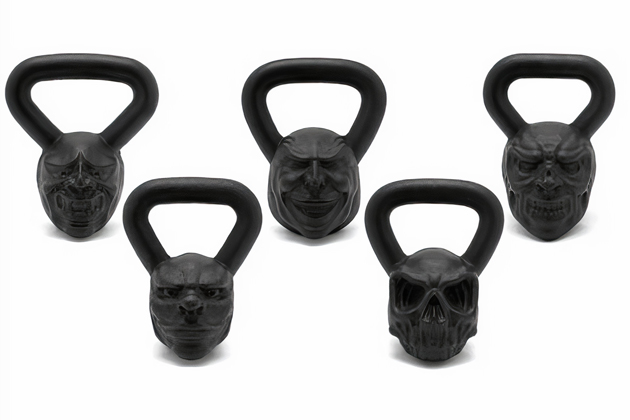 Another unparalleled collection of kettlebells from FringeSport is the "Hell's Bells".
Including 5 designs in different sizes, featuring the demonic faces of 5 in the total 7 deadly sins and weight ranging from 17 lbs to 52 lbs:
Lucifer (Pride),
Satan (Wrath),
Abaddon (Sloth),
Mammon (Greed)
Belphegor (Gluttony)
Therefore, with this unique design, the "Hell's Bells" collection is not only a great workout enhancer to help you get a lean body but will also be the center point in your workout area.
8. Breast-shaped Kettlebells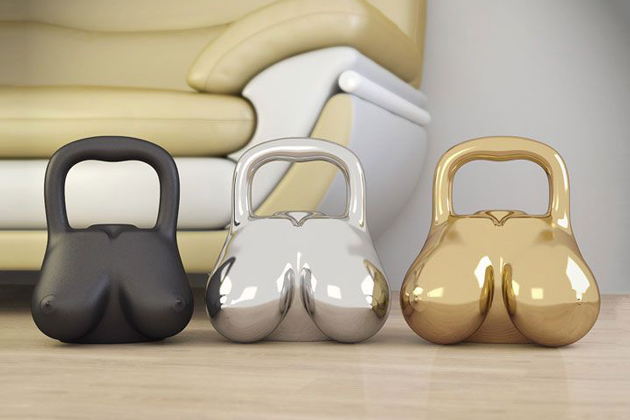 One of the most unreal and hard to find products in the market is the cast iron kettlebells in the shape of a pair of breasts designed by The 306 Communication Agency in Ukraine.
Surprisingly, they are made with the purpose that the branding and design agency says that to "increase male interest in sports". These cool kettlebells come with three different weights: S (small -16kg), M (medium – 24kg), L (large – 32kg), and three finishes: matte black, high gloss silver, and high gloss gold.
Are you seeking for your own cool kettlebells?
All of the mentioned products are unique and can be far beyond many people's imagination for the design diversity. However, on the other hand, the variety of sizes is not the advantage of these kettlebell models. Not only that, their price is considered relatively higher when compared to other conventional kettlebells. Hence, the decision is up to individual preference. If you love art, want to own special designs, and have a considerable investment in this type of training piece, then feel free to purchase any of these special weights.
Also, if these above kettlebell designs are not your gout, dont worry, we are here to serve you.
Any kettlebell designs you would expect can be implemented by Vietnam Cast Iron Foundry. As the best OEM and ODM casting manufacturer in Vietnam, we custom kettlebell models and supply them to a lot of fitness firms around the globe.
What we do is transfer the ideas from drawing to the product that provides a full end-to-end service from design through to manufacture.
You are welcome to visit our kettlebell categories to see how our kettlebell qualify and satisfy customer worldwide.
And please feel free to contact us to open an inquiry. It is our pleasure to serve you anytime.