Lamp post height comes in a variety of sizes and designs. 2m, 4m, 6m, 10m, or even 12m. So how tall lamp post is suitable for your installation? This post will help you choose the perfect lighting post height for your need.
Whether for public places or residential settings, you can add a curb appeal to the landscape through lamp post fixtures. Lighting post not only illuminates functionally but also complement any spaces it belongs to.
The lamppost comes in a variety of designs and heights depending on the install location and purpose.
This post will provide the standard lamp post height for garden and street furniture, and also guide on how tall lamp post should be for your place.
Spend time with us to explore which lamp post height is suitable for your taste!
Street lamp post height
Not only a street furniture, street lighting post play such an important role in providing illumination for the edge of the road or path.
The street post lighting comes in various height depending on many factors such as what kind of area, type of street, type of fixture, owner, and lighting conditions…
Basically, the street lamp post must be tall enough to guaranteeing the safety and security for the traffic and pedestrian.
The typical height of a street lamp post is a range of 2.4m to 15m (8 to 50 feet). The street lighting pole taller than 10m is consider as a high mast.
The street lights with an approximate height of 5-6m are common on a residential estate road, whereas 8-12m lamppost is popular on main traffic routes.
See below images of different street column heights: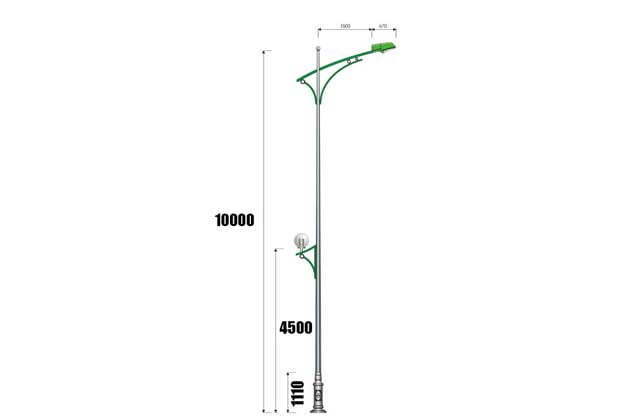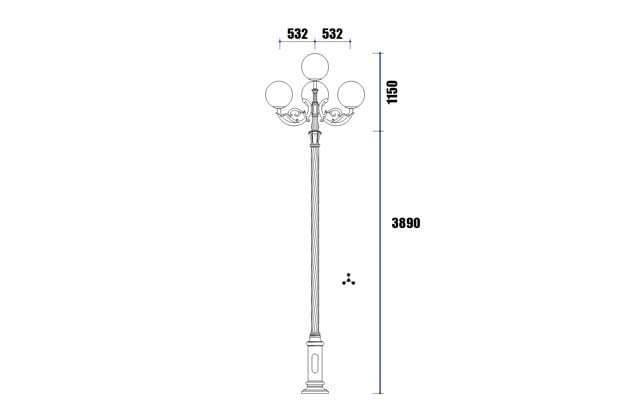 Top 10 Lamppost for Street: https://vietnamcastiron.com/top-10-best-street-lamp-post/
Garden lamp post height
The garden post light mainly works to provide security for house property and add decorative highlights to the architectural appeal.
The exterior housing lamppost usually shorter than the street post light. Commonly garden post lighting is at a range of 1.5 to 5m (4 – 16 feet).
See below different tall for garden decoration outdoor lighting post.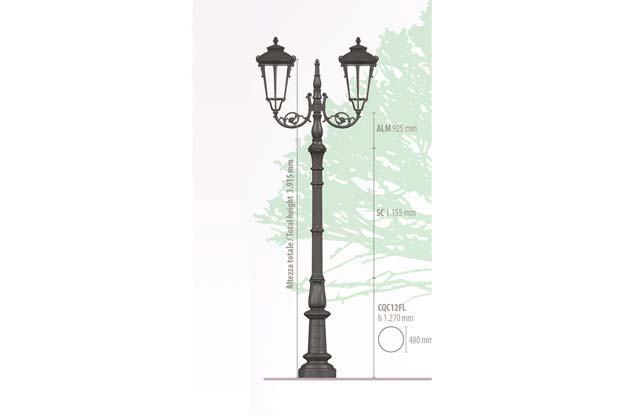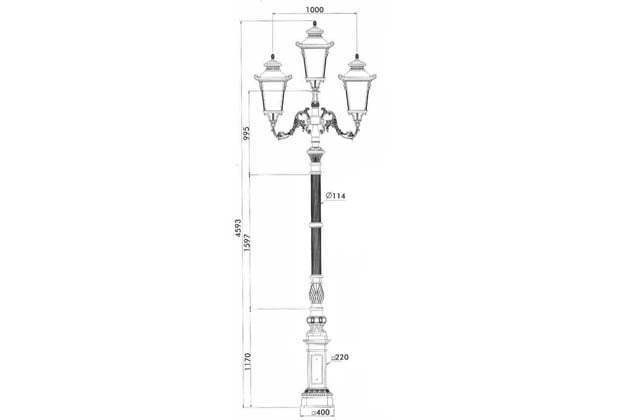 Top 10 lamppost for garden: https://vietnamcastiron.com/top-10-best-garden-lamp-post/
How to choose lamp post height for your place?
Lamppost height comes in a variety of sizes such as 4m, 5m, 6m, 8m, 10m, etc so what is lighting post height is suitable with your installation?
The selection of the lamppost height will directly affect the illuminating quality of the area. It is the reason why the process of choosing how high a light pole is extremely important.
The following is related factors you should take in account when choosing the lamp post height.
Installed location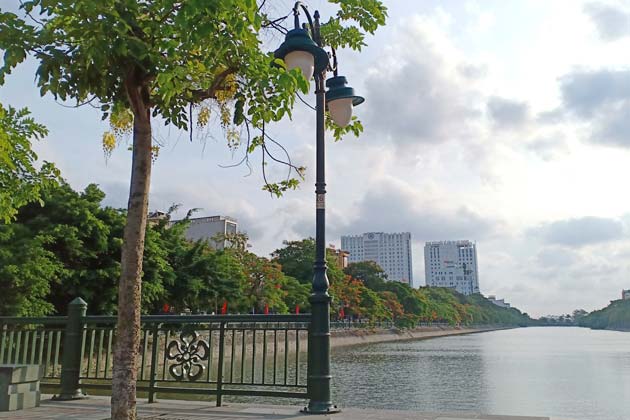 In rural areas or alleys which features the width of the road is no longer than 4 to 5m, the street lighting post is good at the height of 6 to 7 meters.
For the garden decoration, the 2,5 to 4m height is perfect matched.
For parks, residential roads, or industrial zones, the width of the road do not exceed 6 to 7 meters, you should install lighting columns with a height of 8 meters.
For secondary roads or the intersecting roads with highways which have from 8 to 9 meters width of the road, 9m tall light poles are recommended.
For the main roads and density traffic routes with the road surface width not exceeding 10 to 11m, using light post with the height of 11 to 12m is a good choice.
The installation distance between 2 lighting post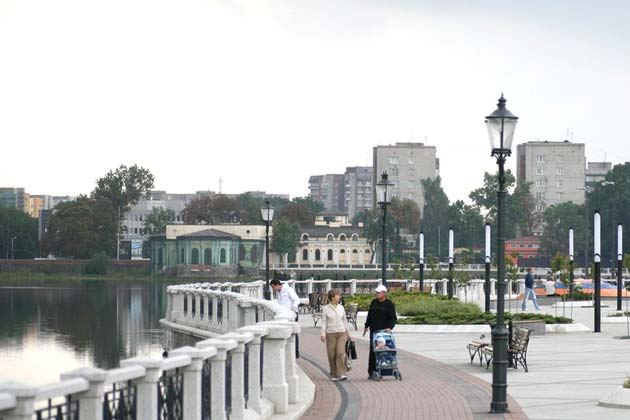 The installation distance between the two light poles depends on many factors such as lighting area, lamp capacity, usage demand, and budget. The farther the distance between the poles is, the higher the pole height.
According to the standard for installing street lamppost, the distance between two lighting post is 33 – 36m. This standard distance is applicable for a highway, park, street, landscape.
With the small towns, the distance is cut down and the lamp post height is also shorter, about 5m.
Illuminating Demand
In areas such as rural, parks, industrial zones, etc, it needs concentrated light. As the high demand for lighting, 4 to 8 meters lighting post height is the most suitable.
For main roads and highways that require long and wide illuminating ability, the street lights are tall about 10 to 12 meters.
The capacity the bulb
The bulb capacity is also another factor relating to choosing the lamppost height. The following table is the Vietnam Cast iron suggestion for corresponding height with bulb capacity.
| | |
| --- | --- |
| Lamp post height | Suitable Bulb Capacity |
| 6m | LED 50 to 80W |
| 7m | High-pressure lamp 250W or LED 100W |
| 8m, 9m | High-pressure lamp 250W or LED 120W |
| 10m | High-pressure lamp 250W or LED 150W |
| 11m | High-pressure lamp 250W/400W or LED 150W/180W |
| 12m | High-pressure lamp 400W or LED 180W/200W |
The corresponding lamp post height with bulb capacity.
Vietnam Cast Iron Lamp post OEM manufacturer
Vietnam Cast Iron is the lighting post manufacturer and exporter. We are able to provide both available in-stock products and OEM lampposts according to customer's requirements.
Our product selection is various from individual lamppost parts such as cast iron lighting base, aluminum base & pole, lighting arm to completed lighting post fixture.
Our lamp post comes in a variety of height, suitable for various installation. From small size 1.5m, 1.5m, 3m, to medium size 4m, 5m, 6m, to large size 8m, 10m, 12m, we are able to meet all of your requests.
Check our website to see our product quality and manufacturing capacity. Also, contact us to get a quote and meet our lighting post expert for your specific project.
Contact information
Address: Lai Xuan, Thuy Nguyen District, Hai Phong city, Vietnam
Email: [email protected]
You maybe also like: