Victorian, vintage, and contemporary are the 3 lamp post style which mostly favorite design in the lighting industry. While Victorian lighting pole features luxury and elegant look, vintage lamppost blows the nostalgic beauty and contemporary post light is inspired by minimalist and modern style.
Are you looking for the lighting post to upgrade your architecture appeal? Are you get lost in hundreds of selection? Are you wondering which one is suitable for your décor?
Refer to the 3 most popular lamp post styles in the world recommended by VIC. What you need to do is see what style you like and transform your space.
1. Victoria lamppost
Those who love classic architecture design styles will surely know Victorian design – a trend that originated in the 19th century UK by Queen Victoria (England).
Previously, this style was considered a symbol of wealth reserved only for the aristocracy. Over time, the Victorian style has become simpler and brings a breath of modernity, bringing a new, comfortable but still luxurious features for the homeowner.
1.1. The origin of the Victorian design style
This design style carries bold characteristics of feudal society in the misty country during the years when Queen Victorian was in power.
Victorian design style is a combination and refined essence of other styles such as: King George period design, classical designs, romantic styles, country styles, etc. It both shows softness and femininity while thoroughly showing off the splendor with characteristic curves of the classical style.
At this time, England entered the heyday, possessing colonial bloc on all continents, even the queen claimed that the sun never set in the British Empire. Following expeditionary trains to new lands, British architects have also brought this style to other continents such as Africa, America, Australia … In many places, this design style has become a trend that peaks and is popular for centuries.
Victorian's design style has undergone four stages of development to be as perfect as it is today.
The first stage of development is the Gothic Revival style, considered pre-Victorian style with a very sophisticated and splendid architecture with majestic pillars.
Next is the Queen Anne period, this style is known for its large dome design combined with windows creating a space for flooding light.
The late 19th century was the era of Stick Eastlake – Victorian style. Wood is commonly used.
At the beginning of the 20th century, the Victorian Folk style was loved by the whole world with its blend of luxury, richness, softness, romance and rustic of the English countryside. This style is very popular in America because it brings a youthful and peaceful.
1.2. Characteristic of Victorian lamppost
The Victorian-style has a great influence on the design of architecture and furniture, and outdoor lamppost is no exception. The characteristic of the Victorian-style lamp post is soft, elegant, and feminine. At the same time, it also shows the majestic beauty and characteristic curves of the classical style.
The highlight of Victorian lighting post is the head part. It features by the lantern ornament mounted on the top as Queen's crowns.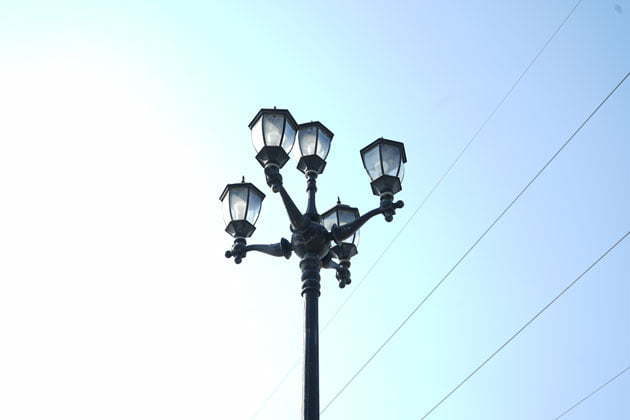 The number of lantern is various depending on purpose. Commonly there are single, double, triple, or even fifth lantern fixed on the lighting arm.
The lighting pole of Victorian lamppost is flexible either minimalist with polished finish or full of sophisticated details.
The Victorian post light of 20th century features thin shape and medium tall praising its elegant beauty, while the gothic Victorian lamppost will impress you by its magnificent outlook as majestic guards.
Construction speaking, Victoria street post light is popularly cast from cast iron or aluminum material. While the aluminum lighting post maintains excellent visual, the cast iron lamp post is timeless.
This lamp post style complements any place it belongs to, hence widely in application. The Victorian-designed post light is one of the most popular models for customers. These decorative lights are designed to suit high-end homes pursuing royal trends such as classic villas but also good match to install to historical street, avenue, garden, etc.
Check the list of victorian lamp post made by VIC: https://vietnamcastiron.com/product-tag/victorian-lamp-post/
1.3. Top fabulous Victorian lamp post for outdoor
Check some of excellent Victorian lamppost for your outdoor furniture.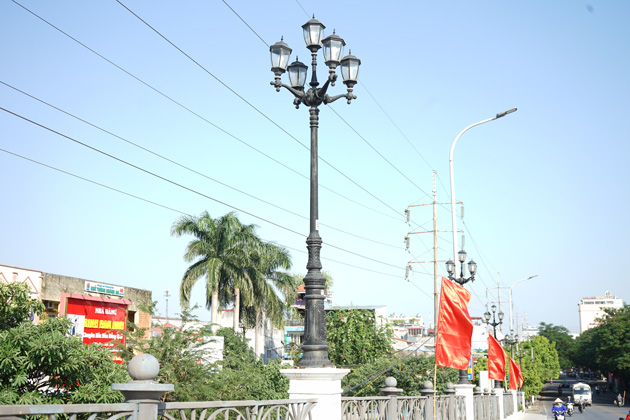 2. Vintage lamppost
2.1. The origin of the Vintage style
Vintage style is used in many different fields, the most popular being fashion and furniture.
Vintage style was formed in the mid-20th century. This is a mix of modern and classical styles. More simply, it can be understood that the Vintage style is the combination of the classic elements of the old decade with the modern characteristics.
Vintage style aims to bring a sense of lightness, simplicity and the imprint of time to either fashion or architecture décor.
2.2. Characteristic of Vintage lamp post
In today's street lamp post style, the vintage trend is popular and used a lot.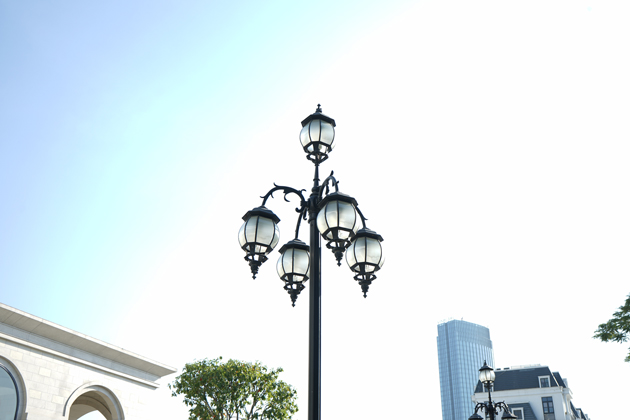 The "nostalgic" decorative light poles are a distinctive feature of the Vintage style. It has soft and elegant ornaments, both exuding an old look but still high aesthetic. It can give you a feeling of going back the previous time.
Traditional vintage lamp post style often use decorative curvature details while the Vintage blending modern sort is liberal and stylish.
Construction speaking, aluminum casting is often applied for manufacturing curve elements (lighting arm part) of the vintage lamp post due to its cast-ability and flexibility; whereas the pole and base are made from cast iron to ensure strong enough and support upper components.
Vintage post lighting colors are usually deep and elegant colors such as light brown, gray, navy green, black, etc.
The cast iron and aluminum vintage outdoor post light is suitable to place in the spaces where there are exchanges between the past and modern architecture and nostalgic décor such as museum, church, mosque, preservation, historical street, etc.
Retro vintage lamp posts you will love: https://vietnamcastiron.com/product-tag/retro-lamp-post/
2.3. Top fabulous Vintage lamp post for outdoor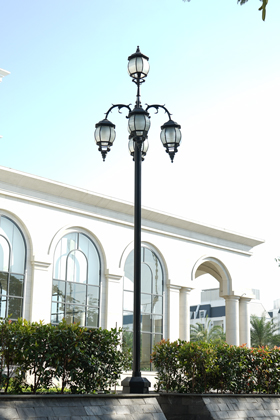 3. Contemporary lamp post
3.1. The origin of the Contemporary style
Contemporary has its origins in the contemporary art movement in the middle of the 20th century. Contemporary style is understood as a design style that enjoys the most modern elements, within the 21st century.
Contemporary design inherits modern design lines and is allowed to combine with other design style features. Contemporary style always keeps its own level by balancing lines, sculpting elements, art and bold colors. If you like sharp, flexible and unique designs, this style will definitely fascinate you.
Contemporary style inspired by the reality. The contemporary sense of style is not coziness or coldness, but simplicity. It is partly influenced by minimalist design.
3.2. Characteristic of Contemporary lamp post
Either for functional decoration or merely illumination, the contemporary lighting post's shapes are not too sophisticated, but only has the most basic design.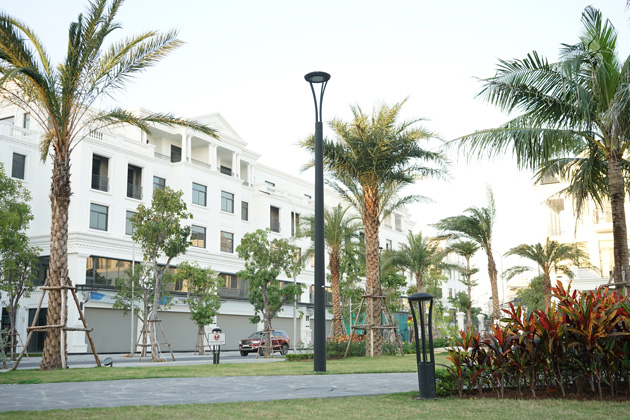 The contemporary lighting styles feature straight line decorations in place of the curving patterns of classical or neoclassical design. It is minimized with unnecessary details or smooth finish surfaces.
This lamp post style makes the most of neutral colors such as blue, black, brown, and gray. The popular materials to construct this lighting pole style can list cast iron, aluminum, copper…
It has become more and more popular nowadays because of the utility that matches any architecture space. The contemporary lamppost is mostly installed in parks, pedestrian areas, riverside, bridge, or residential places.
In addition, it is increasingly being used by families to illuminate and decorate the garden because of a range of high aesthetics selection. Notably, light poles using LED lighting are widely used with the ability to save electricity up to 80%, more than traditional energy in the past.
You maybe also want to see list of modern lamp post: https://vietnamcastiron.com/product-tag/modern-lamp-post/
3.3. Top fabulous Contemporary lamp post for outdoor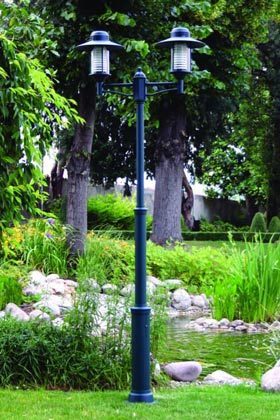 VIC has introduced above the 3 most popular lamp post style. You can consider our recommend and depends on your purpose to choose a suiatble lighting post outlook for your curb appeal.
If you are still wondering and need more advice, feel free to contact us via email at [email protected]. Our technical expert is willing to support you all the time.